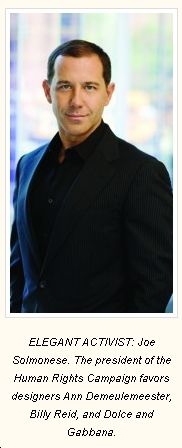 HRC President Joe Solmonese released the following statement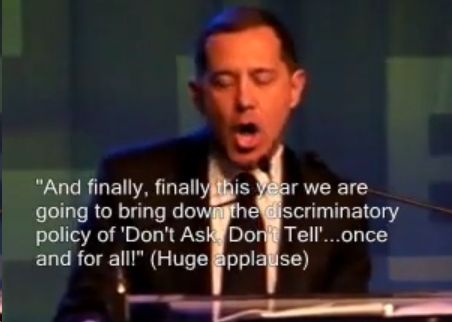 :
"We were proud when the President stood before the American people and declared in his State of the Union that it is time to repeal 'Don't Ask, Don't Tell.' If he's going to uphold that commitment, however, he must ensure that his Administration doesn't work against it. The time for repeal is this year, and the time for his leadership is now.

"Over the last several years, I have met countless veterans who have sacrificed in the name of freedom, but in doing so were unfairly forced to sacrifice their integrity by hiding who they are. They love this country, have put their lives on the line to defend it, and serve just as courageously as all our men and women in uniform. Yet, they are forced to serve under the discriminatory DADT law, or to not serve at all.

"While these veterans – and so many Americans in support of them – are fighting alongside our President and many Congressional leaders to achieve repeal, today we took a step backward when the Department of Justice filed a brief in defense of the law. The brief relies on arguments that were debunked and discredited in 1993, and even more so now. When military leaders – including Secretary of Defense Robert Gates, Chairman of the Joint Chiefs of Staff Adm. Michael Mullen, General Collin Powell and Vice President Cheney – have the courage to stand up and say it is time to throw out the discriminatory policies of the past, it is also time for this Administration to show leadership, move the debate forward, and work with Congress to get repeal done.

"This year presents an unprecedented opportunity to repeal the law and to finally recognize that all brave men and women in uniform who put their lives on the line for this country deserve to serve openly. While the Pentagon undertakes its review of how to implement repeal, Congress can and must move forward in repealing DADT in the same bill that put it into law more than 17 years ago – the defense authorization act. And the President can and must provide the leadership necessary to get the law passed this year."
NOTE: Blenders, I want you to remember a couple of things — 1) Notice that sentence above that I have in boldface. Bookmark it, email it to yourself, do whatever it takes to ensure you can find this statement down the road; and 2) This statement, taped by yours truly at the HRC Carolinas dinner back in Februrary — a promise by Mr. Solmonese that DADT would be repealed this year.
The defense authorization act — the easiest way for this administration to bury DADT this year is to include a repeal measure here, rather than send it out as a standalone bill. A no-brainer. And that's the question that needs to be asked and answered.
Bottom line – has this administration, with its continual playing of jackass footsie about paths and roads and other nonsense, already made its decision about inclusion in the defense authorization for this year — as in NO?
It's time to clear the air — yes or no? Has the decision been made and when and who decided it? Is it a done deal? A lot rides on this question – certainly more than what many of you are probably aware of.