Brian Brown's [slightly edited] statement on the vote allowing gays into Boy Scouts of America
By now you've heard that Boy Scouts of America voted yesterday to allow openly gay boys to participate in Scouts (until their 18th birthday).  Not surprisingly, Brian Brown of National Organization for Marriage released a statement in response.
Since NOM isn't anti-gay, just pro-straight, it's lucky for Mr. Brown that Twitter user UK @dubeats was available to provide his editorial skills to Mr. Brown.  Otherwise, Mr. Brown's the apparently too hastily-released statement may have been misconstrued to be entirely homophobic.  Says Mr. UK:
NOM's President Brian Brown wrote a statement on the BSA's vote to allow gay scouts.  But I think it was released before it was proof-read.  So I have edited it for them.
Here is Mr. UK's excellent work.  Enjoy: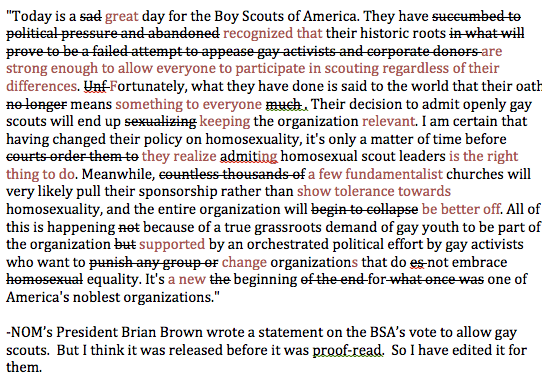 H/T JoeMyGod