Measure to repeal same-sex marriage ban passes first major hurdle in Nevada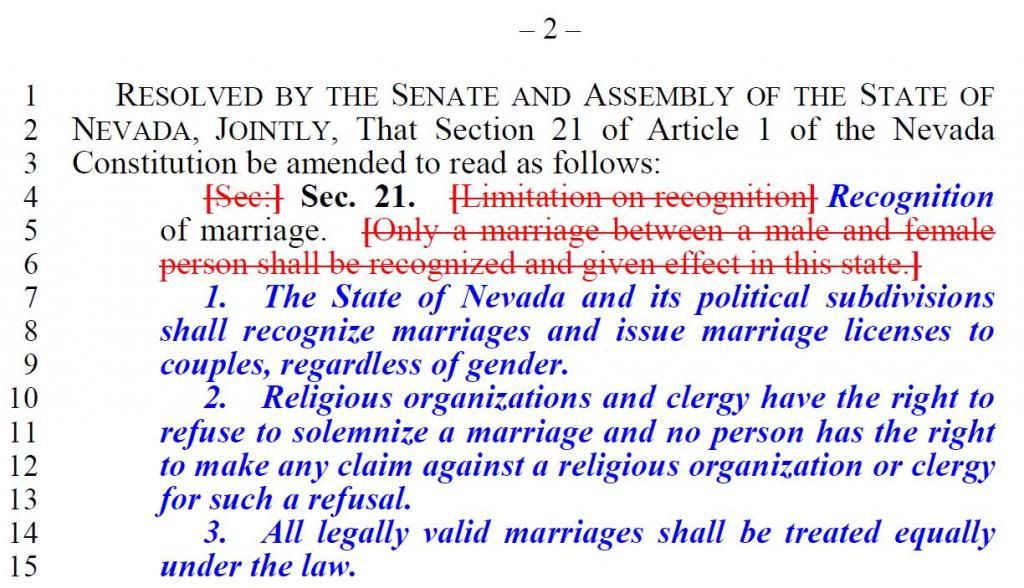 Today the Nevada Assembly passed Senate Joint Resolution 13, a measure that would repeal the 2002 constitutional ban on same-sex marriage.  The vote was 27 to 14.
The Senate passed the measure in April on a 12 to 9 vote.
If the measure gets legislative approval again during 2015 session (Nevada's legislature convenes in odd-numbered years), the question will be placed on the November, 2016 ballot.  The governor's approval is not needed on constitutional resolutions.
The odds look good for re-approval by the legislature in 2015.  From RGJ.com:
Even the resolution's most ardent opponents, such as the conservative Eagle Forum's Janine Hansen …thinks passage in the 2015 Legislature is probable.
"It will pass, unless there is some radical change in the Legislature and we get a majority of Republicans in one of the houses who are willing to vote against it," said Hansen. "But that doesn't seem likely to me."
As for Nevada voters, Freedom to Marry reports that "A February 2013 poll from the Retail Association of Nevada found that 54 percent of people in Nevada support removing the so-called Protection of Marriage provision from the Nevada Constitution, which prohibits marriages between same-sex couples in the state. Just 43 percent of those surveyed oppose removing the provision."
Support for marriage equality will presumably continue to increase in Nevada along with the rest of the country between now and the 2016 general election.  As Assemblyman Elliott Anderson, who voted for SJR13, said in his remarks on the Assembly floor today, "The will of the voters is changing, as it has with me."