Delaware Becomes Eleventh State to Legalize Marriage Equality [Updated]
Today the Delaware state Senate passed a marriage equality bill (HB75) on a 12 to 9 vote, positioning Delaware to become the eleventh state to legalize civil marriage for same-sex couples.
The bill will now be sent to Governor Jack Markell for his signature.  Gov. Markell introduced the marriage equality bill in early April, and the House passed it later that month.
During the debate before the vote, Sen. Karen Peterson (D-Stanton) came out as gay, making her the first openly LGBT state lawmaker in Delaware.  "If my happiness somehow demeans or diminishes your marriage, you need to work on your marriage," she said during floor remarks.
The new law repeals the 1996 ban on marriage for same-sex couples.  Same-sex couples may begin marrying in Delaware on July 1, 2013.
Delaware will no longer offer civil unions, but will recognize as marriages same-sex legal unions established in other jurisdictions.  Delaware-issued civil unions will automatically be converted to marriages on July 1, 2014.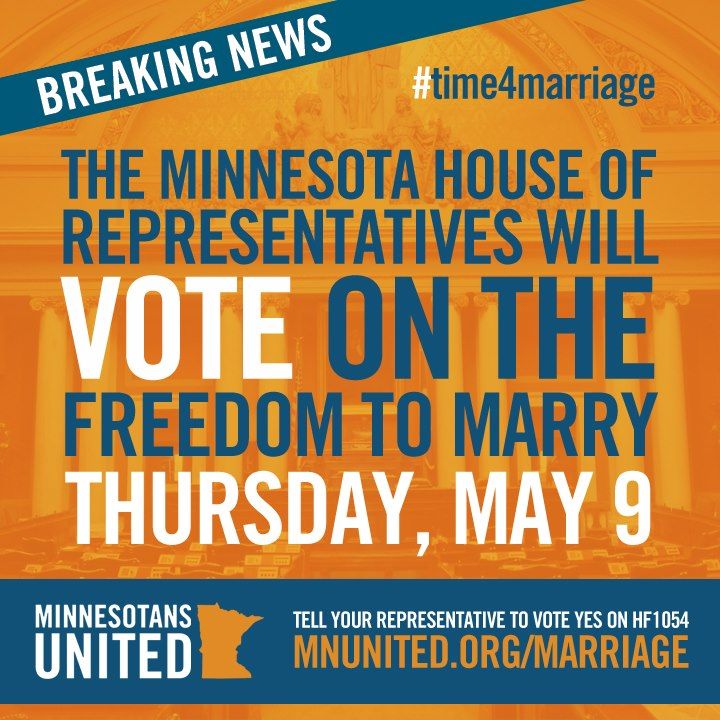 Marriage equality legislation and ballot measures are currently pending in several other states.  The legislatures of Illinois and Minnesota are currently considering bills that would legalize marriage equality this year, with a vote in the Minnesota House scheduled for Thursday, May 9.  The New Jersey legislature is working to override Gov. Christie's veto of the marriage equality bill they passed in 2012.  In Oregon, signatures are being gathered to place a measure on the 2014 ballot that would repeal the state's constitutional ban on same-sex marriages.  The Nevada Senate recently cleared the first major hurdle in a multi-year process to put a referendum on the 2016 ballot to repeal the state's marriage ban.  The Assembly committee for Legislative Operations is scheduled to debate the bill (SJR13) on Thursday, May 9.
Marriage equality has been realized in eleven states: Massachusetts, Connecticut, Iowa, Vermont, New Hampshire, New York, Washington, Maryland, Maine, Rhode Island and Delaware as well as in the District of Columbia and 3 tribal jurisdictions.
Update: Gov. Markell has signed the marriage equality bill into law: