Obama Administration Giving LGBT Advocates The Runaround On Workplace Discrimination EO And Legislation?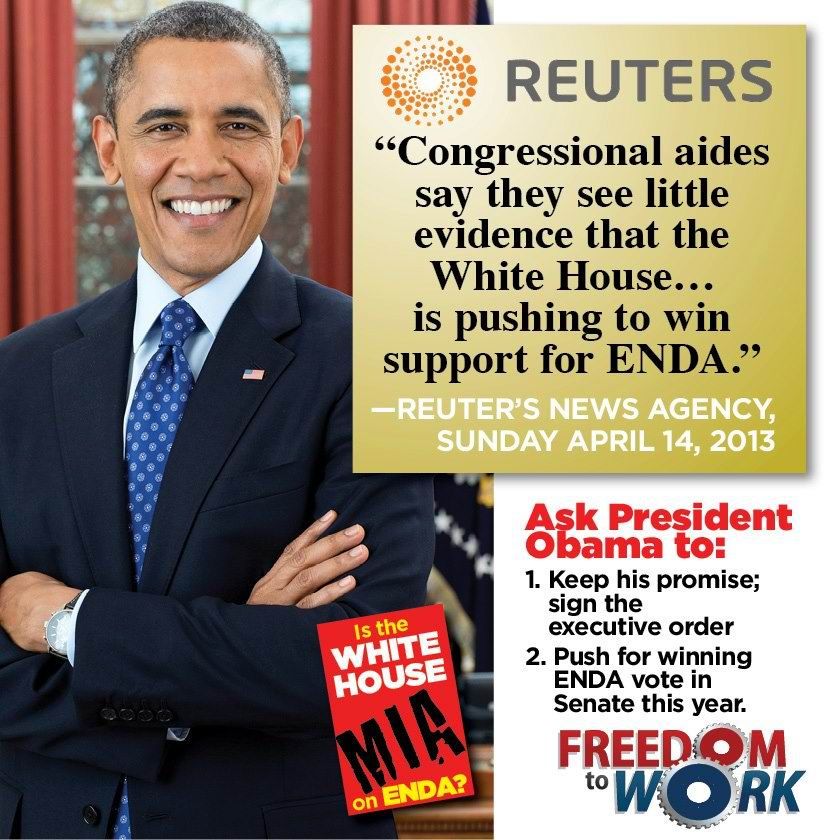 One year ago last week, on April 11, 2012, White House senior adviser Valerie Jarrett told LGBT advocates that President Obama wasn't prepared "at this time" to issue an executive order that would protect LGBT workers who are employed by federal contractors from workplace discrimination.
Such an order would "make it illegal for companies with U.S. government contracts to fire or avoid hiring employees based on sexual orientation and gender identity" and would be a significantly step forward since it would "apply to about 20 percent of the U.S. workforce," Reuters reports.
It is currently legal in 29 states to fire or refuse to hire someone for being gay, and legal in 34 states to fire or refuse to hire someone for being transgender.
The day after the meeting, White House Press Secretary Jay Carney explained to reporters that "the administration prefers a legislative approach to the issue of LGBT workplace discrimination — the Employment Non-Discrimination Act," Washington Blade reports.
The legislative approach sounds reasonable, except that the administration apparently hasn't pursued that avenue in the year since.  Last week Valerie Jarrett again deflected consideration of an executive order with talk of ENDA, telling Reuters that "We want to continue to advocate for legislation. We think that that's the most robust way to accomplish what we want to accomplish.  ENDA is a priority.  Right now the votes aren't there, but that doesn't mean they won't be."
But Reuters goes on to report that "congressional aides say they see little evidence that the White House…is pushing to win support for ENDA."
So here we are a year later and the Obama administration continues to use talk of ENDA to deflect calls for an executive order, but has made no visible effort get ENDA passed.
The delay may be due to the Obama administration taking time out to study the issue.  Winnie Stachelberg, Executive Vice President for External Affairs at the Center for American Progress, was present at the April, 2012 meeting at the White House and told Think Progress afterwords that the White House's Council of Economic Advisors had announced that they "will launch a study to better understand workplace discrimination against gay and transgender Americans".
It's difficult to know why a study would be needed, since the administration clearly already recognizes the dire need for workplace discrimination protection for LGBT workers.  Not surprisingly, Stachelberg called this plan for a study "confounding and disappointing," and stated that "The President should use his executive authority to extend existing nondiscrimination requirements of federal contractors to include sexual orientation and gender identity".
Be that as it may, the question today, one full year later, is did the Obama administration conduct this study, and if so, what did they find?  If they did not conduct a study, why not?
No study report can be found on the Council's website, and Washington Blade reports that "Stachelberg didn't respond to multiple requests for comment about the quote for more information on the study".
Have we been given the runaround?
President Obama's commitment to workplace equality goes without saying, making the administration's delays and diversions all the more perplexing.  "Nobody in America should be fired because they're gay, despite doing a great job and meeting their responsibilities. It's not fair. It's not right. We're going to put a stop to it," the president told LGBT advocates in 2009.
In his second inaugural address, President Obama said of the Declaration of Independence's promise of life, liberty, and the pursuit of happiness that "History tells us that while these truths are self-evident, they are not self-executing".
Wise words.  Certainly true of ENDA, Mr. President.