Crediting other landmark LGBT influences on the strategies of the immigrant rights movement
I happened to check Facebook a little while ago, and FDL's Teddy Partridge and PHB's Alvin McEwen both noted that I was mentioned in a piece by Frank Sharry in the Washington Post, "How did we build an immigrant movement? We learned from gay rights advocates," along with notable bloggers John Aravosis and Joe Sudbay, who played instrumental "outsider" roles in the LGBT movement in shaping the dialogue (and being a thorn in the side of the White House) during the days of DADT repeal. There was a large army of bloggers working this issue and making a ton of insiders angry while doing so.
LGBT advocates showed us that the way to build power is by leveraging your competitive advantage. If money and votes are the currency of politics, their strength was in the former. Snarkily referred to by donors and beneficiaries alike as the "Gay ATM," LGBT contributors gave generously to political candidates and won themselves a seat at the table.

…We learned something else from the LGBT community. Early in Obama's first term, when most progressives were swooning about the new president and the new era his election had ushered in, LGBT activists had a different take. Dismissing the Washington-insider notion that access means influence, they made it clear that they were not going to go along to get along. Led by bloggers such as John Aravosis, Joe Sudbay and Pam Spaulding, the LGBT community developed an outside strategy that openly challenged the White House.
It's pretty humbling to be a small part of that history. Those days seem so long ago (not only in blogging years; is that like dog years?), and a healthy body ago. I was blogging sometimes 12 hours a day trying to hold down a full-time job and saw very little sleep (or my wife for that matter), but I, along with my online/offline friends were incensed at the WH inaction. We not only wrote, we spoke on panels at conferences, did talks to groups that invited us to bring the issue to more people, and went on TV whenever possible to keep the issues — and the alternate voice of activism — center stage.
Ironically, I missed being part of the DADT repeal celebration in DC; let's see, that was because I had was recovering from surgery, one of a few more to come. The close of that chapter of activism seemed to be the downward spiral of my health – burning the candle at both ends meant my body's immune system just gave out. Maybe it's why it seems almost like someone else was tapping away at the keyboard at all hours (and not in Cheetos-stained PJs).
But my role, in reality, was a pretty small one in a larger picture of rabble-rousing — there are real heroes, thus the reason for this post.
The WaPo piece — obviously there are space limitations — didn't mention all of the brave peeps who chained themselves to the WH fence and were arrested, I know most of them well. But I can take the time here to do that — from the Blend's coverage and  GetEQUAL's press release that day, November 15, 2010:
***
The 13 veterans and repeal advocates arrested today include: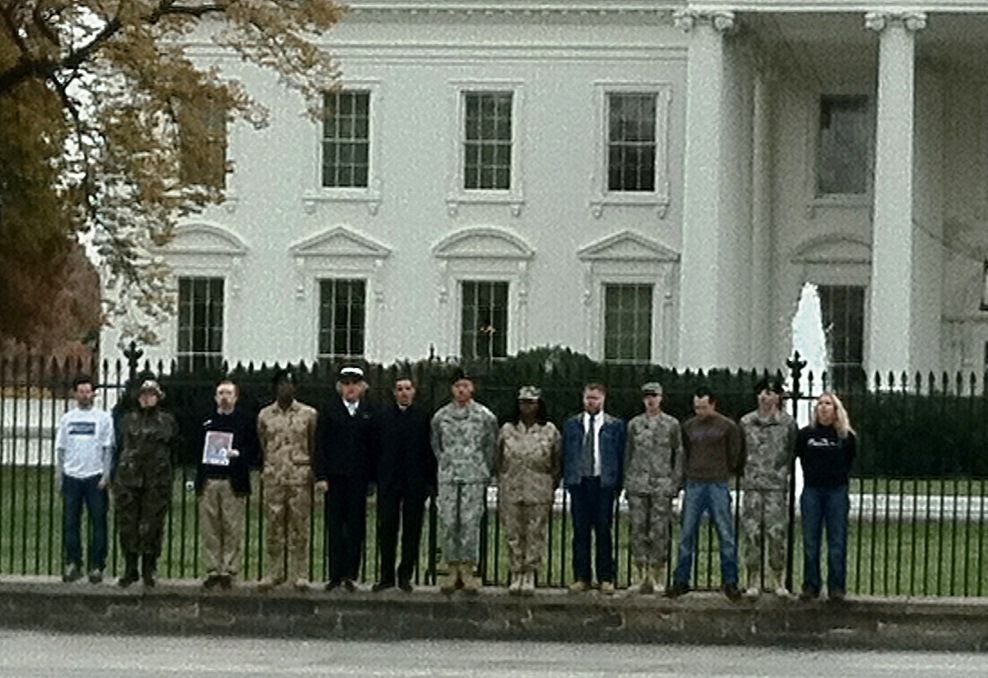 Five veterans (Lt. Dan Choi, Petty Officer Autumn Sandeen, Cpl. Evelyn Thomas, and Cadet Mara Boyd) who were arrested back in March during the GetEQUAL organized "Don't Ask, Don't Tell" act of civil disobedience at the White House fence demanding President Obama show leadership on repeal.
Robin McGehee, co-founder and director of GetEQUAL, and Dan Fotou, action strategist for GetEQUAL.
Former U.S. Army Staff Sergeant Miriam Ben-Shalom, who was discharged in 1976 for declaring and admitting she was a lesbian. She became the first-ever LGBT servicemember reinstated to her position in the U.S. Military, by a U.S. Federal District Court. On July 30th, 1993, Miriam and 26 other protesters were arrested at the White House fence for protesting then-President Bill Clinton's broken promise to repeal the gay ban – instead signing the "Don't Ask, Don't Tell" bill into law.
Former U.S. Marine Corps Sergeant Justin Elzie who, in 1993, became the first Marine ever investigated and discharged under the "Don't Ask, Don't Tell" law. Elzie was also the first soldier to be discharged under "Don't Ask, Don't Tell" to fight his discharge and win – resulting in his service as a Marine for four years as an openly gay man.
Former U.S. Army Arabic Linguist Ian Finkenbinder, who was discharged from the Army in December 2004 after announcing to his superiors that he was gay. Finkenbinder is an Iraq war veteran and was about to return for a second tour of duty when he was discharged.
U.S. Army Veteran and Repeal Advocate Rob Smith, who was deployed to both Iraq and Kuwait before being honorably discharged after deciding not to re-enlist in the U.S. Army due to the added pressure of living under the "Don't Ask, Don't Tell" law.
Father Geoff Farrow, a Catholic priest who spoke out against the church's official stance in support of California's Proposition 8, removing the rights of same-sex couples to marry. Because of his courageous stance against Prop 8, Father Geoff Farrow was removed as pastor of St. Paul's by his bishop and suspended as a priest.
Scott Wooledge, a New York-based LGBT civil rights advocate and blogger who has written extensively on the movement to repeal "Don't Ask, Don't Tell" at Daily Kos and Pam's House Blend.
Michael Bedwell, long-time LGBT civil rights advocate, close friend of Leonard Matlovich, and administrator of the site www.leonardmatlovich.com.
***
And what people need to know is that Lt. Dan Choi is STILL facing ramifications from his activism – coming up next week, the latest saga in USA v Lt. Dan Choi, DADT. From Dan's event page:
Criminal Trial Resumes in USA v Lt. Dan Choi, 3/28/2013 9:00am, Federal Court, Washington DC. Prosecution still seeking max jail time for protesting Don't Ask Don't Tell. All I know is America trained me to never give up.
Dan noted this on Facebook early Saturday AM (3/23=2013):
Pam is the rare journalist willing to correct the record, so I will herein supplement her truth-telling with proof that I shouldn't have to publish, but I will so the misinformation by my opponents will be called out. I am NOT the one pushing this trial; in fact, I asked the prosecutor, AUSA Angela S. George, Esq. to negotiate a dismissal, with all options on the table. She said NO. See my most recent FB fanpage post.
Immigration rights activists have taken heart; it's not easy bucking purported allies and institutional rot, the template for success is there to effect change. It doesn't have to be through one neatly packaged channel of activism.