NOM-Rhode Island Is Pulling a Fast One On Rhode Island Voters With Their New Poll
Yesterday National Organization for Marriage in Rhode Island released the results of a push poll it sponsored that asked voters the following:
Please tell me whether you agree or disagree with the following statement: "voters in 35 other states have been able to vote on the definition of marriage in their state, and Rhode Island voters deserve that same opportunity."  Do you…
The result: 60% strongly agree, 18% somewhat agree, 10% somewhat disagree, 8% strongly disagree, 4% don't know/no response.
The poll has sparked debate about the use of the biased term "redefine marriage" in the poll, whether legislators are elected to make laws or pass the buck, and whether it is fair or correct to put the civil rights of a minority at the mercy of the vote of the majority.
But there's another point that must be addressed: NOM-RI is pulling a fast one on Rhode Island voters by neglecting to state clearly that the ballot measure NOM-RI is pushing would only allow votes against — not for — marriage equality.  NOM-RI's president, Chris Plante, told GoLocalProv: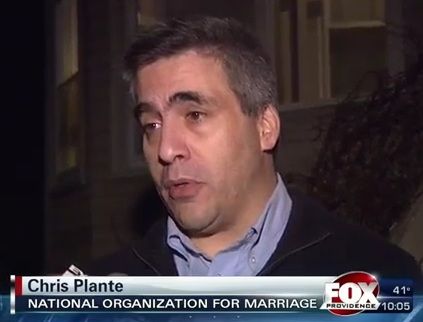 "It has been clear for years that the vast majority of people in Rhode Island want and deserve the right to vote on the definition of marriage, just as those in 35 other states," he said. "This year the State Senate has before it resolution 0096 to put the question to the people. That 78% of respondents agree Rhode Islanders deserve the same opportunity will hopefully move the senate to reject redefining marriage and instead put the decision to the people."
Because NOM's poll failed to name Resolution 0096 or describe it, poll respondents wouldn't know that what was in the offing was a ballot measure would add the following new section to Article I of the Rhode Island Constitution:
Section 25. Marriage. – Marriage shall be recognized and defined in Rhode Island as a lawful union between one man and one woman, provided the recognition and definition of marriage shall not prohibit the recognition of a lawful civil union between two (2) members of the same gender.
This NOM-backed ballot measure would only allow voters to vote against marriage equality.  It offers no opportunity to vote for equality.  This would come as quite a bitter shock to the 57% of Rhode Island voters who support marriage equality, some of whom undoubtedly make up a portion of the 78% polled who would like to vote on the issue….because they mistakenly think they'd be allowed to cast a vote for marriage equality.