Pope to step down on Feb 28; cites 'advanced age' – another scandal shoe about to drop?
This is historic news; the last time a pope to resign was Gregory XII in 1415; "old age" has traditionally meant nothing as popes die in office. Notably, Pope Benedict XVI, the former  Cardinal Joseph Ratzinger was the right-hand man to Pope John Paul II, who not only succumbed to advanced age, but was for all intents and purposes senile for the last few years of his reign. As it's being reported now — via CNN:
Pope Benedict XVI will resign on February 28, his spokesman Father Federico Lombardi told CNN Monday.

The 85-year-old pope is resigning "because of advanced age," Benedict told the cardinals of the Catholic Church on Monday.

"Strength of mind and body are necessary, strength which in the last few months has deteriorated in me to the extent that I have had to recognize my incapacity to adequately fulfill the ministry entrusted to me," the pope told the cardinals, according to the Vatican.
Via ABC News, more detail:
Popes are allowed to resign; church law specifies only that the resignation be "freely made and properly manifested."

Only a handful have done so, however and there's good reason why it hasn't become commonplace: Might the existence of two popes — even when one has stepped down — lead to divisions and instability in the church? Might a new resignation precedent lead to pressures on future popes to quit at the slightest hint of infirmity?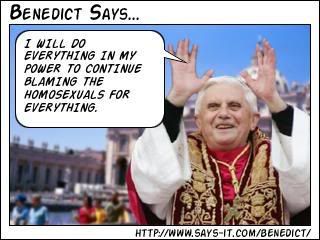 Now the Catholic church, which has been shaken by controversy and scandal by its protection of its pedophile priests preying on parishioners around the globe, as well as revelations by the Pope's butler leaking papers  (Paolo Gabriele said he had acted because he saw "evil and corruption everywhere in the Church"), faces some choices. Benedict has ruled with a horrendous obsession on demonizing of the LGBT community since ascending in 2005, while having to pay out hundreds of millions in settlements for these sexual predator situations that he had a hand in covering up.
Benedict published paper after paper about one-man, one-woman marriage, and the need to save the family and the world from homosexuals, and called gay Catholics "disordered" (but still welcoming to worship and are in good graces by remaining chaste).
The number of men and women who have deep-seated homosexual tendencies is not negligible. This inclination, which is objectively disordered, constitutes for most of them a trial. They must be accepted with respect, compassion, and sensitivity. Every sign of unjust discrimination in their regard should be avoided. These persons are called to fulfill God's will in their lives and, if they are Christians, to unite to the sacrifice of the Lord's Cross the difficulties they may encounter from their condition…Homosexual persons are called to chastity. By the virtues of self-mastery that teach them inner freedom, at times by the support of disinterested friendship, by prayer and sacramental grace, they can and should gradually and resolutely approach Christian perfection.
Will the Vatican now move to select a pope with a different world view, or, continue down this dark and demonizing path? It has a choice, but the cardinals in place largely reflect Benedict's viewpoint. More from ABC:
The move sets the stage for the Vatican to hold a conclave to elect a new pope by mid-March, since the traditional mourning time that would follow the death of a pope doesn't have to be observed.

…Contenders to be his successor include Cardinal Angelo Scola, archbishop of Milan, Cardinal Christoph Schoenborn, the archbishop of Vienna, and Cardinal Marc Ouellet, the Canadian head of the Vatican's office for bishops. Longshots include Cardinal Timothy Dolan of New York. Although Dolan is popular and backs the pope's conservative line, the general thinking is that the Catholic Church doesn't need a pope from a "superpower."
Well if they want to avoid continuing scandal, steering clear of Cardinal Timothy Dolan (right, photo by Cy White) would be a good idea. He has played a role in the pedophile coverup scandal while he was in Milwaukee. NYT:
But like bishops before him, the archbishop was also a tough defender of the church's interests, clergy and bank balances. In Milwaukee, he worked in an unusually public and personal way to limit lawsuits and settlements. He declined to post the names of abusive priests who belonged to religious orders, though some other bishops have done so.

And in one St. Louis case, records show, he swiftly took the side of a priest who then sued his accuser with the archdiocese's help, though church officials had not made a detailed investigation of the complaint.
Here are documents obtained by the Times showing Dolan's role as an auxiliary bishop in St. Louis in 2002 "as they dealt with a hesitant accuser and a priest who forcefully asserted his innocence. These documents, submitted in court as part of litigation." They were provided by David Clohessy, the executive director of Survivors Network of Those Abused by Priests.
Irish Central discussed Dolan and these other papal contenders.
The oddsmakers still believe that the next pope is more likely to be African according to Paddy Power, Ireland's leading bookmaker, who has come out with a list of "papabile," those considered papal material. Favorite is Cardinal Francis Arinze of Nigeria, who is 15/8 (bet eight to win fifteen), while in second place is Cardinal Peter Turkson of Ghana at 9/4.

That's two top Africans in the top two spots according to the bookmaker's odds.

In third place in the odds is Archbishop Angelo Scola of Venice at 7/1 while in fourth place is Cardinal Oscar Rodriguez Maradiago of Honduras at 10/1 while Cardinal Albert Malcolm Ranjith at 33/1 rounds out the top five.
It would be mind-blowing and interesting to watch if a black Pope ascends to power. The church is growing on that continent, and has adopted the socially conservative line of Benedict. However, how would conservative American Catholics and the dwindling European Catholic flock react to this turn of selection? Pop the popcorn…
The Big Q: once he has stepped down, is Benedict then subject to international criminal prosecution for the pedophile priest coverup?
UPDATE: There's a meaty piece by Adele Stan on Alternet that addresses what the shoe might be.
"Citing age and infirmity as his reason for leaving the papacy, Benedict's action comes just weeks after he opened his celebrated Twitter account — and less than a month after the decades-old child abuse scandal drew nearer to the pope's door, with revelations published in the Los Angeles Times earlier this month that Cardinal Roger Mahony, then Archbishop of Los Angeles, sought to evade the law in cases involving the sexual abuse of children by the priests in his charge by sending them to treatment facilities in states that did not require health professionals to report the crimes to authorities

At the time that Mahony was covering up the crimes of his priests, Benedict, then known as Cardinal Joseph Ratzinger, led the Congregation for the Doctrine of the Faith, the Vatican office that oversaw such matters.

…For instance, in a 2003 letter to Ratzinger, Mahony says of Father Lynn R. Caffoe that between the priest and one boy, there were 100 "instances of masturbatory and copulative acts," according to an account in the Los Angeles Daily News But Mahony never reported Caffoe's alleged crimes to police, and Ratzinger apparently never instructed him to.

…Although Benedict survived repeated calls for his resignation because of his role in allowing the child-abuse scandal to flourish and his failure to protect children, the cache of documents in the Los Angeles case may turn out to be something of a tipping point."
***
On a personal note,  I wish that the Catholic Church would transform itself with Pope Benedict's resignation. Too many good Catholics have been hurt, disappointed and demoralized by this leadership and it has hurt their faith.
I'm a non-practicing Episcopalian, but I attended Catholic school from K-6 (much love to Immaculata in Durham), and back in the day (the late 1960s), the church was much more progressive and not condemning in the way it has been under Benedict's reign. I never heard a peep about gays or abortion, in fact, the nuns actually sang leftist Pete Seeger folk songs in class (!) and my first grade teacher, Sister Judith, left the order to get married during the school year. A very different church, a different time. I certainly didn't leave Immaculata indoctrinated or full of guilt. As a child I was able to appreciate the rituals and ceremonies of the Church for their beauty, even if not my own.
I'm not optimistic that this ship can be righted since this Pope has elevated Cardinals that share his mindset and world view, but I hope the flock can continue to make their voices heard.