Mr. Plante, If Civil Unions Are Equal, Why Aren't They Called Marriage?
The Rhode Island House Committee on Judiciary is scheduled to vote on the marriage equality bill (H 5015) Tuesday afternoon. Expectations are high that the committee will pass the bill and send it to the full House for a vote.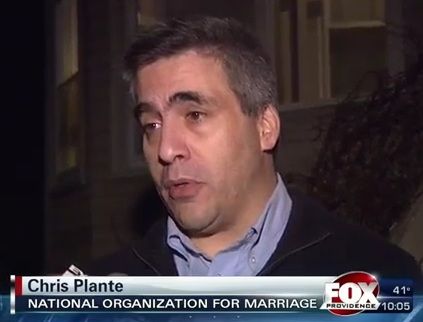 In anticipation of that vote, Chris Plant of National Organization for Marriage in Rhode Island claimed:
This is not about equality or rights because both those rights and equality were granted in the civil unions bill in 2011 where same-sex couples were granted all the rights and benefits of married couples in Rhode Island.
But if civil unions were equal to marriage, they wouldn't be called civil unions. The use of a different name makes civil unions intrinsically unequal to marriage. And if same-sex couples had all the rights and benefits of married couples, as Mr. Plante claims, then they'd be granted marriage licenses by the state, not civil union certificates.
Rhode Islanders United for Marriage further explains why civil unions aren't enough:
* Only marriage guarantees that all couples can be there for each other in times of greatest need and be able to make emergency decisions for their loved ones.

* Civil unions just don't work. They don't receive the same respect and dignity as marriage.

* Civil unions create a second-class institution that is fundamentally unequal in terms of the respect, dignity, rights and benefits guaranteed by marriage.
Legislators in nine states and the District of Columbia have recognized and then rejected arguments like Mr. Plante's for what they are: thin, nonsensical cover for anti-gay animus. So too will legislators of good conscience in Rhode Island.