FBI Report Mentions Plot To Kill Occupy Protesters
More revelations from the Occupy FOIA request.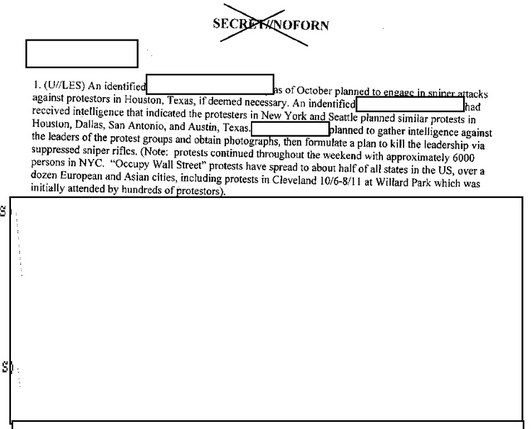 An identified [redacted] of October planned to engage in sniper attacks against protestors in Houston, Texas, if deemed necessary. An identified [redacted] had received intelligence that indicated the protesters in New York and Seattle planned similar protests in Houston, Dallas, San Antonio, and Austin, Texas. [Redacted] planned to gather intelligence against the leaders of the protest groups and obtain photographs then formulate a plan to kill the leadership via suppressed sniper rifles. (Page 61)
It remains unclear as to who or what this report is referring to, yet the FBI decided to disclose it under the Freedom of Information Act (FOIA) to the Partnership For Civil Justice Fund – the document is on page 61.
All that is known is that this individual/group was identified by the FBI as having a plan to kill Occupy Protesters. Who was involved? How far did this plot go? Will there be charges?
All unknown.