By David Glenn Cox

There is a hint of a chill in the air as the leaves of the trees bleed out their spectrum colors, fall is culminating and succumbing. The Hallows Eve approaches, as the land of mythical and magical, fearsome and fanciful. I was shown something special, something of which I can only share a part of.
Hollywood couldn't make up such a story as this. A ways off in the woods, not too far from here, lost in an urban wilderness there in an obscurity, a curiosity, an item left behind and almost forgotten. A historical relic, like a civil war belt buckle, only this belt buckle covers many acres. Traversing the grounds we would find the odd bits and pieces of a buried past, sleeping covered by a moss, and pine straw blanket, old red bricks mixed in with cob rough pieces of mortar and concrete.
But first, you must first drive up the hill about a half a mile on an old brick road. A road laced with red brick pavers which should more rightly be painted yellow for they lead up to a ridge of fantasy, mayhem and magic. When you reach the end of this brick service road, there is an aging rusted steel guard rail separating yesterday from today, signifying the beginning and the end of our realm. The forest canopy was lush when I first saw it, turning a bright sunny afternoon to the light of shaded overcast. It was dark, with just a hint of moisture in the air, some how just enough, to let you know that this story is going to involve water.
Climbing up to the top of the ridge you can see we are surrounded by water on three sides, bordered by a steep terrain. To me at least, this says, that whatever the purpose of this facility, confinement was at least a peripheral issue. Stepping beyond the rusting monument and into the deep foliage, in a near ten steps she stands before you in all her raging glory. She is a crumbling concrete bridge, fancy, with all the trimmings. She's at least a hundred feet long spanning in an arc pattern with concrete sconces build onto alternating arched bridge pilings. [cont'd.]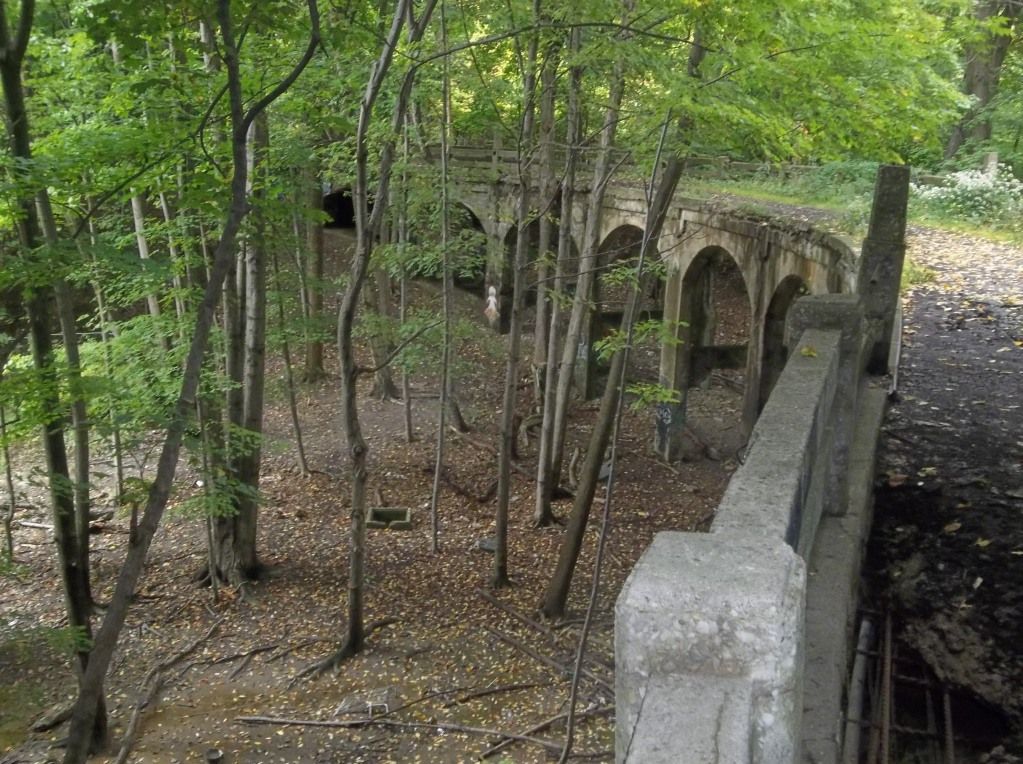 This isn't just your everyday walking across the creek bridge, she is beautiful and ornate. And with just a tiny leap of fantasy she becomes, a bridge in medieval France, or the bridge to Frankenstein's Castle. That's the kind of bridge she is all right, a right fancy bridge that someone built up on a ridge, out in the boon docks to do something, to someone. To do what and to whom, are merely your first opportunities for conjecture.