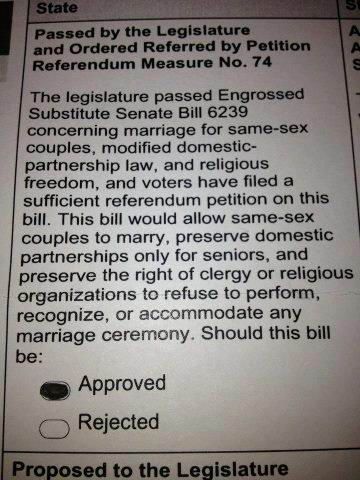 Washingtonians, this is how Referendum 74 will look on your ballot. Vote "Approved" on Referendum 74 to preserve the state's freedom to marry law!
Ballots were mailed* out two days ago, so yours should arrive in your mailbox this weekend if you haven't already received it. Mark and return it asap, and you'll stop getting all those pesky political phone calls.
Remember what this is all about. From our friends at Equal Rights Washington:
Marriage is about love, commitment and mutual concern. There is no substitute for the freedom to marry. It is a universally understood language by which couples express their love and announce that a new family has been formed!

Gay and lesbian couples seek marriage for the same reasons as any other couple.
They wish to grow old together, take responsibility for each other and often raise children together. The institution of marriage will be strengthened by allowing more loving committed couples to legally marry.

And of course we are talking about civil marriage not religious marriage. The United States Constitution and our State Constitution guarantee religious liberty and the marriage equality law restates this guarantee. Religious liberty demands marriage equality for just as no clergy or faith tradition may ever be required to recognize or perform a religious marriage, neither should the state be able to deny a couple who would freely accept the responsibilities of legal marriage the right to marry because some faith traditions object.

Today many faith traditions religiously marry gay and lesbian couples and we thank them for speaking out in support of Approve 74, just as we thank the large corporations, small businesses, newspapers, labor unions and hundreds of civic groups, professional associations, and charitable organizations who are calling on the voters of Washington to Approve Referendum 74.
*Washington is a vote-by-mail only state.