Fmr. Morgan Stanley CEO "Banker Pay Is Too High"
I am noticing a trend here.
Many former Wall Street leaders are willing to advocate for reforms or even decry old norms – once they leave. The most breathtaking still has to be Sandy Weill's epic reversal on Glass Steagall repeal. Honestly, that is just amazing.
But let's look at former Morgan Stanley CEO John Mack's comments:
Let's be totally honest. A lot of people who have done really well have not handled that wealth very well. That gets to part of the issue with Wall Street. I think it's really changing.

I think the kind of money that's made and the way it was flaunted — look it's wrong. […] The money was really unbelievably generous, to say the right word…At the end of the day the one area that has to be squeezed [to give a return to shareholders] is the compensation number.
Whether or not Wall Street is "really changing" is debatable. What is not debatable is that speculators are wildly compensated when compared to other, more productive, jobs.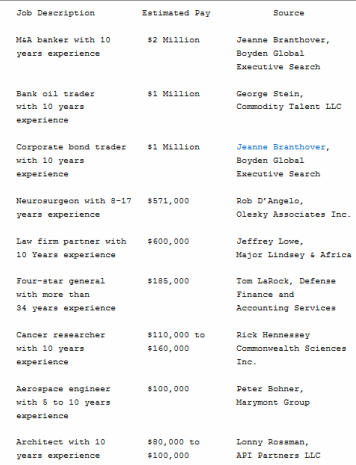 (Source: Bloomberg News)
Traders are more compensated than brain surgeons and 4 star generals. Does that make sense to you?
Though it may be a little late in coming, let's applaud the fmr. Morgan Stanley CEO for having the integrity to speak out – even if in retirement.