Rocky Anderson: the People's candidate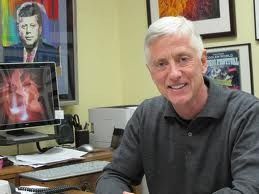 My dad used to recall his thrill upon meeting Harry Truman in 1948 when he campaigned in New Britain, Connecticut. He didn't have to pay $35,000 for a plate at a dinner, or enter a raffle for $5 to obtain a one shot out of 300 million chance to meet a Presidential candidate. Harry Truman visited our city–then known as the Hardware City of the World–sat right down at a piano in the room and started serenading the citizens of New Britain, while greeting and chatting all who approached him. Talk about charm! It left such an impression on my dad that he had to tell me that story hundreds of times.
In 1957 I visited the White House with my parents, and being the curious member of the family, needless to say, I wandered off to a driveway gate, which was open. At the moment I arrived, a big black limosine approached and stopped at the end of the driveway, and a man wearing a black hat sitting in the back seat smiled, waved, and mouthed a silent hello to me. I waved back, and then heard a woman behind me ask, "do you know who that was?" And before I could answer, she informed me that it was President Dwight D. Eisenhower: the man who led the greatest military invasion in history.
Of course, being exceptionally curious, I asked her who she was, and she simply smiled and replied, "I am his secretary." Imagine the impression left on a small child of seeing and greeting the leader of the free world up close, without crowds, so casually and unexpectedly. Yes, even though he was a Republican, to this day I must confess, I like Ike.
After seeing Rocky Anderson on Cenk Uygur's, "The Young Turks", a while back, I contacted his campaign and left a message that I wished to interview him. I made such calls to many political candidates, including Jill Stein, Barack Obama, Roseanne Barr, Mitt Romney, Chris Murphy, Dennis Kucinich, Bernie Sanders, Ralph Nader, and others. Unlike the others, who never even bothered to reply, Rocky Anderson not only called and chatted with me but consented to an interview, which lasted a full hour. And since then, I have spoken to Rocky on several occasions.
Rocky Anderson is different from most candidates; he is accessible and makes time to talk to people. I like that.
Yeah, I know, candidates are too busy to talk to everyday people. If I were Leslie Stahl or Cenk Uygur or a major network anchor, they would probably not be too busy to take my call or grant me an interview. But I am a nobody, like you. And, yeah, I know, they are so busy getting on the ballot and raising campaign moneys, both of which are much more important than talking to average citizens. I get all of that. But Rocky Anderson is different from them. And it made a memorable impact on me that Rocky Anderson takes the time to talk and meet with everyday people, like you and me. It's so uncustomary these days; in fact, it's downright democratic!
For instance, just the other day, Rocky Anderson met and spoke to a small gathering in Woodbridge, Connecticut, explaining his vision for a better America, fielding questions from the listeners, and speaking with anyone who wanted to talk to him in attendance, like a patient professor after an interesting seminar. True, a donation of $20 was requested, but it was not required to be admitted nor to talk to Rocky. Why is it that only Rocky Anderson of all the candidates running for President makes himself available to the public in such a casual, personal, and public manner? Isn't that the way it should be with candidates in this age of scripted teleconference calls with pre-selected and rehearsed callers? How very different and refreshing.
What also impressed me about Rocky Anderson is his style and manner of speaking. When chatting with Rocky, even though you are speaking to an eloquent Constitutional attorney, he explains the sometimes convoluted notions of justice in simple laymen's terms. Although he is a legal scholar, unlike an Adlai Stevenson or a George Will, he is not an elitist. Whenever I read a column by George Will, I am often at a loss as to what that guy is trying to say.
Rocky, on the other hand, communicates to people as you and I do. No Joycean allusions to keep scholars busy till the end of time to decipher their meanings in order to ensure one's immortality. And no speech writers, no teleprompters, no notes. Entirely off the cuff, choosing his words in the manner of a soft-spoken Southern gentleman so as to convey their meanings precisely without ambiguity. The listener is mesmerized by their antebellum lyrical cadences.
We have several good independent candidates running, including Rocky Anderson, Jill Stein, Stewart Alexander, Roseanne Barr, Gary Johnson, but Rocky Anderson indeed stands out in his accessibility to the American public, in his eloquent Rooseveltian speaking manner, and in his willingness to reach out to the American people. And unlike other candidates, he is not only speaking to us but he is also listening to us; not only sharing his vision of a more socially, environmentally, and economically just society, but inviting and engaging our participation in the process of making America a better country.
Isn't that the essence of democracy after all?