Pennsylvania's Natural Gas Tax Giveaway Exceeds $500 Million Mark
By Michael Wood, Third and State
The state's Department of Environmental Production (DEP) recently published a biannual report on Marcellus Shale production in Pennsylvania. (Most states require monthly reporting, but that is a different story.) In the data, we can now see how much the state has really given away by refusing to put a robust gas extraction tax in place — and the sum is staggering.
From July 2009 to June 2012, over $8 billion worth of natural gas was extracted from Pennsylvania's share of the Marcellus Shale. The Commonwealth would have collected more than $500 million had we had West Virginia's natural gas tax in place. Instead, we got $0.
The recent DEP report was incomplete, as the Associated Press highlighted. Production from Chesapeake Energy (likely the state's largest gas producer) wasn't included nor disclosed as being missing in the initial release. Add in the production from Chesapeake over the last six months, and the lost tax revenue figure would be even bigger.
You may remember the Pennsylvania Budget and Policy Center's "drilling tax ticker," which tallied up the lost revenue to the state from not having a meaningful drilling tax in place. Those figures were based on conservative estimates of per-well Marcellus Shale production. We now have real production data (well, all drillers but Chesapeake) to analyze — giving us more accurate estimates.
Gas producers will pay an annual drilling impact fee beginning September 1, 2012, but the proceeds from the fee are expected to be lower than a modest drilling tax would bring in — even at today's low natural gas prices.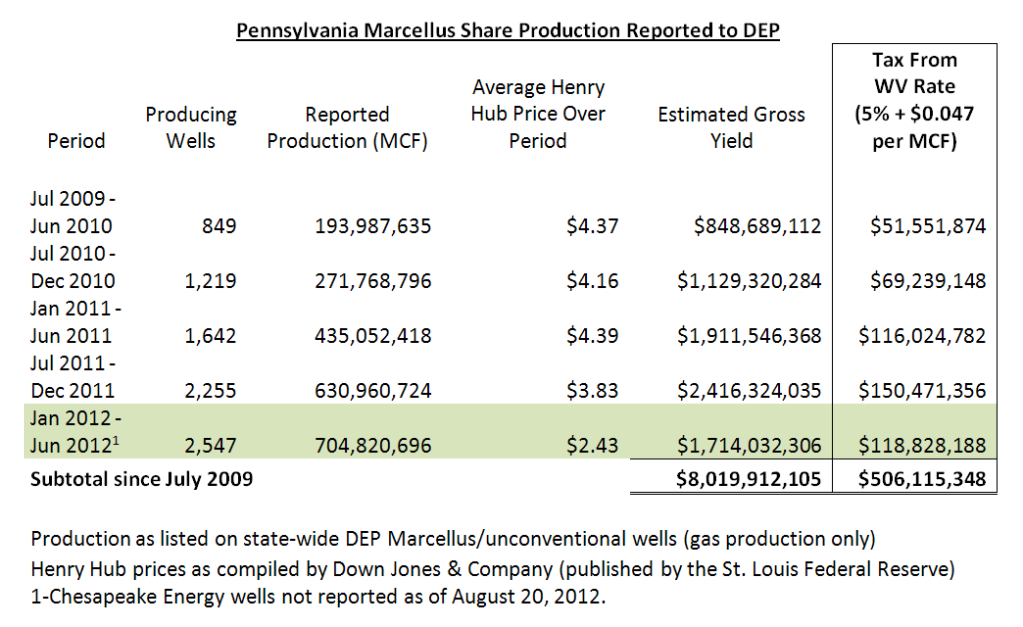 How could this foregone $500 million over the last three years been used?
Rehire 3,000 teachers;
Save General Assistance for 68,000 needy Pennsylvanians;
Restore funding for parks and environmental protection; or
Help the state meet growing pension obligations.
Pennsylvania continues to lose out on this one-time resource and may possibly be turning our natural bounty into a resource curse. These new data give us an idea of how much we are giving away.