Disgraced Ex-Idaho Senator Larry Craig: my toe-tapping bathroom trip was official gov't business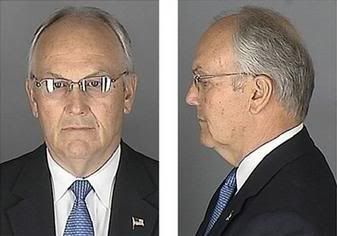 From the "you can't make this sh*t up" department…just when you thought the wide-stance anti-gay man-on-man pick-up artist had STFU… (CBS):
Former Republican U.S. Sen. Larry Craig aims to fend off a federal election lawsuit against him by arguing his infamous June 11, 2007, Minneapolis airport bathroom visit that ended in his sex-sting arrest was part of his official Senate business.

Craig is hoping to avoid repaying $217,000 in campaign funds the Federal Election Commission claims he misused to defend himself.

…Craig counters that money tied to his airport bathroom trip was for neither personal use nor his campaign, but fell under his official, reimbursable duties as senator because he was traveling between Idaho and the nation's capital for work. He cites a U.S. Senate rule in which reimbursable per diem expenses include all charges for meals, lodging, hotel fans, cleaning, pressing of clothing — and bathrooms.
Flashback: Craig's memorable press conference assuring everyone that he's not gay.
Bonus link: the transcript of the infamous police interview of Craig after he was busted in the Minneapolis Airport. A snippet:
DK: Okay. And when you went in the stalls, then what?
LC: Sat down.
DK: Okay. Did you do anything with your feet?
LC: Positioned them, I don't know. I don't know at the time. I'm a fairly wide guy.
DK: I understand.
LC: I had to spread my legs.
DK: Okay.
LC: When I lower my pants so they won't slide.
DK: Okay.
LC: Did I slide them too close to yours? Did I, I looked down once, your foot was close to mine.
DK Yes.
LC Did we bump? Ah, you said so, I don't recall that, but apparently we were close.
DK Yeah, well your foot did touch mine, on my side of the stall.
LC: All right.
DK: Okay. And then with the hand. Urn, how many times did you put your hand under the stall?
LC: I don't recall. I remember reaching down once. There was a piece of toilet paper back behind me and picking it up.
DK: Okay. Was your was your palm down or up when you were doing that?
LC: I don't recall.
DK: Okay. I recall your palm being up. Okay.
LC: All right.
DK: When you pick up a piece of paper off the ground, your palm would be down, when you pick something up.
LC: Yeah, probably would be. I recall picking the paper up.
DK: And I know it's hard to describe here on tape but actually what I saw was your fingers come underneath the stalls, you're actually ta touching the bottom of the stall divider.
LC: I don't recall that.