Cameron Whitten Enters 53rd Day of Hunger Strike
See also my previous diary and MzChief's coverage.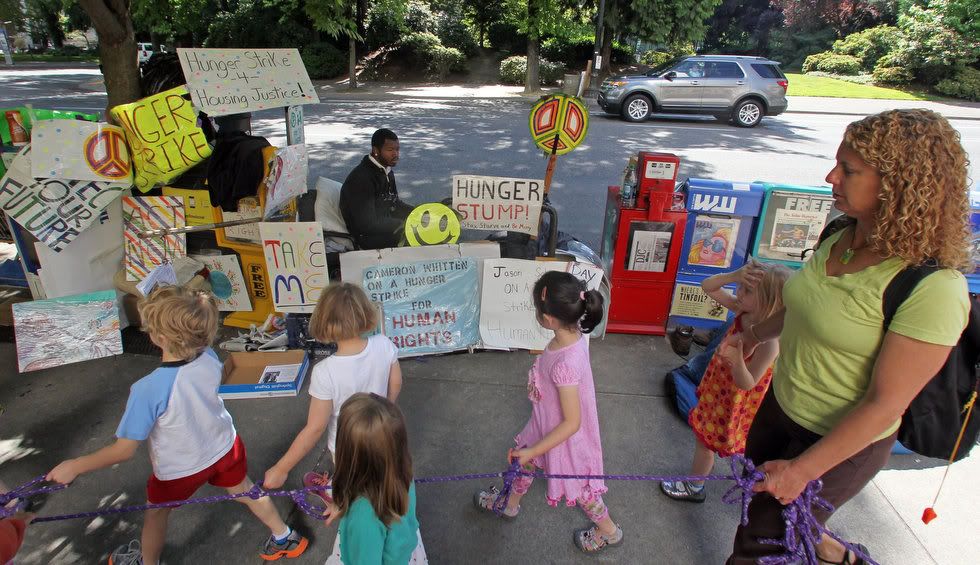 (Photo Credit: The Oregonian)
Activist Cameron Whitten has been living outside of City Hall for 53 days, while on a hunger strike, at Occupy Portland's 24/7 Vigil to call attention to the growing housing crisis in Portland, Oregon.  His fast has started to shine light on the most vulnerable of our population, bringing attention to Portland's poor and the abuses being committing against them.
A bit of background: The City of Portland has been fining the property owners of the Right 2 Dream Too Rest Area (R2DToo).  R2DToo, a non-profit organization, has been an extremely successful place where unhoused people can rest in a drug free environment without being rousted by police or private security, and without the constant fear of violence and sexual assault.  It is opposed however by the Portland Business Alliance (Portland's Chamber of Commerce).
The fines are doubling every month and City Hall is doing everything it can to shut down the Rest Area.  Many of those staying at R2DToo, as well as a number of housing justice activists in the community, have been frustrated with City Commissioners lack of dialogue with the community over what the plans are to do with the folks staying at R2DToo if they are successful in shutting it down.  City Hall appears not to want to have any discussions with individuals affected by their decisions, or with any other citizens who are concerned about the issue or transparent government.
On the 50th day of Whitten's hunger strike, a rally was held across City Hall which attracted a crowd of over 200.  Portland's two mayoral candidates, Charlie Hales and Jefferson Smith, gave some support, both speaking at the rally, however the current Mayor and City Commissioners have yet to bring to the table any reasonable solutions to the issue.
Now that the media has picked up on this story, and a growing debate on the issue has started in the community, recent notices have been sent from the City, causing some to fear the Mayor may, instead of having an honest conversation with the public, use police force to shut down political discourse and remove Occupy Portland's legally permitted 24/7 Vigil outside of City Hall.
While City Commissioner Dan Saltzman, who is the one overseeing the fines on R2DToo, refuses to work with Whitten on the account of the request for some sort of citizen oversight over City Hall's actions, Commissioner Nick Fish has struck a more conciliatory tone, stating he is taking seriously a letter from Mark Kramer, an attorney from the National Lawyers Guild, calling for R2DToo to remain open.
Hopefully City Hall will do the right thing soon.  Whitten has just called for a mass march, rally, and sleep over outside of City Hall on August 10th, which would be the 70th day of Whitten's fast.
More info: