Race and uncomfortable, (literally) buried truths: not much has changed in Jasper, Texas
"It's our custom, here in the South, here in Jasper. We have the same cemetery, but we don't mix the white and the black graves. They're separate. Put a black up here? No, no, we wouldn't do that. That would be against our custom, against our way of doing things."

— Albert K. Snell, 80, a white retired teacher on the board of Jasper City Cemetery, interviewed by the NYT.
---
This dovetails nicely with the piece I wrote yesterday, "Race and uncomfortable, buried truths: avoiding contradictions of history…and the politics of hair." James Byrd, killed  by cretinous racists who chained Mr. Byrd to a pickup truck and dragged him to death on June 7, 1998, his body parts strewn about the road in Jasper. He, along with Matthew Shepard are memorialized with the Matthew Shepard and James Byrd, Jr. Hate Crimes Prevention Act that was signed into law on October 28, 2009 by President Barack Obama.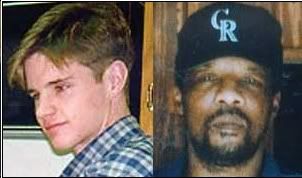 The town of Jasper, Texas (pop. 7600) had a history of segregation and racial animus before the murder of James Byrd, and sadly not too much has changed today in terms of the sentiments held by its residents. As you saw in that above quote, here's an educator — goodness knows how many children he taught — who holds repugnant views. I don't think it takes much contemplation to conclude that there aren't many people in power in that town who are sitting down and having honest conversations about race, class and historical oppression and how to move forward.
A certain amount of "progress" in the town  — it hired and fired its first black police chief, Rodney Pearson — has resulted in a nasty public political battle that underscores how easily people retreat to corners and open fire.
Mr. Pearson says he is preparing to sue. The Texas N.A.A.C.P. has asked the federal government to investigate. And former and current white officers who worked under Mr. Pearson have filed federal complaints of their own alleging racial discrimination.

The battle dates from last year, when the majority-black, five-member City Council voted to appoint Mr. Pearson, first as the interim and then the permanent chief.

Mr. Pearson had been a longtime state trooper in the area and was a former Jasper volunteer fire chief. But Mr. Pearson's selection was opposed by a number of white residents, who believed the council passed over more qualified candidates, including Gerald Hall, a white police captain at the time and a veteran of the department.

A group calling itself the League of Concerned Citizens circulated petitions to recall three of the four black council members who voted to hire Mr. Pearson, accusing them of "incompetence, misconduct and malfeasance in office." Hundreds of people signed the petitions, and it appeared that all of them were white, according to a ruling in a lawsuit filed in connection with the recall effort.

Two of the council members were recalled in November. When the new City Council was elected in May, it became a 4-to-1 white majority. This month, one of the council's first acts was to vote, 4 to 1, to fire Mr. Pearson at a public meeting after council members and Mayor Mike Lout, who is white, questioned him about his handling of the department. Alton Scott, the black councilman, opposed the move.

"The whole thing is racist," Mr. Scott said of Mr. Pearson's firing. "It's based on race. It has nothing to do with qualifications."
Did I mention that Pearson's wife is white? You know that had to grind some racists raw. And the result? Three weeks before Mr. Pearson was canned, his wife, Sandy was fired from her job (it wasn't a city position) as an office manager. Coincidence? It would be one thing if the white opponents of Pearson were trying to paper over their racism, but they are so bigoted to the core that it easily slips out.
Two white business owners who supported the recall effort used a racial slur at a City Council meeting and on Facebook; they later apologized…Lance Caraway, a white gun-shop owner who gathered signatures for the recall effort against the black council members, is one of the local businessmen who used a racial slur last year. "You get angry at a few people, sometimes you call names, right?" Mr. Caraway said. "It was a poor choice of words."
Black residents — sadly, even including Mr. Byrd's relatives — are fearful of speaking out about the biases and open racism in Jasper out of fear of retaliation. Can you blame them?
The fact is that Jasper residents have never come to grips with race and reality in 2012. The white residents feel their power is slipping away (though clearly there's no evidence of that, given the intimidation and political maneuvering embedded in its politics), and there is clearly zero social interaction going on at the most basic level to be able to discuss Jasper's problem with race and reduce tensions long term. Let's just say I don't think Jasper's white residents have any  "close friends" from the black side of town.