Brian Schweitzer v Max Baucus – 2014 Primary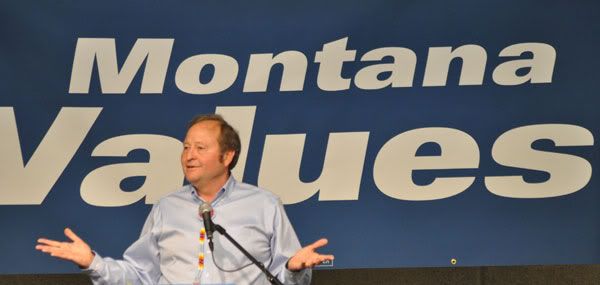 Looking back at the weekend's Montana Democratic Party Convention, I can't help but wonder if this year's senate campaign between Jon Tester and Denny Rehberg is little more than practice for the 2014 primary against Max Baucus.
One of the top arguments against Denny Rehberg is all of his votes for the Patriot Act. If you're a Democratic Party activist and volunteer to write a letter to the editor against Rehberg, it's quite likely you'll be asked to complain about his support for the Patriot Act. The same practice Democrats will get this year whacking Rehberg for his Patriot Act support will come in handy next cycle when it's time to hold Max Baucus accountable for his support of the Patriot Act. It's the same argument, all you have to do is switch the names.
Another big topic iss the REAL ID Act. Same thing, another example of Montanans hating something Rehberg did, campaigning on it all year and getting practice to hold Max Baucus accountable for being as wrong as Rehberg.
Iraq War? Ditto.
Cosiness with big money special interests? Baucus is even worse.
Bush Tax Cuts? Rehberg just voted for it, Baucus was so instrumental pushing it through the senate that he was rewarded with a photo-op by "getting" to stand right next to Bush when he signed it into law.
In short, this entire year is practice for the 2014 Max Baucus Retirement Party.
Now I don't know if Brian Schweitzer will primary Baucus. I doubt he knows. I do know that if he runs, he wins with a huge, double-digit margin.
Because it's not just the current race that is reminding everyone of the problem with Max Baucus chairing the Senate Finance Committee, all you have to do is read the news.
The latest Max Baucus scandal that everyone is talking about is the emails released that show how Max Baucus blocked reform to allow the reimportation of prescription drugs and prevented Medicare from negotiating lower drug prices. How is that going to stack up in a Democratic primary against the guy who made a national name for himself by taking busloads of seniors to Canada to get the exact same prescription drugs for lower prices?
And now Max Baucus says he's going to do a major overhaul of the tax code? Come on. Everyone knows this is just a transparent play to raise big corporate bucks. He's saying he's going to do major reform, but won't say how? That's like putting a for-rent sign on his senate office, it's a clear signal to everyone with a loophole that they'd better pony up to Max. With everyone familiar with his transactional approach to legislation, it will work. He's going to raise a boatload of money off this stunt.
But will it really matter? In Montana, is there really much of a difference between running a $5 million campaign and a $20 million campaign? At a certain point, there aren't just diminishing returns, but backfire as voters are reminded by his over-saturation of how Max got his money. I don't think anyone in politics doubts that if Brian Schweitzer runs against Max that the good guv will be easily able to raise enough money to run a solid campaign. No, he won't raise as much as Max, but he can raise enough. And with every left of center organization with an email list chomping at the bit to take out Max, he'll have lots of nationwide support.
I don't even think it takes a figure as beloved as our governor to beat Max. Sure, as the most popular elected official in the state, Schweitzer would start out with a big lead in the polls (he's again up by double-digits in the latest poll). But after spending all this year making the arguments against Denny Rehberg that are the same arguments against Baucus, Montana Democrats will be primed for change. Forty-years in DC is too long and it shows.
And if Montana Democrats don't replace Baucus as the nominee, it's likely we'll lose the seat. Baucus got lucky in 2002 with an opponent who dropped out of the race and again in 2008 with an opponent who never even really joined the race. But it's foolish to plan on Baucus being lucky enough to again run unopposed and with his record and negative approval rating, Democrats are toast if he's the nominee. Especially considering Max can't even relate to voters on the stump anymore, he can barely even read off a tele-prompter anymore.
We're going to have to wait until the snow starts melting next spring to see who steps up to challenge Baucus. But Montana Democrats don't have to wait to practice the campaign, we just have fight Denny Rehberg.