NASA & NOAA: April 2012 Among Top 5 Warmest On Record
According to data released by NASA and NOAA this month, April 2012 ranked among the top 5 warmest Aprils on record: NASA recorded the 4th (tied) warmest April in its dataset; NOAA recorded the 5th warmest April in its dataset.  The two agencies have slightly different analysis techniques, which actually helps to reinforce the results from each other.
The details:
April's global average temperatures were 0.56°C above normal (1951-1980), according to NASA.  The warmest regions on Earth are exactly where climate models have been projecting the most warmth to occur for years: high latitudes (especially within the Arctic Circle in April 2012).  The past three months have a +0.47°C temperature anomaly.  And the latest 12-month period (May 2011 – Apr 2012) had a +0.49°C temperature anomaly.
According to NOAA, April's global average temperatures were 0.65°C (1.17°F) above the 20th century mean of 13.7°C (56.7°F).  NOAA's global temperature anomaly map for April reinforces the message: high latitudes continue to warm at a faster rate than the mid- or low-latitudes.  The extreme warmth over Siberia is especially worrisome due to the vast methane reserves locked into the tundra and under the seabed near the region.  Methane is a stronger greenhouse gas than carbon dioxide,which is the leading cause of the warmth we're now witnessing.  As I discussed in the comments in a recent post, the warming signal from methane likely hasn't been captured yet since the yearly natural variability and the CO2-caused warming signals are much stronger.  It is likely that we will not detect the the methane signal for many more years.
These observations are worrisome for the following reason: the globe is still exiting the latest La Niña event: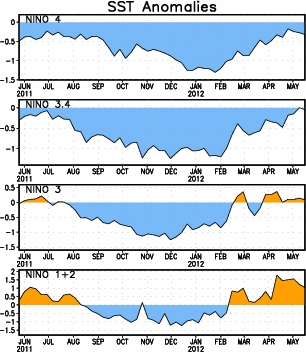 Figure 1. Time series of weekly SST data from NCEP (NOAA).  The region of highest interest is NINO 3.4.
As the second time series graph shows, the last La Niña event hit its highest (most negative) magnitude in December 2011.  Since then, SSTs have slowly warmed back toward a 0C anomaly (y-axis).  La Niña is a cooling event of the tropical Pacific Ocean.  It is therefore significant that the past few months' global temperatures continued to rank in or near the top-10 warmest in the modern era.  You can see the effect this last La Niña had via this NASA graphic.
As the globe return to ENSO-neutral conditions this summer and early fall, how will global temperatures respond?  Those temperatures typically trail ENSO conditions by 3-6 months.  Looking further into the future, what will next year's temperatures be as the next El Niño occurs?