Breaking: President Bill Clinton records robo-call against Amendment One
Following his daughter's strong statement against Amendment One this week, President Bill Clinton has recorded a robocall for the Campaign to Protect ALL NC Families to run in these last days before the vote on May 8. He emphasizes the effect on businesses and families.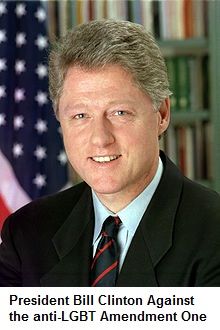 "Hello, this is President Bill Clinton. I'm calling to urge you to vote against Amendment One on Tuesday May 8. If it passes, it won't change North Carolina's law on marriage. What it will change is North Carolina's ability to keep good businesses, attract new jobs, and attract and keep talented entrepreneurs.
If it passes, your ability to keep those businesses, get those jobs, and get those talented entrepreneurs will be weakened. And losing even one job to Amendment One is too big of a risk. Its passage will also take away health insurance from children and could even take away domestic violence protections from women. So the real effect of the law is not to keep the traditional definition of marriage, you've already done that. The real effect of the law will be to hurt families and drive away jobs. North Carolina can do better. Again, this is Bill Clinton asking you to please vote against Amendment One. Thanks."
***
Against the Amendment with NBC-17's Today Show in Durham on Election Day
And on election day, Durham will be spotlighted on the Today show; it has put out a call for residents to show up at downtown's CCB plaza at 4 AM on May 8. The Durham Convention and Visitors Bureau:
Starting at 4:30 AM (the extra half hour is for getting ready) on Tuesday May 8th, viewers tuning in to NBC-17 to see the local Today show, will get an eye full of Durham live from the CCB Plaza Downtown. The public is encouraged to be there. At 4:30.  Really.

Those truly motivated can come on down to the plaza anytime during the broadcast, according to Sam Poley, Director of Marketing and Communications at the Durham Convention & Visitors Bureau. "We know it will be hard for some folks to get out of bed, so we asked some local businesses to get up with us, too," he said.  So far, Blue Coffee which is located across the street from the plaza where the taping will occur will open at 4:30 with coffee available until their normal operating hours commence, and Only Burger will have their truck on the scene with their Breakfast Burger and some other offerings targeted to the early riser. DCVB will use their social media channels as other businesses announce their intentions to serve the crowd, too. "Our objective is to make this something of a party," Poley added.Using Downtown Durham as the backdrop, NBC 17 will broadcast live for their show as well as the breaks during the national broadcast that begins at 7 AM. "Let's just say there are some cool things in the works for this," Poley added.

This program of broadcasting live from places in the viewing area is a chance for the towns to highlight the people, the businesses, the food and the good news that flows out of communities every day. Anchor Phil Sanchez and meteorologist Bill Reh will be in the field as NBC-17 shares the stories that make each community distinct.

The series kicks off Monday May 7th from Fuquay-Varina and will be in Durham the following day. It's a great chance to fall in love – for the first time or all over again – with some of the places that make living here so remarkable.

"We live in a marvelous place. Taking our show on the road is a wonderful way to highlight the communities in this market," News Director Andrea Parquet-Taylor said. "And we want to give people a chance to share their stories in fresh, appealing ways."