March Job Numbers For Pennsylvania and CEO Pay
By Mark Price, Third and State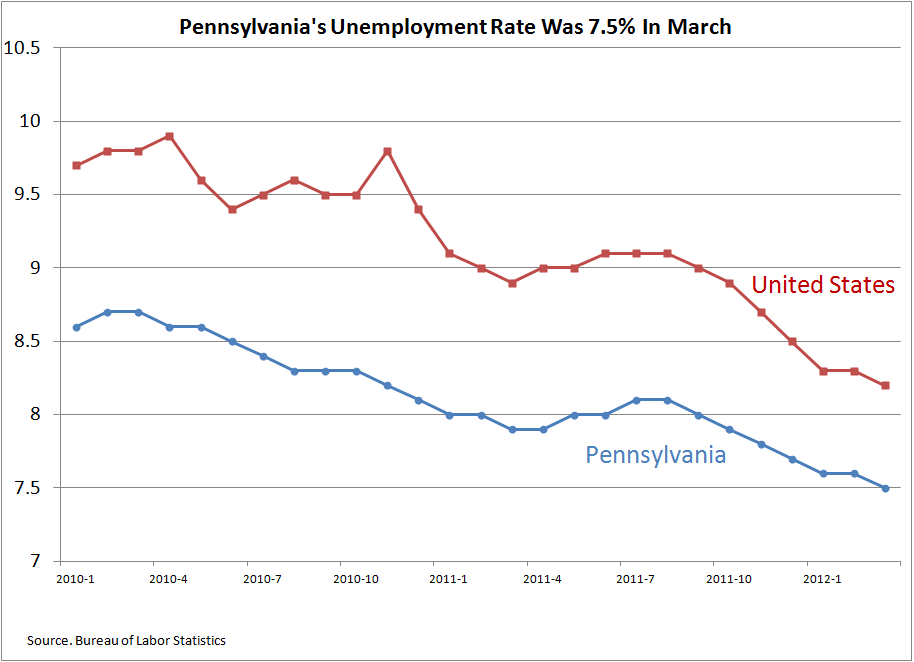 The Pennsylvania Department of Labor and Industry released new data for March on Pennsylvania's employment situation. According to the household survey, the unemployment rate edged down slightly to 7.5%, and the survey of employers showed healthy growth in nonfarm payrolls of 7,800 jobs.
As always, caution should be exercised in interpreting a month change in employment statistics.
In terms of levels, there were big gains in Leisure and Hospitality (7,000), Trade Transportation and Utilities (4,000) and Manufacturing (2,100). We will not have full information until the fall whether the job losses in the public sector will put a drag on employment growth in 2012, but the March data shows we are off to an uncomfortable start, with 2,500 jobs lost.
Over the last several months, Pennsylvania nonfarm payroll counts have been particularly volatile, showing big one-month gains and losses thanks to a combination of unusually warm weather and some technical issues. On average over the last six months, Pennsylvania has added just under 6,000 jobs a month. We need about 10,000 jobs a month to move back to full employment by March 2015 (three years from now).
While unemployment remains high today and for the foreseeable future, the distance between CEO pay and the pay of the typical worker reached an all time high in 2011.
Corporate CEOs are now making 380 times the salary of the average American worker, a record high and the biggest pay gap in the whole world, according to the 2011 AFL-CIO's Executive Paywatch.