NOM Collaborator Ken Hutcherson Says Good Parenting Means Beating the Gay Out of Your Kid
National Organization for Marriage's recently-released strategy documents recommend that opponents of marriage equality "drive a wedge between gays and blacks" and "provoke the gay marriage base into responding by denouncing these spokesmen and women as bigots". The documents also show that NOM earmarked funds for an "outreach coordinator to identify children of gay parents willing to speak on camera", thus pitting children against parents.
Ken Hutcherson, pastor of a Seattle-area church, models NOM's disturbing, divisive "black v. gay" and "parent v. child" strategies on the KCTS 9 program Public Matters with C.R. Douglas: Gay Marriage. And he does it with a laugh and a smile. The show airs tonight but can be viewed online here. Forward to minute 37 for Hutcherson's remarks.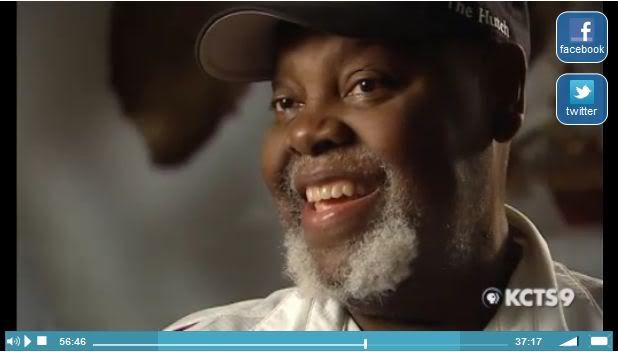 There is no evidence at all that the homosexual was born that way. I guarantee you I was. I was born this way. I was born black, I'm living black, I'm going to die black.

You know we find out there're criminal genes, they say, in some people. But do you know how to get rid of criminal gene? Two parents with a belt [laughs] gets rid of the criminal gene.

Discipline, understanding, good parenting removes the homosexual gene.
This is not the first time that Hutcherson has expressed joy at the thought of inflicting pain on others, or used extremely violent imagry. He has recently stated that "I played football so I could hurt white people legally", that "the only way to make your enemy a friend is to defeat them or kill them" and used the phrase "put a bullet in the head" to compare Gov. Chris Gregoire to President Lincoln's assassin after Gov. Gregoire signed Washington's marriage equality law.
A long-time opponent of legal protections for the human rights of gay lesbian, bisexual and transgender (LGBT) people, Ken Hutcherson is currently taking a visible role in the National Organization for Marriage's "Preserve Marriage Washington" campaign to repeal Washington's marriage equality law. On April 13, Hutcherson sent the following e-mail to supporters. The e-mail, along with Hutcherson's statements above and elsewhere underscore Hutcherson's hand-in-glove relationship with NOM and NOM's apparent endorsement of this violent-minded, violence-promoting man.
Hello Prayer Warriors!

The battle to restore traditional marriage in our state is hot!

I will be holdling an area-wide pastors' meeting on Thursday, April 26 from 11:30 am – 1:30 pm at the Antioch Bible Church offices. We will be strategizing ways to ensure both Referendum 74 and Initiative 1192 are successful. Chris Plante from the National Organization for Marriage will in attendance.

Please forward this invitation to your pastor and if they are not planning on coming, ask them why not. They should contact our office at 425.284.2601 to rsvp. Lunch will be served.

Thank you and please pray that many, many pastors in the Puget Sound area will lock arms and join the fight to make the institution of marriage in this state exclusively between one man and one woman.

Pastor Hutcherson