NOM's International Boycott of Starbucks is a Total Flop
National Organization for Marriage's DumpStarbucks campaign, which is NOM's attempt to punish Starbucks for supporting marriage equality, went international on April 10, running online ads in Egypt, Beijing, Hong Kong, the Yunnan region of China, United Arab Emirates, Bahrain, Oman and Kuwait in the languages Mandarin, Arabic, Turkish, Spanish and Bahala.
By April 10th, before their international campaign kick-off, NOM had garnered about 30,400 domestic signatures on their boycott petition.
April 10:

One week later, after running online ads in some of the most anti-gay countries on Earth, NOM has netted all of 1,500 additional signatures.
April 16: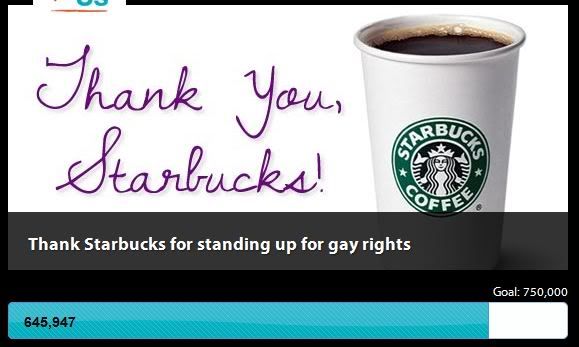 Meanwhile, Sum Of Us's "Thank You Starbucks" campaign has delivered over 645,000 thank-yous to Starbucks for their support of marriage equality.
NOM has proven an important point with their DumpStarbucks campaign, but not the one they intended.