Seattle's St. James Cathedral Rejects Anti-Gay Referendum Campaign
In a heartening move Father Michael Ryan, St. James Cathedral's senior pastor, e-mailed his congregation this week to inform them that the cathedral was not participating in the signature gathering effort to force Referendum 74 on the November ballot. Referendum 74, a project of National Organization for Marriage, would repeal Washington's new civil marriage equality law.
St. James Cathedral is the home church of the Archdiocese of Seattle and the seat of Archbishop J. Peter Sartain. Last week Archbishop Sartain co-signed a letter with Bishop Eusebio Elizondo calling the civil marriage equality law repeal effort "critically important" and authorizing — some would say ordering — the nearly 250 churches under their purview to participate in the Referendum petition process.
Dominic Holden at The Stranger posted Fr. Ryan's e-mail:
Dear Friends,

Archbishop Sartain has written a letter in which he has expressed his support for Referendum 74 and for the collecting of signatures in parishes. Media reports regarding this are somewhat misleading. While the Archbishop has given his support to the effort, he has wisely left it up to each pastor to decide whether to allow the collection of signatures in his own parish.

After discussing the matter with the members of the Cathedral's pastoral ministry team, I have decided that we will not participate in the collecting of signatures in our parish. Doing so would, I believe, prove hurtful and seriously divisive in our community.

Father Ryan
Seattle Catholics have a long tradition of working for social justice and inclusion, which Father Ryan clearly respects and embraces. St. James Cathedral's parish statement includes the following:
We are an inner-city parish with an outreach to many who live on the edge of poverty and loneliness. We are a diverse community that welcomes, accepts, and celebrates the differences we all bring. We exist in the heart of the city, yet sometimes our parishioners come from considerable distances to worship here.
Update: St Joseph Parish, which is located in Seattle's Capitol Hill neighborhood, is also not allowing R-74 petitioning on their campus. The following notice is posted prominently on the parish's main web page: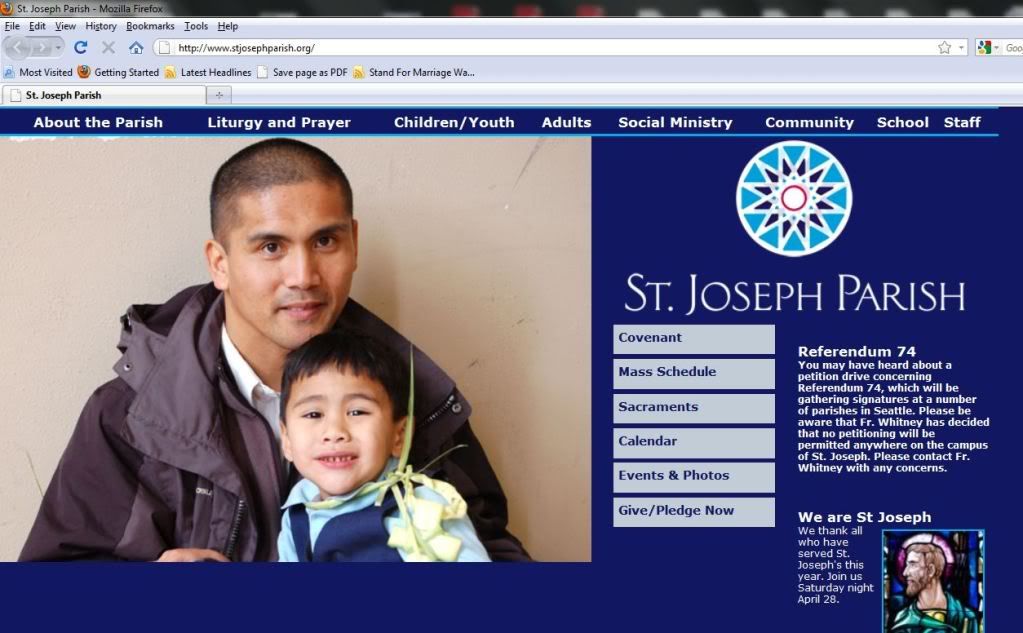 Referendum 74
You may have heard about a petition drive concerning Referendum 74, which will be gathering signatures at a number of parishes in Seattle. Please be aware that Fr. Whitney has decided that no petitioning will be permitted anywhere on the campus of St. Joseph. Please contact Fr. Whitney with any concerns.
There are likely others, including St. Therese and St. Mary, although reports have yet to be confirmed.
Update 2: St. Mary is now confirmed to be refusing the referendum petition, and many others are reportedly on board as well including St. Catherine, St. Patrick, St. Therese, and Christ Our Hope.