NOM's "Dump Starbucks" Boycott Flops, Shows NOM's Poor Judgment
They blew it. National Organization for Marriage (NOM) really doesn't know how to discern a winnable fight.

A week after the inception of its planned international "Dump Starbucks" campaign and several urgently-worded action e-mails from NOM and allies later, all they have to show is about 21,000 signatures.
In other words, almost nobody would sacrifice even a cup of coffee to support NOM's anti-gay overreaching. This result indicates a severe lack of judgment on NOM's part and a disconnect with the average person who, as NOM has now proven, isn't an anti-gay fanatic.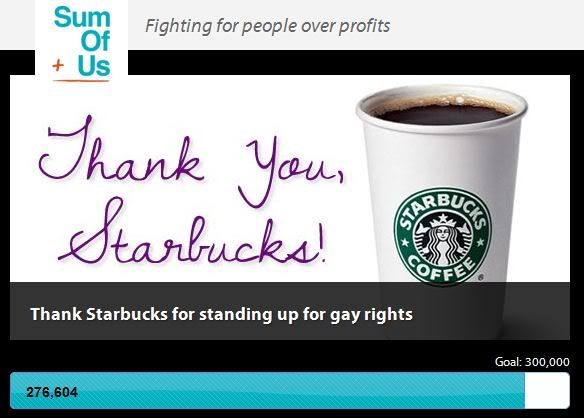 In contrast, an impromptu "Thank You Starbucks" response campaign sponsored by Sum of Us has generated over 275,000 signatures of appreciation for Starbucks in the same time period.
NOM's attempted boycott was in response to Starbucks' statement of support for marriage equality. NOM's action had clearly been planned in advance since their representatives kicked it off with a publicity stunt at the recent Starbucks annual meeting, something NOM made sure to heavily publicize.
This ill-conceived flop is one of many NOM has presided over just this year, and it's only March. Other early-2012 failures by NOM include:
| | |
| --- | --- |
| | The Washington and Maryland legislatures passed marriage equality laws earlier this year, in both cases with the solid support of their governors (who happen to be Roman Catholic). |
| | The Republican-led House of Representatives in New Hampshire roundly rejected a bill that would have repealed the state's popular marriage equality law. |
| | Before voting down the marriage repeal bill, New Hampshire's Republican-led House of Representatives rejected a NOM-endorsed amendment that would have re-instituted civil unions for same-sex couples in New Hampshire. Supporting this amendment constitutes a serious reneging by NOM on their previous opposition to civil unions. |
Looking on a longer time horizon, under NOM's "leadership" the country has gone from a 50-state ban on access to civil marriage licenses for same-sex couples to marriage equality being the law of the land in Massachusetts, Connecticut, Iowa, Vermont, New Hampshire, New York and District of Columbia, with newly-passed laws in Washington and Maryland awaiting enactment.