NC bishops blast President on Amendment One + more news, video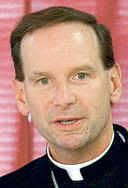 Charlotte Bishop Peter Jugis and Bishop Michael Burbidge of Raleigh embarrass themselves in their response to the President's opposition to Amendment One.
Obama's opposition, they wrote, "is a grave disappointment, as it is reported to be the first time that the President has entered into this issue on the state level, further escalating the increasing confusion on the part of some in our society to the very nature of marriage itself."

Traditional marriage, they said, is sanctified by God and offers the best environment for children.

As to whether the amendment is discriminatory, the bishops said this:

"While we are respectful of the Office of the President, we strongly disagree with this assessment. As Cardinal Timothy Dolan, president of the U.S. Conference of Catholic Bishops, recently stated, 'The Catholic Church recognizes the immeasurable personal dignity and equal worth of all individuals, including those with same-sex attraction, and we reject all hatred and unjust treatment against any person.'?"
That last paragraph is laughable — again, if this is about "protecting marriage," then how can they" support the dignity and equal worth" of lesbian and gay couples in NC who wish to obtain, for instance, a civil union, something this amendment bans? It sounds like flat out bigotry to me.
And as far as the "what about the children" nonsense, there's more potential harm to children with this amendment than just leaving the state's constitution alone. Read about the harms of Amendment One.
Their arguments are obliterated because all one has to do is point out that the earth and marriage have not been destroyed in Massachusetts which has had marriage equality since 2004.  These bishops have to do more than assert what is best for children at this point they need to present data proving their points. They don't have any. The only confusion is what is being perpetrated by the church, NOM and the rest of them — conflating church and state.
And, quite frankly, NOM really stepped in it in NH, going on record affirming civil unions, something Amendment One bans. Way off messaging and we have to hold Tami Fitzgerald accountable on it.
***
In related news, check out Matt Comer's post, "Despite Paul Stam's best efforts, Tar Heel intellect, common sense and New South progressivism will prevail." NC state Rep. Rick Glazier and Rep. Paul "Skip" Stam (a major player backing Amendment One discussed the ballot initiative with church-goers in the small town of Concord. Glazier said this on his Facebook page:
Yesterday, I spoke with between 150-200 congregants of five Methodist, Lutheran, Presbyterian, and Episcopal churches in Concord. I presented the reasons to vote against the upcoming amendment on the May ballot and Rep. Paul Stam spoke in favor of the amendment. We then answered congregant questions for about 45 minutes. The overwhelming number of people came for information and a true discussion on the amendment and its implications.

The event was organized by the pastors and ministers of those churches. I believe, based on the many questions during and comments after the event, most people felt they left the congregation far better informed and many, as well, determined to vote against the amendment. When people realize this amendment's reach into the lives of hundreds of thousands of North Carolina families, that it will affect heterosexual as well as gay couples, seriously harm their children, negatively affect our economy, potentially eliminate domestic violence protection for unmarried couples of any gender, void benefit plan partner provisions of a number of NC towns and counties, and all without any agreement even by the authors of the amendment on what its words mean ( an admission made last night repeatedly by Rep. Stam)…..would you sign a document where you do not know the legal meaning of its key terms? If not, how can any of us vote to put into the state constitution an amendment that suffers from the same defect?

Concord congregants reasonably seemed to suggest last night that you can't. Let's all educate each other on what amendment one is really about—who it will harm is us—our children, grandchildren, brothers and sisters, neighbors, friends and colleagues.
***
Grandson Of NC Constitution's Principal Drafter Opposes Amendment One
Russell and Sally Robinson have been married almost 59 years. They live in Charlotte, are active in the Republican Party, and like many North Carolinians, they both strongly oppose Amendment One, a constitutional amendment that will appear on the May 8, primary ballot, which would threaten protections for all of the state's unmarried couples and their children.
But Russell Robinson has an added incentive for ensuring the state's founding document lives up to its original intent of protecting all North Carolinians: it was his grandfather, North Carolina Supreme Court Justice William B. Rodman, who authored the 1868 North Carolina Constitution.
Mr. Robinson, a Duke Law-educated lawyer, expressed strong disapproval of the amendment in a video released today by the Protect All NC Families, the coalition effort to educate North Carolinians about the harms of Amendment One.
"The amendment is completely unnecessary. Same-sex marriage is now prohibited in North Carolina," said Robinson.
Additionally, Robinson calls the amendment "poorly worded" and "absurdly broad," criticisms that Mr. Robinson and many other legal scholars assert could lead to legal challenges in North Carolina courts for years to come.
LOLZ of the day – mewling over why the NC GOP hasn't targeted voters of the "creative class"
Look at this post, "Obama Goes Gay to Get NC on Election Day," from the John Locke Foundation, an organization that defines in this manner: "The John Locke Foundation envisions a North Carolina of responsible citizens, strong families, and successful communities committed to individual liberty and limited, constitutional government." Yes, government small enough to get under the sheets with you. The author has noticed that there is a political method to the madness of the President coming out against the amendment
Similar state laws have passed over his plate no less than a dozen times since he took office, but he felt no need to step up to bat. In fact, until now, he wouldn't take a specific position on gay marriage at all, choosing to support civil unions and call his views on gay marriage "evolving."

Here's Obama in 2010 (White House Makes Sure Everyone Knows Obama Doesn't Support That Crazy 'Gay Marriage' Idea) and here's Obama now (Obama Opposes Proposed Ban on Same-Sex Marriage in NC).

So why is he suddenly objecting to North Carolina's ban when he didn't weigh in on other state's bans? And why would he do this when a clear majority of voters in the state are against gay marriage? It's a matter of arithmetic.

First, North Carolina is perhaps the most important state in the nation to his re-election campaign.
Tara Servatius goes on to complain that the state has gone Purple and that the Obama campaign is targeting educated professionals (the "creative class"), and mad the GOP hasn't targeted this demographic. Well, crap – has she noticed the NC GOP is living in another century? They have such embedded disdain for those young professional men and women that they cannot wrap their minds around the thought of moving to the center from the fringe-right to appeal to them. Nice try; they don't want to fight for those votes.