Occupy Atlanta and Occupy Our Homes calls for a nationwide day of action against Chase Bank on Tuesday.
We are calling for a day of action against Chase on Tuesday, March 13, 2012 to demand a moratorium on foreclosures and evictions. March 13th is the birthday of Jamie Dimon, the CEO of Chase Bank.
…
March 13 is now the second day of a week of planned actions against TBTF banks including Wells Fargo, Bank of America, and US Bank. The week of actions was inspired by Occupy Atlanta and Occupy Glen Iris to mark Chase Bank CEO Jamie Dimon's birthday with a protest of the bank's criminal foreclosure practices.
Here is the nationwide list of bank actions scheduled for next week.
March 12: Occupy the Crime Scene – County Recorder's Office – Occupy Los Angeles, Occupy Petaluma, Occupy Sacramento
March 13: Chase— Occupy Atlanta & Occupy Detroit, along with the Moratorium NOW! Coalition to Stop Foreclosures, Evictions, and Utility Shutoffs
March 14: US Bank— Occupy Minneapolis and Neighborhoods Organizing for Change (NOC)
March 15: Bank of America— Occupy Wall Street
March 16: Wells Fargo— Occupy groups across California, and the Alliance of Californians for Community Empowerment (ACCE)
…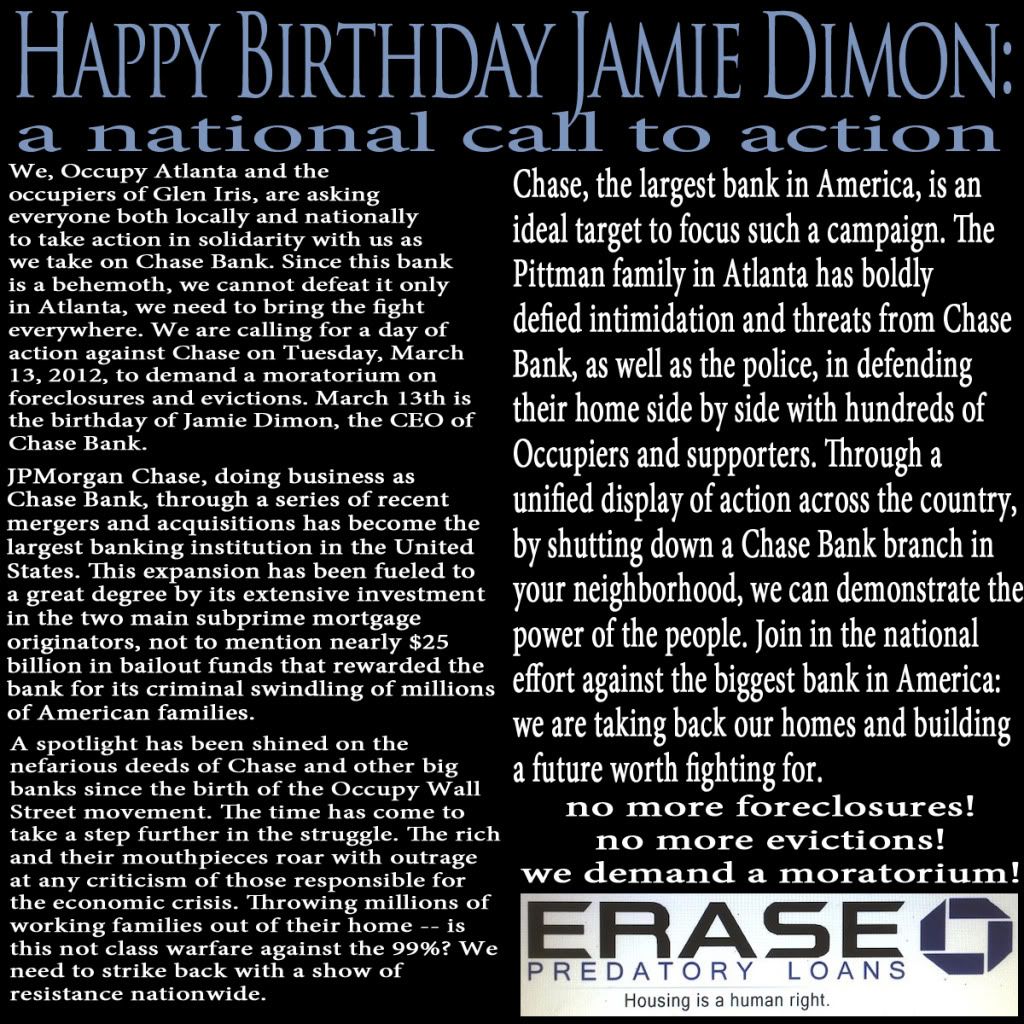 One shining example of the predatory practices of Chase Bank is its treatment of Atlanta's Pittman family.
Eloise Pittman was given a predatory loan on a home that she and her family have lived in for over 50 years. She passed away in November, and her family is facing eviction. Since December 6th, 404 Glen Iris has been occupied in an effort to stop eviction.
The protest against Chase Bank in Atlanta has been relentless because it epitomizes the criminal insanity of a banking system gone delirious with greed.
Occupy Atlanta is one of many Occupy groups participating in this nationwide struggle against JPMorgan Chase, a corporation that treats the general public as no more than means to the ends of profit. Like many hardworking individuals across the nation, the late Ms. Eloise Pittman was victimized by predatory lending.
From the January 27 Occupy Atlanta protest at Glen Iris:
It's the bankers and politicians who commit these crimes against humanity, that deserve to be thrown into the street.

NOT THE PITTMAN FAMILY.
…
Occupy Delaware, encamped in the shadow of Chase Bank's corportate offices in Wilmington, will be participating in a dual action on March 13th, one outside the Chase Bank building in which U.S. Senator Thomas Carper has is Wilmington office (no conflict of interest here). Here's the sign facing the City/County building that spells out Chase Bank's inhuman practices.
…