Why fighting the anti-business, anti-family, anti-LGBT amendment in NC is important
I recently blogged about the grassroots-focused effort to raise awareness about the harms of Amendment One, Race to the Ballot, which has communications director for Protect All NC Families, Jen Jones, on a 322-mile run across North Carolina speaking to ordinary folks at town halls, churches and in homes. The ballot initiative on May 8, if it passes would permanently ban all relationship recognitions beyond marriage between one man and one woman, as well as threaten protections for all unmarried couples in the state.
It has been a humbling and eye-opening experience; for those of us who cannot be there every step of the way, her encounters fortunately have been chronicled by documentary filmmakers, and in her own videos that you can see on the RTB blog. One stop in particular is noteworthy and worth a few minutes of your time. Jen:
Our first big lesson came in Bakersville, N.C., population 347, when over 100 people packed a converted courthouse for a civil RACE TO THE BALLOT panel discussion and Q&A, with the latter representing both sides of the Amendment fight. The public town hall was hosted by the Mitchell County GSA, a relatively new, adult gay-straight alliance that, at each of its three initial group meetings garners dozens of vocal protesters, which prompted this pretty terrifying video.
Some of the quotes:
"As long as they're Christian I don't care what color they are."
"So only Christians in Bakersville?"
"That's what I wish."
But this town hall meeting was different. We call it the "Bakersville Effect," as everyone from anti-gay protesters to Penland Arts community progressives came to together for one night to put down their signs, speak openly and honestly and actually discuss the measure coming up on the May 8, ballot. In fact we've seen this throughout our journey, with many hearts and minds changed in the process.
Here's the complete Bakersfield town hall video; it's worth watching the whole thing, but here are some key moments quoted below:
approx. 16:50: "Did you conceive that child?" … – unnamed pastor
approx: 17:30: "Can I ask you a question? You probably know people who are married and have children…one of the parents may not be the biological parent of that child, stepparent, but you know that parent of that child loves that child just as much as if that child was their own."
–  Allison Bovée, parent of non-biological child, stripped of custody rights.
"In some cases." – unnamed pastor
"Can you believe I love that child as if she were my own?" –  Allison Bovée
"I can't." – unnamed pastor (audible gasps in audience on both sides)
approx: 19:12 (Women talks of Amendment One harms to children and from a Christian perspective).
The excitement about marriage equality success in Maryland is no doubt much more sexy and compelling a story on the surface than a marriage discrimination amendment in North Carolina, I fail to understand why some would just like to write off the state as just another bible-beating fundamentalist part of the country. It isn't — and that's not just my opinion, it's a demographic reality that the state is on a progressive political trend that was halted temporarily by the debacle of the 2010 elections.  The state helped Barack Obama win in 2008 because of unprecendented turnout at the polls, and the Obama 2012 campaign is banking on North Carolina – spending a lot of time and money here.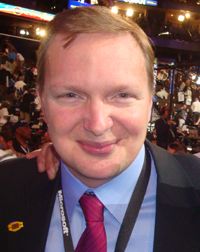 This wooing of North Carolina by top Obama operatives — from the White House, the Cabinet and the re-election campaign — is getting serious…national campaign manager Jim Messina:
On how the Obama campaign is banking on having North Carolina in its column:
"We put the convention in Charlotte in part because North Carolina is such an important piece of our map to get to 270 electoral votes. There are many ways to get there, but we view North Carolina as one of the key ways."
On using the Democratic convention to boost the N.C. campaign:
"(Denver in 2008) was the first time we ever used the convention to organize locally and excite our supporters and volunteers. We've already seen just incredible enthusiasm on the ground across North Carolina about hosting the convention, about really putting Charlotte on a world stage and showing the best that North Carolina has to offer. We think that will have political benefits as well as our supporters and volunteers get incredibly involved in the campaign."
On whether the Obama campaign will target newcomers to North Carolina:
"We are going to look at every single way we can to get to 50.1% of the vote. We're not going to take anything for granted. We're not going to assume the state has changed or hasn't changed. We're going to try to talk to everyone we can. Here's what is true, though: We are the only campaign (in the state). We basically never shut down. You can see in North Carolina (that) we continue to organize, we continue to grow our volunteer base. This campaign is going to be, at some point, a game about turnout and persuasion. So we're building the kind of grassroots organization that can turn out our voters. You saw some of that – not from us, but from Democrats in 2011 and we're going to expand and build on that."
NC is not a throwaway state, or the Obama campaign wouldn't bother coming here, let alone holding the convention in Charlotte — they have touted this selection in press release after press release. Yes, the state is full of newcomers, and plenty of progressive natives are here as well — the state has changed — more of its population is in urban/suburban areas, not rural regions. It's absurd to compare the NC of 1970 to 2012 – the political reality is that the 2010 elections is the only reason we're facing the amendment battle. As long as Dems held the General Assembly, the bill died over and over.
(Photo: _HHM5519 by studio08denver, on Flickr)
And that's why I believe the DNC needs to pony up and put its money where its mouth is and help defeat this amendment. Democratic National Committee Chair Debbie Wasserman Schultz, in an interview with The Washington Blade, opened the door for the party to assist North Carolina and Minnesota in their upcoming marriage amendment battles.
Wasserman Schultz, also U.S. House member representing a district in Florida, said state party groups are now focusing on defeating amendments banning same-sex marriage and the national Democratic Party would consider sending resources if asked to do so.

"I know that the party in each of those states will be combatting them," Wasserman Schultz said. "And if they ask for our assistance, like any other state party request, we'll certainly consider it."

Wasserman Schultz added the Democratic Party has a lot to accomplish in the 2012 election and said the best way to defeat anti-gay initiatives at the polls will be "by turning out our Democratic voters who generally overwhelmingly oppose initiatives like that."
In 2008, the DNC chipped in $25,000 to help defeat California's Prop 8, and then-candidate Obama urged a no vote on Prop 8. Other facts to consider:
On Friday, February 17, 2012, the DNC and Obama campaign reported jointly raising $29.1 million in the month of January alone. This comes on top of raising $68 million in the final three months of 2011. If the DNC were to chip in the same amount as it did to defeat Prop 8 to the pro-equality campaigns in all five states, that would amount to $125,000, or 0.4% of the amount it raised in January alone. They can afford it.
CNN's 2008 exit poll showed 80% of gay, lesbian and bisexual voters voted for a Democrat to represent them in the U.S. House. LGB voters and allies have had Democrats' backs for years in the voting booth; the Democrats should have ours.
-The LGBT rights movement has never won a ballot vote on same-sex marriage, losing 31 overall. We cannot lose any more and with as many as five states facing ballot referenda, we need all the help we can get. The DNC can afford to chip in to help protect equal rights.
And how about the President or the First Lady doing an anti-Amendment One video? He's on the record as opposing such amendments, so there's no controversy in stating a factual position — it can only help. It would certainly send a signal to those waffling on whether fighting discrimination is just as important as fighting for equality and it would help remind people that there is a stake in getting out to the polls.
Not all states are in the same position as Maryland in 2012. In NC and Minnesota we have different battles to win, and all of them are important. I only wish that more of my LGBT peers and allies felt the same way.