Defying Bisexual Invisibility, Presbyterian Clergy Style
Coming out as lesbian, gay, bisexual and/or transgender has its challenges no matter who you are, where you're from or the age you come out. Some of those challenges are similar for all we LGBT, but there are unique challenges faced by each sub-community as well.
Bisexuals, for example, face the special challenge of invisibility: make a family with someone of the opposite sex, and everyone assumes you're straight. Make a family with someone of the same sex and everyone assumes you're gay or lesbian.
Rev. Dr. Janet Edwards, an ordained minister of 35 years with the Presbyterian Church (U.S.A.) who recognized her own bisexuality mid-life, defies the cloak of invisibility by gracefully answering the "Top Five Questions Asked About Being a Bisexual Minister".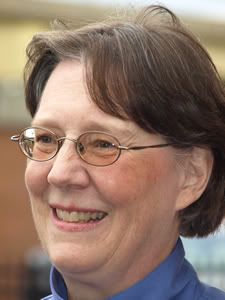 About 12 years ago, I experienced an awakening — I realized that the confusing feelings I had had all my adult life came from being bisexual. Through the process of coming out as bi to myself, my loved ones — husband, teenage sons, brothers, father — and friends and colleagues in the church, a number of questions have risen to the surface as those most frequently asked.

I thought it would be helpful to others to share those questions and my answers here.
You can probably guess the questions Rev. Edwards has been asked about being bisexual. They include these classics:
Aren't you really a lesbian who can't admit it?
How can you claim to be Christian who believes in the Bible when you live a promiscuous lifestyle?
How can your husband stand for your confession that you are bisexual?
If you're married to a man, why does talking about being bisexual matter? Aren't you just seeking attention?
How can you, as a bisexual minister, be a teacher and model of morality, especially sexual morality, to the young people in the church?
Click over for her answers. It's a wonderful read.