Washington's Anti-Gay Hydra
National Organization for Marriage is going to have their hands full trying to control all the back-biting factions within Washington's anti-gay industry. Did they know what they were in for when they decided to spend upwards of $6 million to interfere in the affairs of a state 2,500 miles distant from their offices in Washington, D.C.?
Dominic Holden reported in The Stranger that apparently there was competition among the anti-gay locals to be the first to file a referendum challenging Washington's new marriage equality law.
Pastor Joe Fuiten walked into the Washington Secretary of State's office this morning to file a referendum attempting to overturn the same sex-marriage law that lawmakers passed last week. One problem: Governor Chris Gregoire hadn't signed the bill yet. So election workers turned him away with a 3:30 p.m. appointment to return (after the bill was signed), says Secretary of State's office spokesman David Ammons. Also this morning: Family Policy Institute of Washington director Joseph Backholm waltzed in with his own, separate plans to file a marriage referendum. Same problem, of course.
"I'd heard for a few days that they are not in sync on this," Ammons says.
Odd behavior indeed from leaders of NOM's primary front group in Washington. Fuiten, pastor of Cedar Park Church in Bothell, serves on the board of Family Policy Institute of Washington (FPIW), the organization his rival Joseph Backholm directs.
The internal rift in FPIW may have roots in Fuiten's decision in 2009 to publicly criticize the Referendum 71 effort to challenge the Domestic Partnership Expansion Law of 2009. The day that Larry Stickney filed Referendum 71, Fuiten announced in a long and punishing email that "I would be very disappointed to be dragged into an effort that is unlikely to succeed and very likely to ultimately be counterproductive."
Ignoring Fuiten's criticisms, Joseph Backholm and FPIW became heavily involved in Stickney's failed Referendum 71 campaign.
Fuiten's public betrayal of his colleagues was apparently so bitterly received that he and backers of Stickney's Referendum 71 campaign Gary Randall and Ken Hutcherson have since used the media to wage a campaign of mutual character assassination.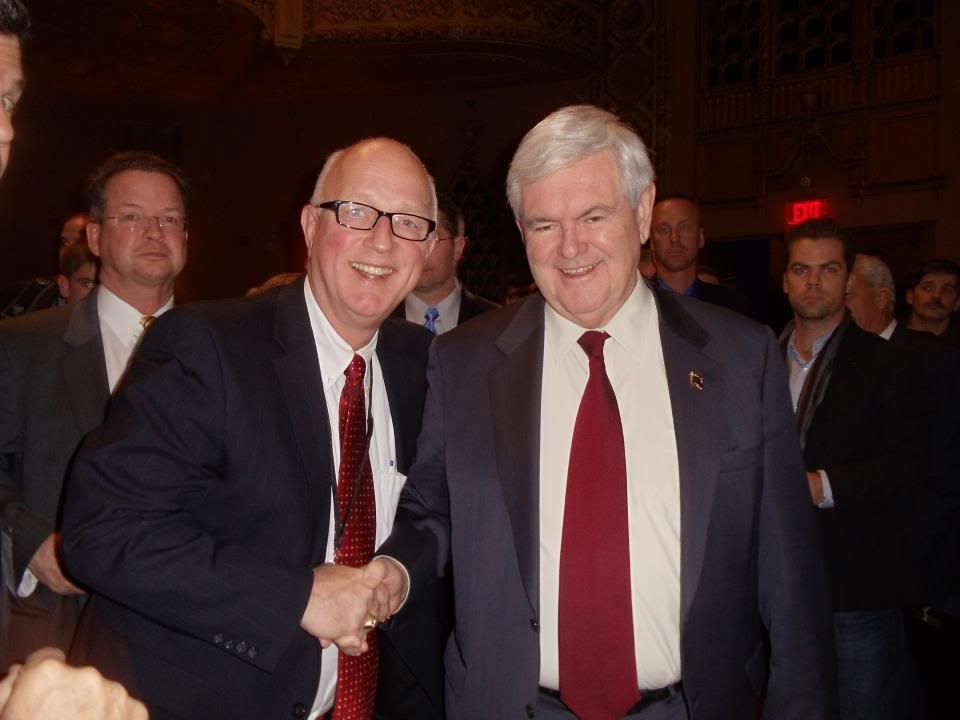 Joe Fuiten with Newt Gingrich
Fuiten is a pastor who clearly covets political power. He has endorsed Newt Gingrich's 2012 presidential campaign and is Washington State co-chair for Gingrich Faith Leaders Coalition. In 2008 Fuiten chaired Washington for Huckabee.
He certainly seemed to enjoy the spotlight recently when he announced that he had a $1 million commitment from an out-of-state backer to fund the referendum campaign. When asked who the financial backer is, he answered "I'm not going to say." Perhaps he hoped to leverage some local power by waving this unsubstantiated claim about.
Fuiten was correct that Referendum 71 would be a disaster for the anti-gay industry. In 2009 Washington voters became the first in the nation to approve a domestic partnership law at the polls. This, despite the message from referendum backers to the voters that this was really a referendum on marriage equality.
Fuiten's judgment was severely flawed in 2006, however, when he believed that Washington voters would repeal the new LGBT anti-discrimination law via Referendum 65.
Then as now Fuiten tried to grab the reigns, but professional ballot measure promoter Tim Eyman beat him to the punch and filed a referendum first. Nevertheless, "the signature-gathering fell mainly on a coalition of conservative religious organizations" directed by Fuiten and Randall, The Seattle Times reported. Despite the efforts of Eyman, Fuiten and Randall, the electorate was so uninterested in stripping civil rights from LGBT Washingtonians that referendum backers "didn't even come close" to collecting enough signatures to put Referendum 65 on the ballot.
Fuiten blamed Eyman for the failure, saying, "Tim Eyman has a knack for messing stuff up." Undoubtedly a bridge was burned. When asked recently whether he would participate in the 2012 challenge to the marriage equality law, Eyman replied, "Gawwwd no! …Given my experience in 2006, I have nothing to gain from talking about this issue."
And then there are the loose cannons, resource grabbers and loudmouths.
Last month, Attorney Stephen Pidgeon filed Initiative 1192 that would re-instate the state's DOMA law with slightly altered wording. Other than to satisfy Pidgeon's own ambitions or Fuiten-like need to seize control, it's difficult to see any advantage to NOM's referendum campaign to have resources diverted to Pidgeon's initiative. Pidgeon is an Obama birther who believes that "government was created to kill" and warned that if President Obama is re-elected, "You will be locked into this country, and you will be under the tyranny of the iron fist of an Islamic caliphate."
Also expected to divert resources away from the central anti-equality campaign into his own fiefdom is Gary Randall. During the Referendum 71 campaign for which he was a spokesperson, Randall set up his own separate website and donor system. Instead of linking people to the main campaign site he channeled his blog readers to his own fundraising and list building pages. He has employed this diversion tactic in the present campaign as recently as today. Randall has a history of profiting from the anti-gay industry.
Chief among NOM's rhetorical liabilities is Ken Hutcherson, pastor of Antioch Bible Church in Redmond and supposedly the official spokesperson for the coalition opposing Washington's marriage equality bill.
Hutcherson's rhetoric gets more violent by the day. Shortly after Gov. Gregoire announced her support for the marriage equality bill, Hutcherson likened her to President Lincoln's assassin. On his new website Hutcherson states that "the only way to make your enemy a friend is to defeat them or kill them". Most recently, in testimony against Washington's marriage equality bill before a legislative committee, Hutcherson said
I was born and raised in Alabama where blacks and whites didn't get along very well, and I tried being one of the main reasons they didn't. I was extremely discriminatory towards whites. The only reason I played football so I could hurt white people legally.
There is little indication that Pastor Hutcherson will toe NOM's messaging line.