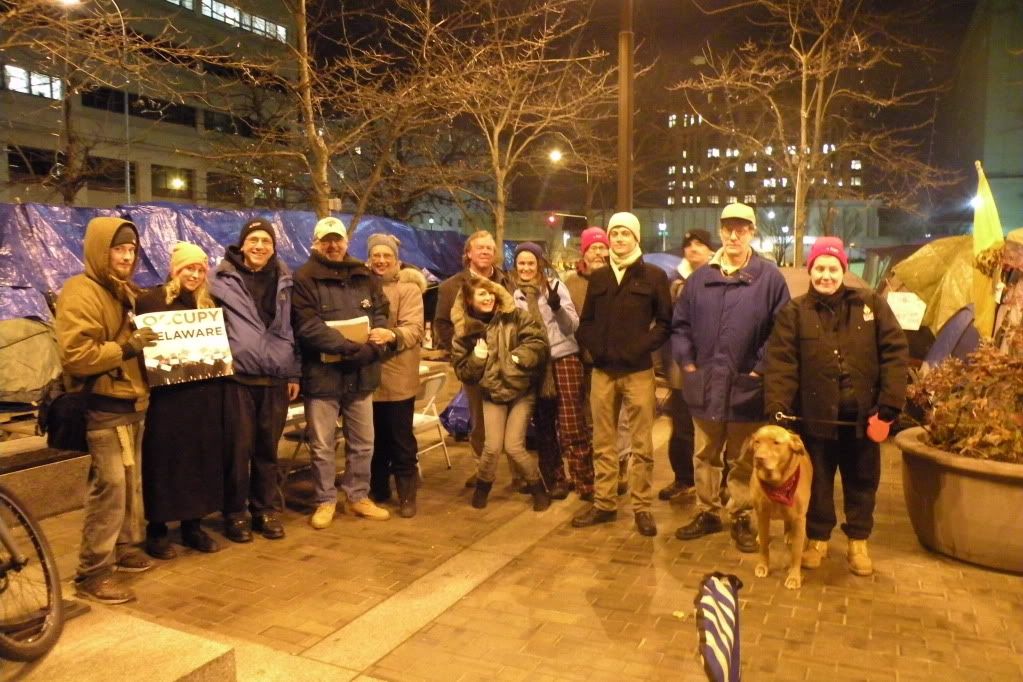 Occupy Delaware< made its march to Spencer Plaza in the heart of downtown Wilmington, Delaware on November 6, 2011. It pitched its first tents on November 10, 2011. With the help of the ACLU, it secured its right to remain in the Plaza by taking its case to Chancery Court where judge Vice Chancellor Sam Glasscock III issued a restraining order against the City of Wilmington on behalf of the protesters. In an effort to avoid a court case involving First Amendment freedom of speech issues that it mostly likely would have lost, the City then offered the protesters a deal, which in effect gives Occupy Delaware the right to remain as an encampment in Spencer Plaza as long as it chooses.
The Spencer Plaza encampment is surrounded by the offices of the federal government, New Castle County, and City of Wilmington, and so has excellent visibility to the officials it is working to influence. It has been protesting at the monthly New Castle County Sheriff sales on behalf of foreclosed homeowners. It is also pressuring Attorney General Beau Biden not to cave in to the banks with a weak foreclosure fraud settlement, to the detriment of Delaware homeowners who were the victims of unprecedented criminal behavior by the banks.
Spencer Plaza is also within blocks of the massive banking centers of Bank of America, Chase, Barclays, and ING Direct, institutions which symbolize the excesses of the system that is causing so much hardship on growing numbers of people.
Because of the generosity of its supporters, Occupy Delaware has a small number of spare tents, and it also has space for more tents. At its recent GA, Delaware occupiers decided to extend an invitation to occupiers evicted by ungenerous mayors, to set up camp in Spencer Plaza and join Occupy Delaware in its struggle to protect the rights of all Americans.