Peter LaBarbera and fellow hate-group leaders to hold presser at SPLC HQ
On Tuesday at noon there will be a circus sideshow in Montgomery, Alabama as a cornucopia of second-tier professional anti-gays will gather to bleat how they have been done wrong. What's particularly offensive about tomorrow's press conference at the Southern Poverty Law Center, sponsored by Americans for Truth Against Homosexuality's Peter LaBarbera, is that three proponents of the NC marriage discrimination amendment will join him to whine about professional anti-gay organizations being labeled hate groups.
LaBarbera is cloaking his little presser as an interfaith, interracial coalition representing "pro-family" values.  Read and weep at the hypocrisy and self-victimization.
MONTGOMERY, Ala., Jan. 16, 2012 /
Christian Newswire
/ — A coalition of African American pastors and pro-family Christian and Jewish leaders is holding a press conference at noon tomorrow (the day after Martin Luther King Day) outside the headquarters of the 
Southern Poverty Law Center
— to protest the 
SPLC's smearing of pro-family groups
that oppose homosexual activism as "hate groups":
Press Conference Details—
Where: Outside the SPLC headquarters, 400 Washington Ave., Montgomery, AL
When: Tuesday, Jan. 17, 2012, noon, Central Standard Time
Who: Scheduled speakers:
·         Peter LaBarbera, Americans For Truth About Homosexuality (
AFTAH
), Chicago, IL (the SPLC has smeared AFTAH as a "hate group");
·         
Dr. Patrick Wooden, pastor, Upper Room Church of God in Christ (COGIC), Raleigh, NC;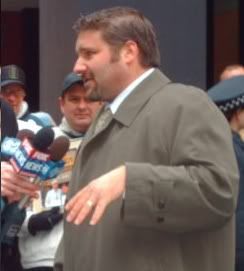 ·         
Matt Barber
, Director of Cultural Affairs, 
Liberty Counsel
, Lynchburg, VA;
·         Rachel Conner, representing Abiding Truth Ministries (smeared by SPLC as a "hate group")
·         Pastor Glen Sawyer, New Mt. Zion Church of God in Christ, Elizabeth City, NC
·         Pastor Wil Nichols, Victorious Praise Fellowship COGIC, Durham, NC
·         Pastor Jon Robinson, Kingdom C.O.M.E. Ministries, Clairton, PA
·         Pastor Kenneth Jefferson, Greater Harvest COGIC
The following pro-family leaders and groups will issue supporting statements:
·         Arthur Goldberg, author, "Light in the Closet: Torah, Homosexuality, and the Power to Change";
Peter LaBarbera, president of Americans For Truth, which is sponsoring the press event, recently interviewed Pastor Wooden, who said that the SPLC's gambit of labeling mainstream pro-family groups that oppose homosexual activism as "hate groups" is seriously damaging the SPLC's credibility. Wooden also debunked the "civil rights" analogy used by "gay" activists, saying it is wrong to compare "my beautiful blackness" with homosexual perversion.
LaBarbera said the SPLC is engaged in a thinly-veiled, one-sided campaign to demonize adherents of traditional Judeo-Christian morality. He noted that despite the considerable hatred and anti-Christian bigotry emanating from homosexual activists (e.g., Dan Savage's vile hate-site, Santorum[dot]com), the SPLC has never labeled a "gay" organization or website as "hateful."
Pro-LGBT organizations aren't trying to prevent the extension of civil rights of a minority, Peter. You and your friends are not victims. I'm not at all surprised that LaBarbera invited Wooden. The pastor is a vigorous rent-a-reverend who never fails to get face time with the professional bigot brigade; I'm sure he will use the press conference to utter bullsh*t like this, which he said during a public forum in favor of abstinence-only sex ed, which turned into the usual anti-gay spiel:
"If we're labeled as being fanatical Christians, we embrace it," [Rev. Patrick Wooden] said. His church has one of Raleigh's largest black congregations, with about 3,000 members. "We're not afraid of labels. We will speak the truth in love and make our positions known as a Christian church." .. .At a recent church luncheon devoted to homosexuality, about 200 participants were handed booklets printed by the church titled, "Disarming and Defeating the Homosexual Theology." Wooden told the group it was time to "get our hands dirty." "We have to block the use of euphemisms when we talk about homosexuals," he said. "They are not gay. We've got to use terms like 'deviant' and 'abomination.' "
I hope that the Southern Poverty Law Center will have a fact-based response to this publicity mongering affair by LaBarbera and Co.
Related:
* Make this viral: anti-gay pastor Johnny "two locks" Hunter on the biology of protecting marriage
* The right's persistent obsession with sex (NC Policy Watch)
* Pastor Donald "Faggot!" Fozard and Herald-Sun columnist rail about Council's marriage equality vote
* The institutionalized homophobia that some lawmakers in NC want to see expanded
* NC: The Truth About the Discriminatory, Job-Killing, Harmful, Family-Unfriendly, Divisive, Anti-LGBT Marriage Amendment