Washington's Catholic Hierarchy Attempts a Secular Argument Against Marriage Equality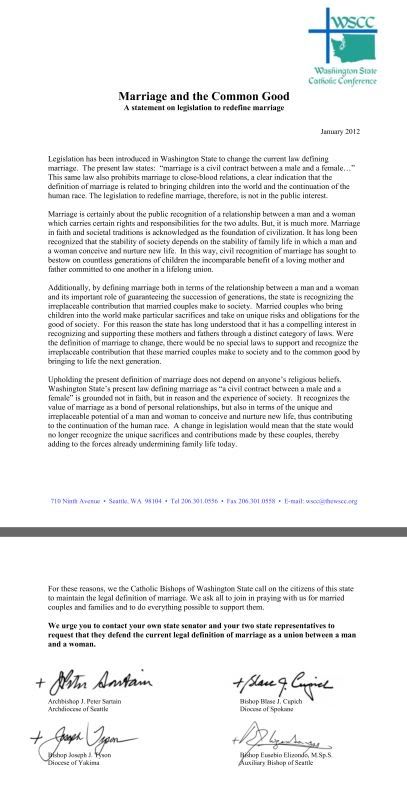 In response to the filing on Friday of Washington's civil marriage equality bill, the Washington State Catholic Conference issued a statement in opposition called "Marriage and the Common Good" (PDF).
The document is signed by the state's four bishops (pictured below), including Archbishop of Seattle J. Peter Sartain who is also secretary-elect to the United State Conference of Catholic Bishops. With that authorship the reader might expect to find the arguments presented against marriage equality to be religious-based. That is not the case.
"Upholding the present definition of marriage does not depend on anyone's religious beliefs," is the key sentence in the bishops' statement. It constitutes a capitulation to the fact that a supermajority of American Catholics support marriage equality and have already rejected religious-based arguments for discrimination against their gay and lesbian friends and family members.
The bishops are undoubtedly aware that the supermajority of their flock do not view them as authorities on matters of civil marriage equality and are more likely to relate to the views expressed by Gov. Chris Gregoire, the third catholic governor in a row to champion a marriage equality bill:
Religions can decide what they want to do, …but it's time for us to stand up and understand [that] the state cannot be in the business of discrimination.
The bishops were thus in the peculiar position of having to present to the flock — as members of the Roman Catholic hierarchy — a secular argument against civil marriage equality. Of course there are no logical secular arguments against marriage equality, so this is what they presented instead:
Legislation has been introduced in Washington State to change the current law defining marriage. The present law states: "marriage is a civil contract between a male and a female…" This same law also prohibits marriage to close-blood relations, a clear indication that the definition of marriage is related to bringing children into the world and the continuation of the human race. The legislation to redefine marriage, therefore, is not in the public interest.
In actuality the human race could continue itself just fine without marriage. Forty-one percent of births in the U.S. are by unmarried women, according to Centers for Disease Control and Prevention. Further, while most will agree that civil marriage helps provide stability and security for any children a couple (gay or straight) may have, there is absolutely no expectation or even mention of "bringing children into the world" in Washington's civil marriage laws, nor are sterile individuals or people who choose to remain childless prevented from marrying. And finally, the law does not seek to force childless couples to divorce.
By proffering a secular argument in the first place, then one that is so easily refuted by fact, the bishops of Washington demonstrate that there are no acceptable religious reasons and no logical secular reasons to oppose civil marriage equality.