AP's content licensing venture NewsRight – another Righthaven threat in the wings?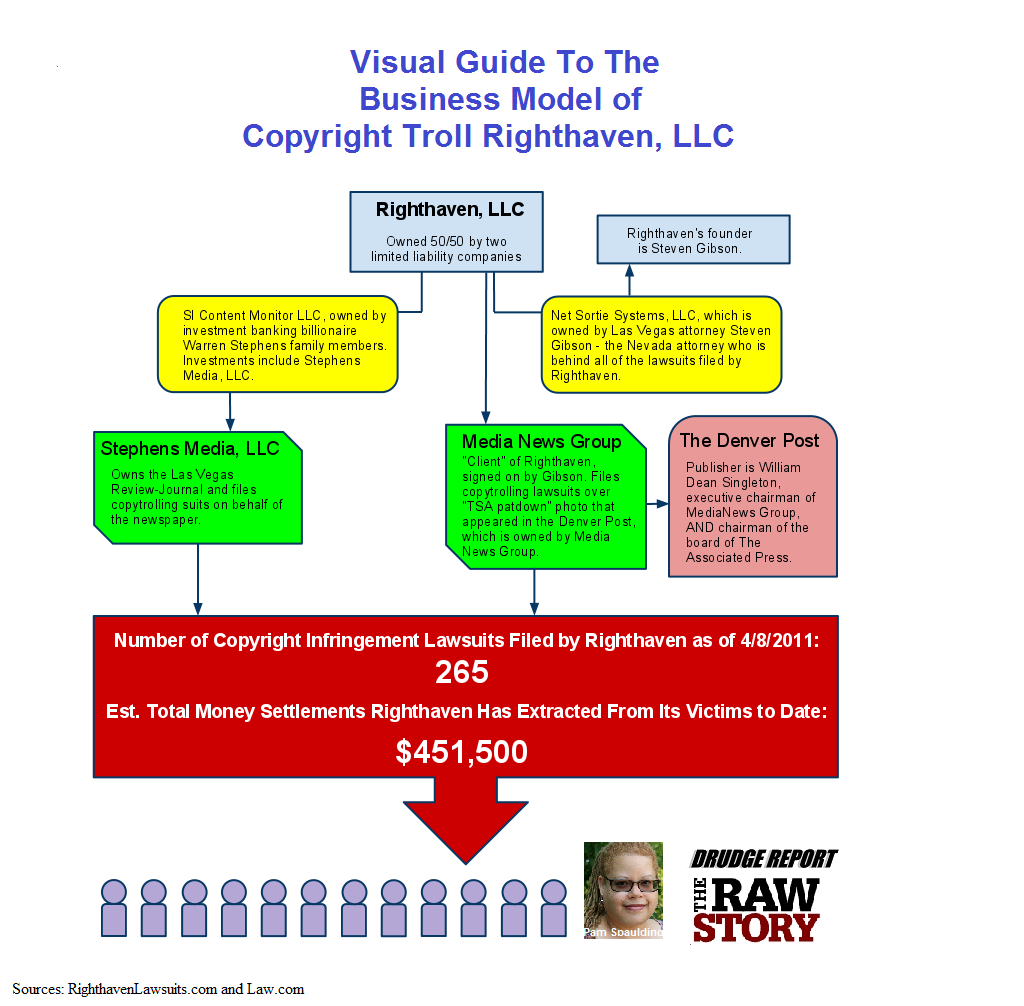 You may have heard about Righthaven, LLC, the copytrolling-for-profit enterprise that forced a lot of blogs to either shut down, pay up or face lawsuits over alleged infringement. It hit plenty of legal skids (including a finding that it had no standing to sue) that has basically taken it down, but not before extracting settlements from a lot of targets over the years, including your blogmistress.
The latest iteration of publishers trying to ensure that its content is being paid for — which is obviously well within their rights when they actually own the copyright — is NewsRight, launched by the Associated Press. TechDirt had this to say about the venture:
It doesn't sound like they'll totally pull a Righthaven, where their first move is to sue, but rather (from the various vague descriptions) it sounds like NewsRight will be going around simply trying to get blogs and aggregators to buy a license. But here's the thing: on what legal basis? That's the part that's not clear. Much of what blogs and newspapers do is simply not infringing (even if the AP likes to pretend it is). There may be some extreme cases where there is infringement, but most standard cases seem like classic fair use. And that's where it gets worrisome that this turns into a legal shakedown — whereby sites are pressured to pay up just to avoid a legal fight, no matter how strong the legal position of these sites might be.
But, much more to the point, nothing in this plan appears to be about adding value. That's the key way to determine if a business model is heading in the right direction, or if it's really just someone trying to "free ride" on the work of someone else. NewsRight appears to be the worst kind of free rider, honestly. They're not adding any value — they're just demanding people pay up to avoid a negative cost (the legal threat). Also telling? The company admits that half the staff is… lawyers, and that appears to include the company's CEO.
The licensing fees aren't public yet; the question is – who will be able to afford NewsRight's license if the model is aggressive? From the publisher's standpoint, NewsRight says it is "accepting new applications for news organizations and bloggers who want to syndicate their content."
This is how the launch was reported by the Knight Center for Journalism in the America's blog:
Tired of bloggers and aggregators profiting from their work and investments, the Associated Press, The New York Times Co., the Washington Post Co., and 26 other U.S. news organizations have launched a company aimed at tracking the online, unauthorized use of copyrighted content, reported the Associated Press.
The company, known as NewsRight, will embed news stories with a tracking code in order to monitor unpaid commercial use of the content, such as on blogs or news aggregation sites, and then go after violators to try to make them pay, explained the Nieman Journalism Lab.
More from the Nieman Journalism Lab, which quotes David Westin, former ABC News president and NewsRight's founding CEO:
Westin, who spent years as a litigator in Washington, said NewsRight is not Righthaven, the aggressive copyright enforcer that has all but folded. "We have not been set up first and foremost as a litigation shop," Westin said. "Now, that doesn't mean down the road there won't be litigation. I hope there's not. Some people may decide to sue, and we can support that with the data we gather, the information we gather. But…those are very expensive, cumbersome, time-consuming processes." NewsRight's partner news organizations include Advance Publications, A.H. Belo, Community Newspaper Holdings, Gatehouse Media, The Gazette Company, Hearst Newspapers, Journal Communications, McClatchy, MediaNews, The New York Times Co., Scripps, and The Washington Post Co. AP remains on the NewsRight board and is a minority shareholder.
It was a living hell as a shakedown victim of the now-disgraced and legally defeated Righthaven — with precious few willing to blog about it lest they get on the copytroll's radar — former Air America Radio host Nicole Sandler was one of the few — she had me on her show Radio Or Not last year to talk about it before Righthaven's legal ship really started to sink.
And the company has hit rock bottom – Righthaven's domain has been sold off for the paltry sum of $3,300. By the way, I'll never see a dime of that settlement money.
Proper citing and fair use (and what constitutes it in the Internet age) has been a moving target, with Righthaven, through its legal incompetence, actually pushing the scales toward use of partial or full articles wholesale, something most bloggers don't do anyway.
With NewsRight, this time all new media/citizen journalists/bloggers are on notice that excerpts are already being tracked via embedded code. You will at least be given the warning (they say) to pay the undetermined licensing fee before you are slapped with a lawsuit.
BusinessWeek explains the dilemma facing the AP with its Righthaven-lite NewsRight:
The fundamental problem the AP faces is the same as that faced by virtually every traditional news entity as a result of the "democratization of distribution"—namely, how can it control the flow of content as it used to? The short answer is it can't, which has disrupted the way the AP functions in more ways than one. Twitter and other tools have taken on many of the aspects of a real-time newswire. The AP faces other competitors as well, including such upstarts asNewsCred, which has built a content-licensing system, and even Google itself.
News entities such as the Guardian have tried to take advantage of the new ecosystem of news by turning themselves into open platforms—but others like the AP seem determined to reinvent the monopolies they used to have before the Web existed. For NewsRight, the big test will come when it offers onerous licensing terms to an aggregator: What happens when an organization such as The Huffington Post says "no, thank you?" That's when it will become obvious how much of NewsRight's business model is based on carrots—and how much of it is about waving a big stick.
Honestly, if it's about the big stick, I'll be content to hang up my indy blogging hat and just hang out on social media — or will NewsRight meter Facebook and G+ as well?
***
IRONY ALERT:
I love how the AP (via WaPo) posted this story "Elections official resigns rather than oversee vote on NC's Amendment One", not citing PHB, which printed the letter AND had the first (exclusive) interview with Sherre Toler.