Tacoma City Council Unanimously Endorses Washington's Marriage Equality Bill
With an 8-0 vote the City of Tacoma on Tuesday became the first Washington municipality to officially endorse the passage of a marriage equality law by the state legislature this session. Tacoma is the third-largest city in Washington and the second-largest in the populous Puget Sound region.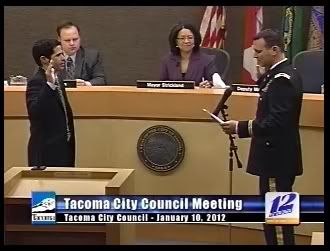 Councilmember Ryan Mello being sworn in by his partner, Maj. Jerry Hallman
The King County Council passed a similar motion on Monday with strong bipartisan support.
The endorsement came in the form of an amendment to the City of Tacoma's Legislative Agenda, which is how the city communicates its priorities to the state legislature. The amendment was introduced by Councilmember Ryan Mello, who earlier in the evening began a new 4-year term on the council by being sworn in by his partner, Maj. Jerry Hallman, U.S. Army Reserve. The amendment reads:
The City supports legislation which will provide marriage equality in Washington. The voters of Tacoma have repeatedly made clear their support for ending discrimination based on sexual orientation. The state has made significant progress on this issue and providing full marriage equality is the next important step.
Before the Council voted on the measure, several Tacoma residents came forward to speak in favor of it. Nobody spoke in opposition. Excerpts of statements made by Tacoma residents and Council members — as well as tips on how YOU can help make marriage equality a reality in Washington — are below the fold.
Tacoma resident Justin Leighton used his own story to impress upon the council that passage of the marriage equality law is an important step in creating a broader atmosphere of acceptance for LGBT youth.
When I was younger and really confused about society and societal views on LGBT youth and members of the community, there was a lot of pressure coming forth from many individuals, many entities, governments, a lot of things happening about states passing amendments to their constitution denying rights to LGBT people.

When I was coming out to my mom, she said "OK, what're you doing for dinner?", like it was nothing. I had built myself up so far that there was going to be this huge onslaught of emotion and comments and a battle because that's what society built me up to [expect].
Sarah Cherin spoke on behalf of herself as well as the United Food and Commercial Workers Local 21, which represents workers who live in Tacoma as well as many more who live outside the city but work in Tacoma.
It [Marriage equality] is critical to families like mine who live in Tacoma who are gay and lesbian. It is critical to union members who have always been on the forefront of social justice issues and equality issues. …

Some of your constituents might ask you, why would a local government put this on their state legislative agenda? I think it's really important for two reasons. First, the government should not be in the business of discrimination. Right now we currently have enshrined in law discrimination, and it is the responsibility of myself, my union, my community and you as government to make sure that the law does not discriminate. So I am happy that you are taking this up and that you are on the forefront of equal rights.

Secondly some might ask, why is this the time? We're in the middle of a recession. We have much bigger issues to look at. I would say that LGBT families are some of the most hardest hit by the recession because of the protections that we aren't afforded by law. We need to make sure that even in these hard times we're doing the right thing for all families, including families like my own, in my community and in my union.
Xade Walsh reminded the council that marriage equality is one in a succession of major civil rights advances in the country's history, citing past prohibitions against women voting, interracial marriage and racial integration. Yet ultimately, "people finally came to their senses and said that's not right. And now all of a sudden it's OK."
Ladies and gentlemen, I appeal to you as a single gay man who hopes to one day be in a very nice relationship, and that one day when that relationship gets to the level where we can say it's time for us to get married, that we can actually do that. And that at that time we won't need to seek the approval or permission of millions of people to do so.

It's my heart – of course I have no speech in front of me, I'm speaking straight from here, asking, sometimes begging please, it's our turn.
Benjamin Anderson spoke as a straight ally from the younger generation.
I'm straight myself, but I've had the pleasure the past few years of working with many in the LGBT community here in Tacoma, and I've found them to be some of the most impeccable and outstanding members of our community. They enrich this community, they make this community better, and I'm very excited today that this community embraces them and endorses what I think is a fundamental principle of equality.

In addition I want to say, speaking on behalf of many in my generation who view this as a compelling moral issue. All over the news you see [people] asking why is this more urgent than budgetary issues. I think a lot of people in my generation see this question and then look at our gay friends, our family members who are gay, friends who have been raised in families who are gay and lesbian parentage, and see this not as an abstraction but as a necessity. As an issue that is in fact clear-cut and a compelling moral case that we can't delay on simply because we have other complicated issues. This isn't a moral issue that many of us feel can be deferred.
After community members who wished to had spoken, several members of the Tacoma City Council spoke in support of the amendment.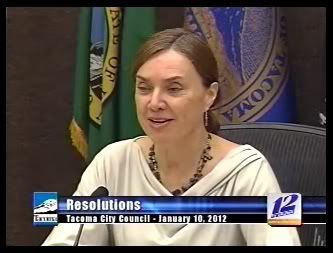 Deputy Mayor Lauren Walker spoke first.
I'm so happy to have this as part of our legislative priorities. I'm a woman who has been married for 30 years. I have been a minister's wife for 30 years. In those past 30 years the churches I attended were always open to the gay and lesbian community and I was always very proud of that.

One of the happiest and most beautiful weddings that I've ever attended was one of my staff members from my non-profit agency who married his partner in a beautiful ceremony. But it was not recognized by the state of Washington. I just wanted to insure that as we move forward we're thinking, as a friend of mine says, that love is all it takes. We shouldn't be looking at just the sexual orientation of people. I hope that people in the religious community will join with me in embracing the beauty of this. Not that it's urgent, not that we shouldn't be looking at financial or budgetary issues, that this is a beautiful thing to do in the state of Washington.
Councilmember Ryan Mello added these thoughts:
I'm really pleased with how our legislative agenda has come together. We have a lot of work to do and I believe in our good work to be able to multitask. We have language in here for advocating for more affordable housing, about making our medical marijuana laws easier for consumers to navigate, People's Pool on the Hilltop of Tacoma – it's a multi-page documents and I believe in our ability to walk and chew gum at the same time. …This document is incredibly important to gain focus on what the city's priorities are. I appreciate my colleagues' understanding the importance of why local government should add marriage equality to our legislative delegation. …

Marriage matters to gay people in similar ways that it matters to everyone else. Gay and lesbian couples want to get married to make a lifetime commitment to the person that they love, and to protect their families, especially in tough economic times. And marriage is one of those few times, if we think back to our lives as we watch our friends and family — I think I went to 5 weddings last year — marriage is one of those few times where people make a public promise of love and responsibility for each other. And they ask their friends and their family to hold them accountable through that lifetime commitment.

Treating others as one would want to be treated includes allowing marriage for gay couples who are truly committed to each other. That's as basic as the Golden Rule, which is a tenet of any mainline mainstream religion.

So in short, when we speak to the values we all hold in common around marriage, we can help more Americans see that gay and lesbian couples understand what marriage is truly about. It's really quite simple. It's about love, it's about commitment and the human desire to care for one's family.
Councilmember Jake Fey explained his reason for supporting the marriage equality amendment:
For me it's all about every individual in this country being able to pursue happiness, and not for me to decide what that happiness ought to be for them. This is certainly what I would call a leveling kind of of measure to make things equal for people, and I'm all for equality.
Mayor Marilyn Strickland closed the comment period with these thoughts:
I will just end by expressing my support for marriage equality. This will not be the last time this community has a conversation about this topic, but those of us who do support it do so gladly. Not every couple wants to get married, but two consenting adults that want to get married should have the right to do so.

When we think about the history of civil rights, there was a time when women couldn't vote, it was against the law for interracial couples to be together, we had segregated schools. By putting this on the legislative agenda, we're asking the members of the House and Senate to please stand up, to be courageous, and to recognize that some things should not be done by a public vote.

This is the right thing to do, it makes our community stronger, it creates economic empowerment for families and it really does make all of our communities a much much better place. So I'm very very proud to support this and I'm very glad we're adding this to our legislative agenda.

YOU can help make marriage equality a reality in Washington. Washington United for Marriage is strongly urging supporters in the Seattle Metropolitan area to volunteer to phone bank for marriage equality. Click this link for a list of Phone bank locations.
It is vital that we let our legislators know voters in their districts support marriage equality for gay and lesbian couples. We've got momentum with Republicans Senator Litzow and Senator Pflug pledging their support this week. But storm clouds are on the horizon, the opposition is organizing as well. We can't get complacent!
Please also follow Washington United for Marriage on Facebook, sign up for WUFM's e-mail alerts and consider making a donation.
Related:
* WA: King County Council endorses marriage equality bill with strong bipartisan vote
* Second Republican State Senator, Cheryl Pflug, Signs on to Washington's Marriage Equality Bill
* Republican Sen. Steve Litzow Announces Support for Washington's Marriage Equality Bill
* Gov. Chris Gregoire is the 3rd Catholic Governor in a Row to Champion Marriage Equality
* Governor Chris Gregoire Announces in Powerful Speech That She is Personally Introducing a Marriage Equality Bill