Fork over $1000 to 'hold off the worst of the gun-grabbers' assaults'
Don't ask me how I got on this insane low-rent mailing list. Gee, Whatever happened to the NRA? I've never heard of this group, the National Association for Gun Rights. I can't figure out how the yahoo paranoids, worried about losing their guns, make this batsh*t stuff up about this President. He's hardly declared any "war on your guns" while in office. But fundraising goals must be met, and so the NAGRs has Rand Paul hawking for it…

Dear Pam:
Just a quick note to let you know how important your membership is in the National Association for Gun Rights.
NAGR is the fastest growing and most effective gun rights group in America.
I'm a member, and you should be too!
Sincerely,
For liberty,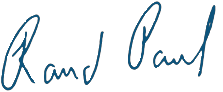 The Hon. Rand Paul
U.S. Senator (R-KY)
---
From: Dudley Brown
Sent: Thursday, December 8, 2011 4:11 PM
Subject: 2012
Pam,
We have an incumbent Democrat President desperate to hold on to the White House in 2012, but his approval numbers are in the basement.
He knows the only chance he has at re-election is to mobilize every liberal interest group in America by throwing them a bone before next year's November elections.
After all, if gun-grabbers simply stay home on Election Day 2012, President Obama knows he'll be toast.
You have been a critical part of the National Association for Gun Rights' efforts to hold off the worst of the gun-grabbers' assaults.
But as Thomas Jefferson said, "The price of freedom is eternal vigilance."  You see, you and I could have more at stake in 2012 than ever before.
The rumors I'm hearing floating around Capitol Hill for the next Congress — combined with what you and I are both reading in the news media right now — sure aren't pretty.
That's why I'm asking you point-blank today to give more than you've ever given — $35 — to become an official member of the National Association for Gun Rights for 2012.
In fact, if you can afford it, please consider becoming a lifetime member with a one-time contribution of $1000!
---
By the way, that's not the end of the e-blast; it goes on for pages and pages of right-wing garbage, though I was very entertained by this bit of business blasting the Republicans for bedding down with the "gun-grabbers:
After all, the gun-grabbers' number-one priority — the United Nations' so-called "Small Arms Treaty" — doesn't even need to pass the Republican-controlled House to be ratified.

This dangerous Hillary Clinton-backed Treaty is nothing more than a massive GLOBAL gun control scheme designed to register, ban and confiscate firearms from law-abiding citizens.

And our one hope to defeat the U.N.'s so-called "Small Arms Treaty" — the U.S. Senate — is chock full of old "establishment GOP" types like Olympia Snowe (R-ME), Susan Collins (R-ME), John McCain (R-AZ) and Lindsay Graham (R-SC).