Equality NC announces new executive director; new polling on amendment and challenges ahead
"While we may not be able to change the minds and hearts of everyone in the seven short months leading up to the election in May, I am confident that the majority of fair-minded North Carolinians who oppose this amendment will make their will known and we will prevail."
— Stuart Campbell, the new executive director for Equality NC.
As the LGBT community and allies in the state of North Carolina face the challenge of defeating a marriage amendment at the polls next may, there is a new face of leadership at Equality NC, succeeding Ian Palmquist. Campbell steps into his role on October 24.
"I am deeply honored and excited about the opportunity to serve North Carolina's lesbian, gay, bisexual and transgender community and to build upon Equality NC's tremendous success," said Campbell, who most recently served as the Community Services manager in the Texas Department of Housing and Community Affairs in Austin. "I look forward to getting to know and working with our dedicated supporters, legislators and coalition partners as we strive to further Equality NC's mission to secure equality and justice for the LGBT community in North Carolina."
Campbell is a seasoned professional whose non-profit experience includes several years as an advocate and lobbyist on disability and anti-poverty issues, ultimately serving as Executive Director of the Coalition on Human Needs in Washington, D.C. In 2008, Campbell joined the Texas Department of Housing and Community Affairs, first as a senior policy advisor and then as Community Affairs manager, where he administered over $220 million in federal and state funds aimed at alleviating poverty.
From 2003 to 2009, Campbell served on the board of Equality Texas, Equality NC's sister organization in Texas. He was actively involved in the state's anti-LGBT amendment fight in 2005. Equality NC Board Chair Dan Gurley noted that Campbell's experience in another large southern state would serve the organization well during its current campaign against a constitutional amendment that would ban same-sex marriage, civil unions and domestic partnerships.
"On behalf of the Board of Directors, I am thrilled that Stuart will lead the next chapter of Equality NC," said Gurley. "Stuart has seen first-hand the challenges facing LGBT populations in the South and I know he is committed to Equality NC's mission of securing equality and justice for LGBT North Carolinians. His impressive work to advance this mission for all makes him a perfect fit for the organization during the amendment battle ahead."
…Equality NC Foundation Chair Rod Goins invited the public to meet Campbell at the Equality NC Foundation's annual Conference and Gala, on Saturday, November 12, in Greensboro. "Join us as we welcome Stuart to North Carolina and come together to educate, share and prepare each other for the work ahead."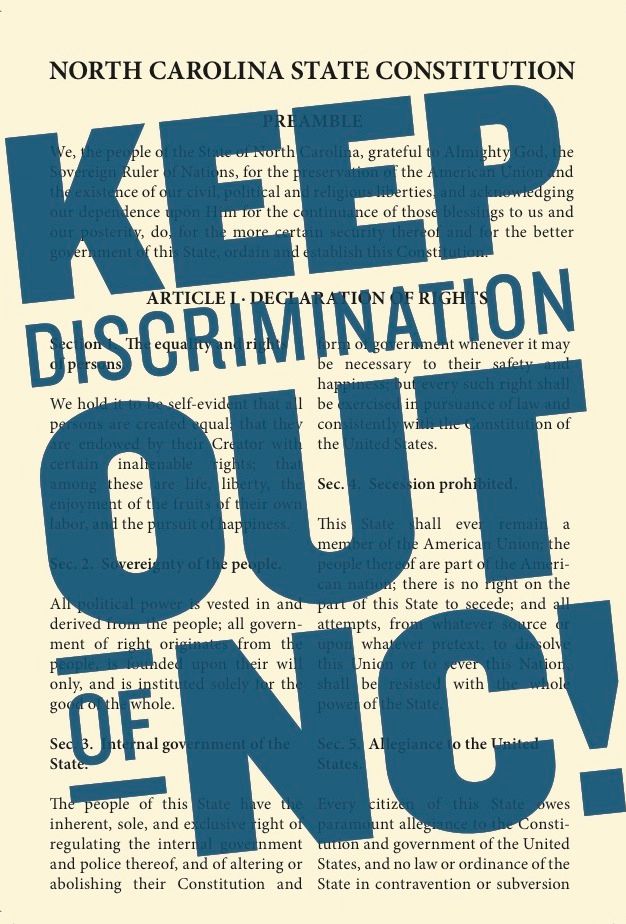 And he has to hit the ground running to get a campaign launched because, in related news, an interesting and initially daunting set of poll numbers was released by Public Policy Polling (PPP) yesterday.
PPP's first look at the proposed marriage amendment in North Carolina since the legislature placed it on the ballot finds it leading 61-34. Republicans are overwhelmingly in favor of it (80/17) and independents (52/43) and Democrats (49/44) support it as well, although by more narrow margins.
Before people think it's already a done deal, the devil is in the details, because most North Carolinians actually support legal recognition of gay and lesbian couples, just not "marriage." That suggests, as PPP notes, these same people are moveable because they don't know the scope of the havoc the amendment would wreak.
The interesting thing is that 51% of this same set of voters supports legal recognition for gay couples. 22% favor gay marriage and another 29% civil unions, with only 46% completely opposed to granting same sex couples legal recognition. The problem for those trying to defeat the amendment is that 37% of voters who support gay marriage or civil unions are still planning to vote for it. That suggests a lot of folks aren't familiar with how wide reaching the proposed amendment would be and it gives those fighting it a chance- they just have to get their message out effectively to the majority of North Carolinians who do support legal recognition for gay couples that the proposal goes too far.
This is really a classic example of how small differences in poll question wording can lead to huge differences in how people respond. Last month we asked the following question "State legislators have proposed an amendment to the North Carolina Constitution that would prohibit the recognition of marriage, civil unions, or domestic partnerships for gay and lesbian couples. If the election was held today,would you vote for or against this amendment?" When you ask it that way only 30% of voters are supportive and 55% are opposed. Voters are against 'prohibiting' recognition for gay couples. But if you word it in such a way that all you're doing is defining marriage as between one man and one woman, voters are ok with that. You're asking about the same thing in both cases, but the semantics make a huge difference and Republicans clearly know what they're doing with the language that's on the ballot.
I'm sorry to say that the same poll reflects a fundamental piece of work that Equality NC and amendment opponents have to deal with — reaching black Democrats; that demo supports the amendment 70% to 25%. IMHO, what is key is to mobilize our affirming faith communities of color – they must challenge these voters to not just think beyond their personal religious beliefs, but to the unconstitutional foundation of this amendment – it will reflect one specific worldview of civil rights (openly defended by its sponsors as reflecting religious beliefs) — what is next?
What do those numbers mean? It means we need foot soldiers doing door to door in black neighborhoods talking about the amendment — and we need out people of color doing that canvassing to dispel the notion that the LGBT rights movement is only about white LGBTs. We need images of LGBTs of color out there, raising families, being those voters neighbors; it's time to lift the veil of "don't ask, don't tell" in the black church.
William Barber, of the state NAACP wrote a powerful open letter asking the black community to reject a marriage amendment that narrows – not expands – civil rights. It is a guideline, a roadmap on how to address the religious black community when speaking about this amendment.
"There is no history of enacting constitutional amendments for the purpose of restricting individual freedoms. [These proposed amendments against gay people] stand in stark contrast to the amendments that have been adopted in the spirit of freedom and liberty. As James Madison explained, constitutional amendments are reserved 'for certain great and extraordinary occasions.' Amending [a state or federal] Constitution to strip civil rights away from any group of persons is not such an occasion."

…The issue of same sex marriage is a matter of conscience — a matter of religious or moral perspective. It should be worked out within one's conscience, within one's faith, and within one's own heart and faith community. The North Carolina legislature is not the modern day Council of Nicaea — and we should not want it to be. Public policy, not personal morality, is what we ought to address in the legislature. How should the government address the public policy challenges of abject poverty, unemployment, poor education, economic justice, caring for those without health care, and equal protection under law? These are the questions that the legislature should be addressing.
It leaves ENC and the LGBT community a mighty task, but not an insurmountable one —  the campaign to defeat this has to step outside of comfort zones to change hearts and minds with facts in a demographic that is not seeing this amendment for what it is. At a press conference leading up to the vote to place the amendment on the ballot, ENC had members of the faith community speak in opposition. We will need to have more of this visiblity to close the gap.

Rev. Dr. T Anthony Spearman, pastor of the ?Clinton Tabernacle AME Zion Church in Hickory, NC, stands with other statewide clergy from all denominations at the North Carolina General Assembly in opposition of the state's proposed anti-LGBT amendment.
It's fitting that EqualityNC will honor Rep. Marcus Brandon, D-Guilford, the second openly gay lawmaker elected in North Carolina history, with its 2011 Legislative Leadership Award to be presented at this year's Equality Gala on Saturday, November 12. ENC noted:
Marcus was frequently in the spotlight this year in the days leading up to the House and Senate votes on the now infamous anti-LGBT amendment. In May, when he hosted a press conference featuring a room full of faith leaders opposed to the amendment, he memorably said of the anti-LGBT/pro-amendment rally being held concurrently outside of the legislature, "The Bible has been used in this nation to support slavery, segregation, laws against interracial marriage, and to deny women's rights. Jesus was a compassionate person. And Jesus would not be having a rally outside right now."
Rep. Brandon had to take verbal abuse by the homophobic preachers that showed up to boost the amendment. As I said at the time:
Marcus Brandon has a level of diplomacy toward his peers in the NC General Assembly that I could never muster on an issue like this, where those supporting a marriage amendment in our state have shown the general public and the press nothing but obfuscation, cowardly actions to slip in a vote under the radar, and holding town hall meetings that continue to conflate church and state. I can't respect that kind of politically dishonest jiu-jitsu. Then again, that's why I'll never hold public office, lol.