After years of hard work by equality organizations, activists and everything in-between, pushing elected officials, keeping a dialogue open with the Pentagon, and challenging the reality-elusive rants of people like Elaine Donnelly of the Center for Military Readiness, at midnight Tuesday, those who have served in silence can come out of the closet without being fired.
So pop open the champagne, and also hold a moment of silence for members of the transgender community who still face discrimination and discharge. As Autumn noted earlier, over 1,000 have pledged to observe the moment of silence. SLDN will participate:
After September 20, transgender service members will still be banned from serving openly, and it will remain unsafe for them to come out without the threat of being discharged.

The following anonymous post from a transgender service member underscores the injustice faced by transgender Americans who will still be forced to serve in silence and fear until military policies are changed:

"I have three and a half years on my contract and do not plan on re-enlisting. If military policies were different and transgender people could openly serve I would re-enlist in a heartbeat and go to Officer Candidate school to pursue my dreams of being a public affairs officer. When I first enlisted I intended on doing 20 years, becoming an officer and retiring. I intended on building a lifelong military legacy and maybe even one day becoming a Marine like my grandfather. But now my military service will be cut to 6 years and I will likely be a staff sergeant when I get out. I'm slated for a deployment in 2013, I don't know where but I'm excited about the chance to go overseas and serve my country. I know it will be my one and only deployment and the one chance I have to say I did something. If I could I would make it the first of many deployments but compromising my integrity and self worth just isn't something I can do for 20 years."
You can find out about SLDN's repeal celebrations here.
Servicemembers United is also holding repeal parties.
"Countdown to Repeal" celebrations will be taking place across the country on Monday, September 19th from 9pm until midnight. These events are NOT fundraisers, and there are NO "suggested donations." This will be a once-in-a-lifetime moment for the gay military community, so come out and celebrate our historic victory with friends.

Washington, DC
"Countdown to Repeal" @ Town, 9pm – Midnight!

San Diego, CA
"Countdown to Repeal" @ Bourbon Street, 10pm – Midnight!

Seattle, WA
"Countdown to Repeal" @ The Lobby, 9pm – Midnight!

Minneapolis, MN
"Countdown to Repeal" @ Bolt Video Bar, 9pm – Midnight!

Boston, MA
"Countdown to Repeal" @ Club Cafe, 9pm – Midnight!

Monterey, CA
"Countdown to Repeal" @ Cannery Row Brewing Company, 7pm – Midnight!
Related:
* Stars and Stripes Column on DADT Repeal
For some nostalgia, go below the fold for some of the batsh*ttery Elaine Donnelly presented to Congress to justify keeping DADT in place.
And this is her prediction of what will unfold if gays and lesbians are allowed to serve openly. Reality- and science-based, of course. I didn't make these up, btw — I just embellished to put Elaine's full batsh*t stamp on them.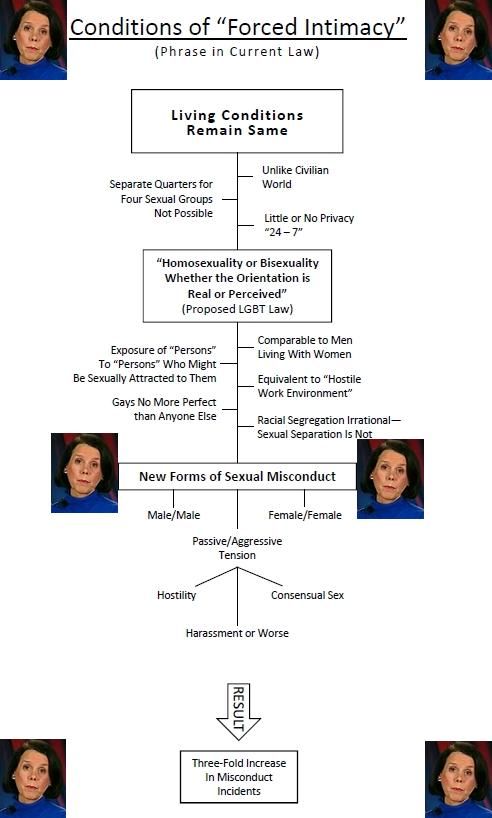 But wait…why should we burden our country with this sort of social engineering!?