"I don't give a [expletive] about who wants to get married to anybody else! Why not?! We're making a big deal out of things we shouldn't be making a deal out of … Just give everybody the chance to have the life they want…what I really believe is, let's spend a little more time leaving everybody alone."
— Clint Eastwood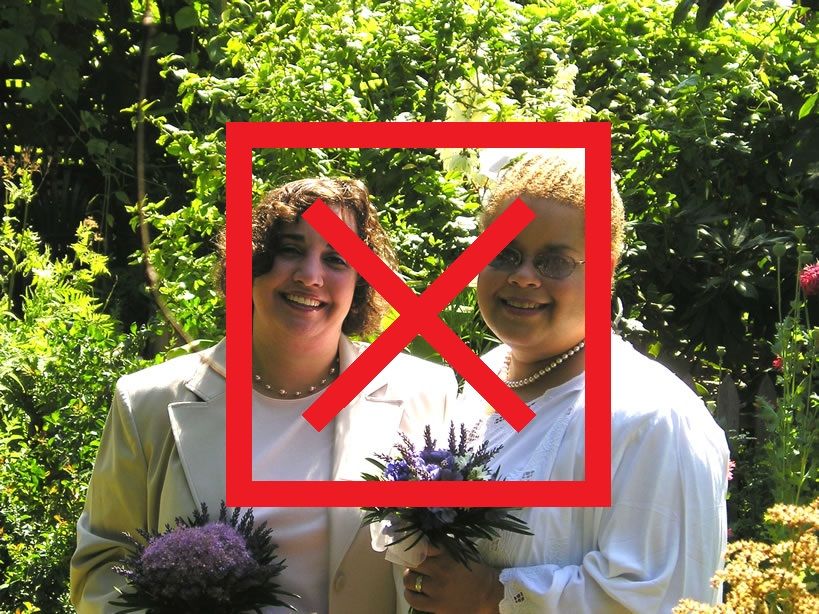 So simple a concept – but the numnut Republicans in my legislature fail to understand it because they are bathed in homophobia.
Kate and I celebrated the 7th anniversary of our legal marriage in 2011. Thank you, Vancouver, B.C. We flew back home to NC, where our union is not recognized by my state, and won't be until the U.S. Supreme Court does away with this institutionalized bigotry.
---
Now that the Republican-led North Carolina General Assembly has determined that it's A-OK for voters of the state to decide the civil rights of LGBTs next May, I thought that I'd share some interesting 2010 U.S. Census demographics, courtesy of The Williams Institute.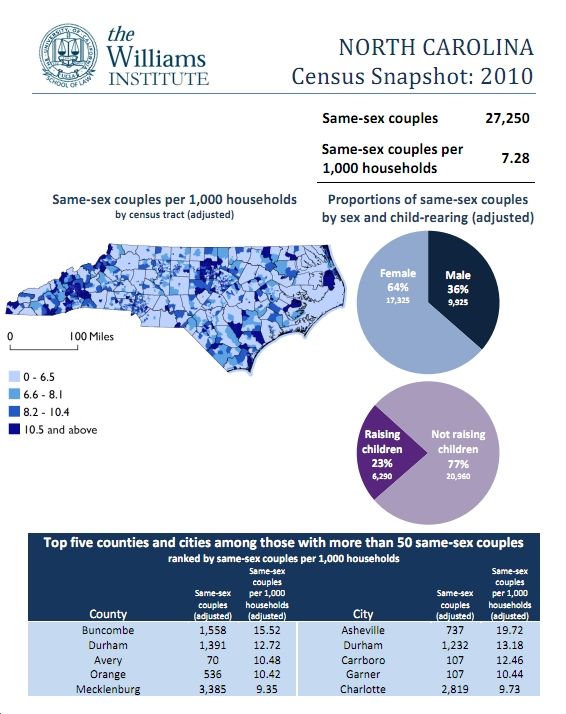 LGBT taxpayers are more visible than Thom Tillis, Skip Stam, James Forrester, Phil Berger and the rest of the bigoted leaders responsible for getting an amendment on the ballot would like to think. And what if we all decided to move, taking our tax dollars elsewhere?
Shooting yourself in the foot.
A marriage amendment voted into law, as many have said, is an economic disaster waiting to happen, and for the pro-business Republicans, they hopped on the bigot traid to stop and have chosen to placate the deranged fringe homophobic Base. (News & Observer):
A large segment of the business community has been vocal in its opposition to the proposed amendment, giving opponents their strongest leverage in the debate. About 80 business leaders signed a letter urging lawmakers to vote it down, and more than 200 businesses signaled their opposition on Equality North Carolina's website. A dozen business leaders called a news conference Tuesday, just before the Senate vote, to underscore that they think the idea is bad for business.

Richard Degnan, a vice president at The Body Shop, an international skin-care products company that moved its Americas regions headquarters from San Francisco to North Carolina four years ago, said his corporation had "grave concerns the passage of this bill ultimately would have a long-term detrimental effect on North Carolina's economy."

…"People we want to recruit to come to this state to work for us, people who want to relocate their businesses, they think of North Carolina as a shining star in the South, as the most progressive, most interesting place to be," said Mitchell Gold, an international designer and furniture manufacturer in Taylorsville. "This is a state of progress. But this amendment is a black eye."
David Mixner underscores the complete corrupt and stealth manner in which the amendment was brought to a vote:
Doing their best to assure they will win, they changed the date of the vote from next year's general election when all North Carolinians will go to the polls to the May primary when only Republicans will be making their choices for the Presidential race. Talk about an attempt of Soviet style politics. Don't be surprised if they report that 99% of the state approved the amendment given how they are proceeding with the process.

North Carolina is a place where many people I know want to work or do business since it had been building a tolerant climate over the years. This sets back the state's reputation by decades – if not centuries. Why not go for separate lunch counters for us while they are at it?