David Mixner: An Extremely Important Moment For The Human Rights Campaign
We welcome author, political strategist, civil rights activist and public affairs advisor David Mixner to our new digs at FDL, and he shares his wisdom on the possible future at the Human Rights Campaign as Joe Solmonese's tenure with the org will soon come to a close. David blogs at Live From Hell's Kitchen.
---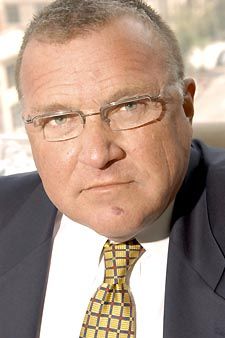 With a breaking story by Pam Spaulding, the Human Rights Campaign Fund has officially announced that its CEO of seven years, Joe Solmonese is not going to renew his contract at the end of March next year. Solmonese has had to navigate some of the most difficult and turbulent years of the organization's history.
With his departure now comes an extraordinary opportunity to make HRC a powerful and effective force into the 21st Century. The organization must not only do a 'search' for a new CEO but really must also take time to decide its goals for the next decade. Instead of finding a 'qualified candidate' for the job, it is time for a visionary job description that will lead us to the right candidate.
The world for the LGBT community has radically changed over the last decade and it is clear that at times HRC has had some difficult transitions with the rapidly changing movement. With the selection of their next candidates they have the opportunity to redefine the organization's mission, a new vision for the community and new priorities given the new challenges the LGBT community faces over the next decade.
HRC was an important part of the coalition in the New York marriage equality success. Their ads, outreach and willingness to be part of a grander coalition were impressive. The success of this effort in many ways is a good model for them in the future. The new HRC should have the ability to generate great response in a short period of time, blitz legislatures with tons of email, elicit powerful local elected officials to head the coalition, raise millions from major donors for initiative efforts and give important up front money well into the hundreds of thousands – not just $100,000.
Most of all it is essential, without cutting off access, to take a tougher stance with our friends and allies who might want to operate at a slower pace for political reasons. We need to gently remind them that freedom should never take a back seat to politics.
The Board of HRC has an obligation to take this next selection of their new CEO very seriously. The process should be open, visionary and inclusive. Most important, the job description must be futuristic and not just finding someone comfortable within the confines of the Beltway.
We all owe deep thanks to Joe for his years of work for the LGBT community. It has not been an easy time to head the organization and he has worked incredibly hard. We wish him farewell and god speed.