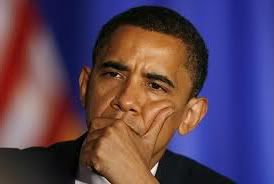 The one thing, the main thing, the central point, that Nat Hentoff is obviously too obtuse to get, is that Barack Obama doing all the things that George Bush and Dick Cheney deserve to be in prison for doing is a good thing, because he's a "Democrat".
If he was a Republican, it would be a bad thing.
"Not one of the aspiring Republican candidates for the presidency next year has said a word about this. And Obama cherishes their silence."
— Obama bans war criminals, except our own
by Nat Hentoff
By executive order on Aug. 4, President Barack Obama refused entry to the United States of war criminals and human-rights violators (jurist.org, Aug. 4). He ignored, as he often does, the deeply documented factual evidence of war crimes committed by the Bush-Cheney administration along with grim proof that the Obama administration also violates our anti-torture laws and the U.N. Convention Against Torture we signed. Take, for example, right now under Obama, "The CIA Secret Sites in Somalia" (thenation.com, July 12).

In what will be an historic 108-page report, "Getting Away with Torture: The Bush Administration and Mistreatment of Detainees," Human Rights Watch is further accelerating the rising insistence here on accountability from George W. Bush, Dick Cheney, Donald Rumsfeld and former CIA director George Tenet for having not only authorized these war crimes, but also failing "to act to stop mistreatment, or punish those responsible after they became aware of serious abuses" (www.hrw.org/sites/default/files/reports/us0711webwcover.pdf).

Not only has President Obama rejected an independent criminal investigation of these highest-profile officials, but also, adds Human Rights Watch, of Condoleezza Rice, John Ashcroft, David Addington (counsel to Cheney) and, among others, John Yoo, author of the unsparingly cruel, aptly dubbed "torture memos" from the Ashcroft Justice Department that gave "legal cover" to allow torture.

Moreover, as Stephen Rohde, constitutional lawyer and chairman of the ACLU Foundation of Southern California, discloses (truthout.org.getting-getting-away-with-torture, July 28), Freedom of Information lawsuits filed by the ACLU and the Center for Constitutional Rights have yielded more than 100,000 pages of documents detailing these war crimes.