The blogmistress trip to NY to see Journey on The Today Show
The usual disclaimer: it's an unusual break from political banter, so if this off-theme Journey post doesn't interest you, there's the regular brew of new content on the Blend to consume….Also, for the "No Perry, No Journey" crowd – let it go. This is not the place to stir up that argument.
---
I'm back in NC after a whirlwind (tiring) weekend of fun in NYC. I subjected my wife Kate to my Journey obsession and convinced her to go up to see the J-Boys perform on live TV.
Journey is one of the acts appearing on the Toyota Concert Series on the Today Show, held each Friday this summer, in the plaza outside the Today studio at 30 Rock.
As a die-hard fan, I wanted to get as close to the stage as possible, and both Today and the Journey fan site were offering VIP passes. I entered both lotteries and won 2 passes from the fan site, so I was stoked.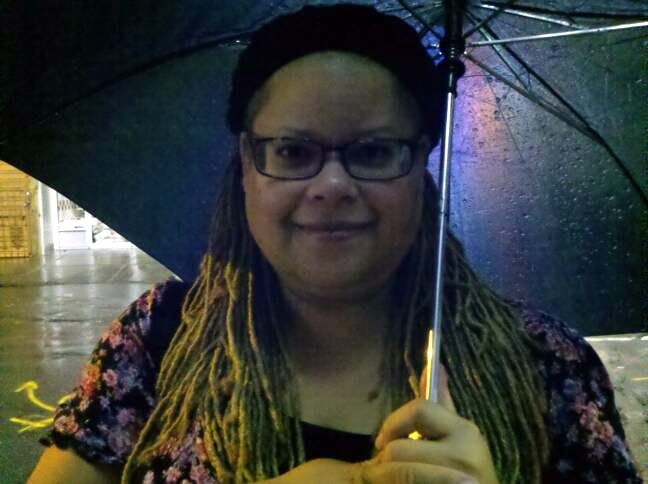 The weather on Thursday was great, but when we walked outside at 4:45 AM on Friday, it was a downpour with wind to boot! Blogmistress bad luck. Kate and I made our way to the VIP line, which still had a number of equally die-hard fans there patiently waiting to get access to the plaza at 30 Rock.
And we waited…and waited. Got drenched…but at around 6:15 AM, the NBC rep came out and gave us our fan passes to wear in, and around 6:30 they let us in. Kate and I ended up about 4-6 people back from the stage — really good viewing if you were taller than my hobbitty 5'3″. If I held my arms high and used my zoom, I could see very well. That came in handy later for pix/vid.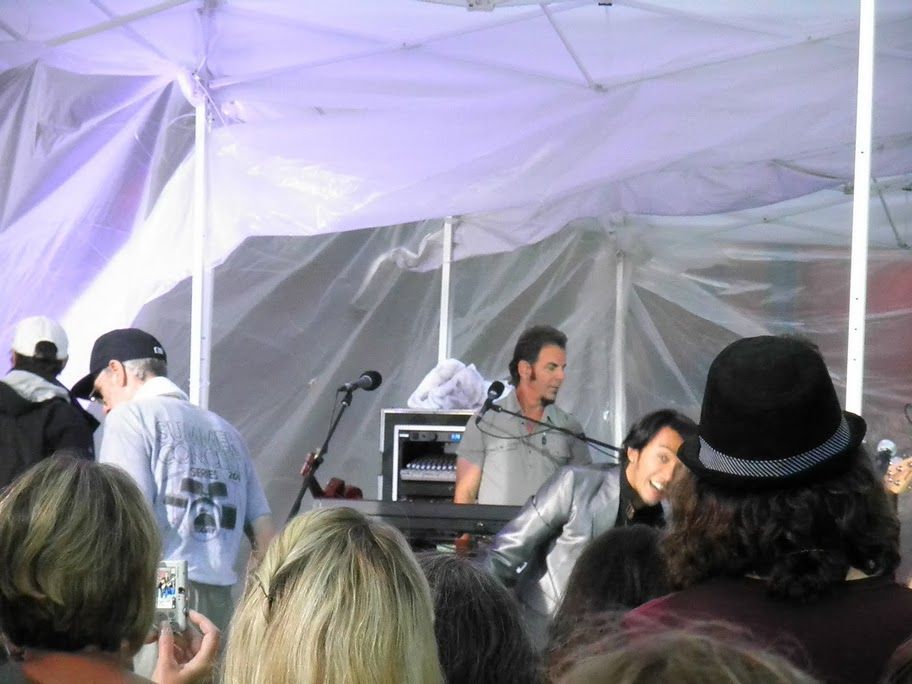 The crappy rain at 4:30 AM; but the fans were chipper; right: the band came out to rehearse a bit while the tarp was still up.
As the rain tapered off, there was hope that all would go off well; the NBC folks and roadies did set up and the sound check. And the band (guitarist and founder Neal Schon, current lead singer Arnel Pineda, keyboardist Jonathan Cain, bassist Ross Valory, and drummer Deen Castronovo), came onstage to check things out. Based on a conversation I had with a woman in front of me, the standard practice at this concert series on Today is that all the acts rehearse a few tunes around 7:30 (not on air, but for the fans), and in the 8:30 half-hour, Matt Lauer, Ann Curry and Al Roker come out for the live performance and interview.
Below is the rehearsal performance of Don't Stop Believing that I taped, it didn't air.
A note: the group had just played a concert the night before, hopped on a plane to NYC to do this gig — as I said, starting at 7:30 AM. They also did the rocking City of Hope from the latest CD, Eclipse (link is to my vid), as well as an instrumental of Faithfully (Arnel needed to save his voice to hit those notes live; the crowd sang instead). Arnel turned in an incredible performance despite little sleep and no decent time to rest his voice; the Journey catalog is notoriously difficult on the pipes. From my pix: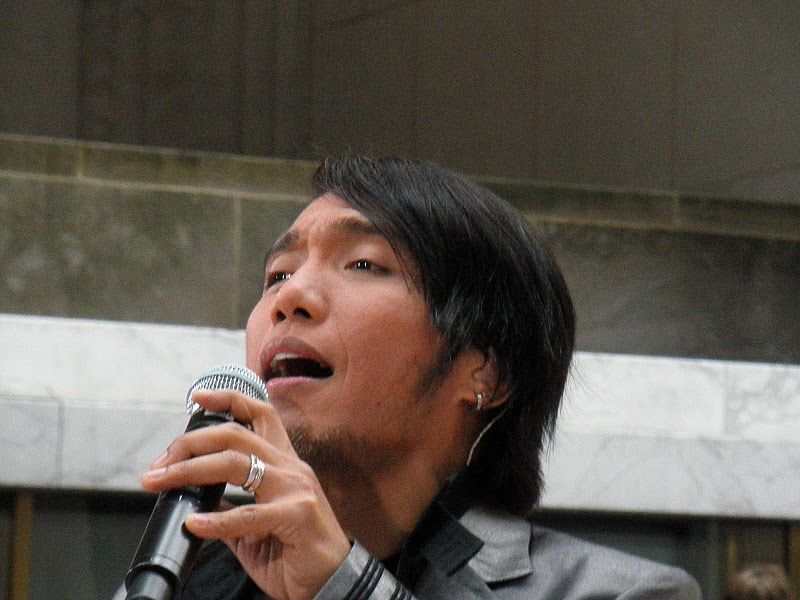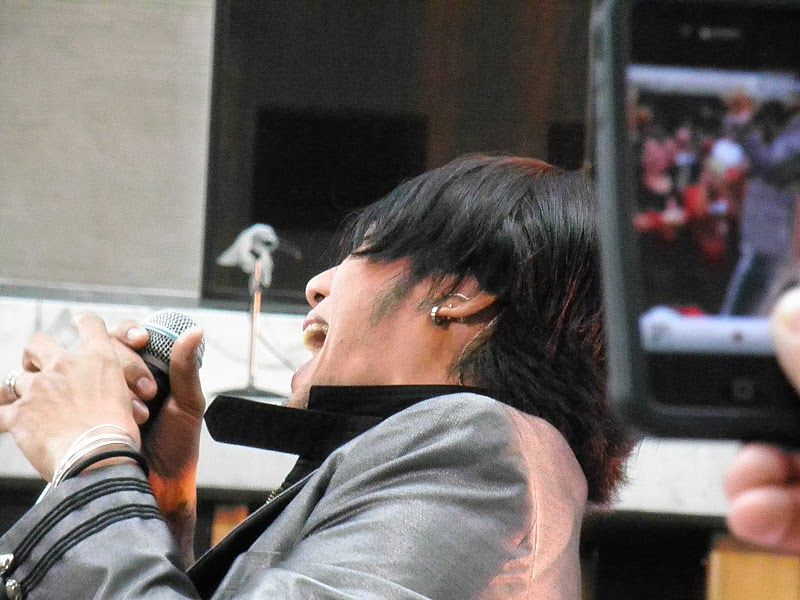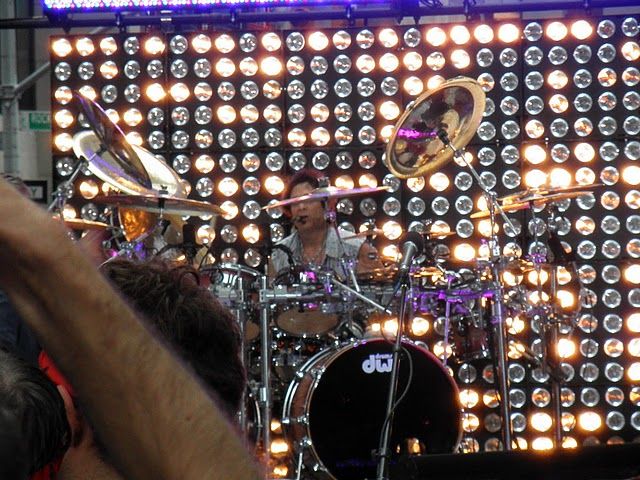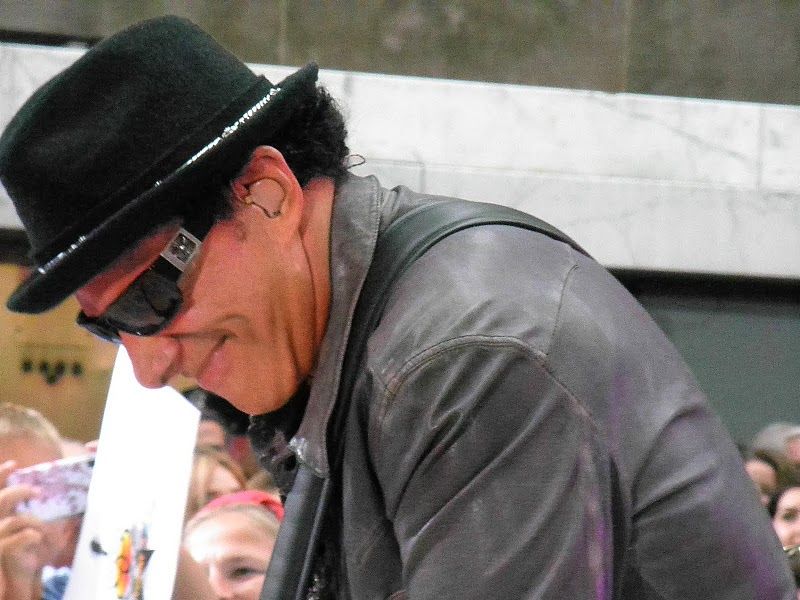 The talented tenor hit all of his notes (I held my breath!), but it was clear that the current tour (some of these gigs involve 3 concerts in 3 days) is a tour of attrition – the power rock vox I heard in Vegas needs more than a couple of hours of sleep, but they still kicked it. I cross my fingers for AP. Arnel's stagecraft was spot-on as usual. Casual Journey fans, like Kate, were bowled over by this concert (she's an Arnel believer now), and my fellow Plokkers (fans from the AP web site; Gigi and Coley) were there to represent with a sign and did get on camera. Kate and I can also be spotted in a few shots (I'm in this screen cap below, via Jeremy Hooper).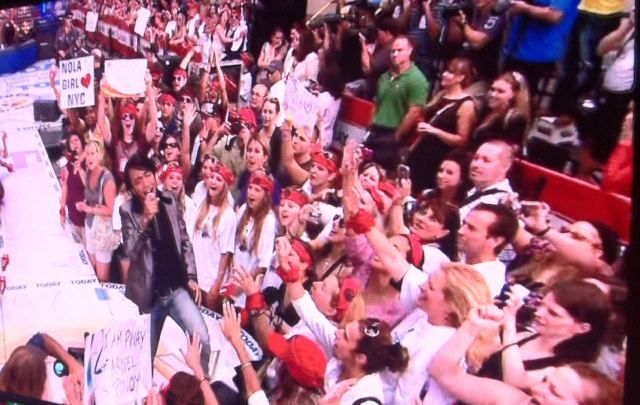 When we went live, the band performed: Don't Stop Believing, Faithfully (viewers voted for this one, I voted for Separate Ways), Any Way You Want It, and from the latest CD, Eclipse, the rocking City of Hope. Interestingly, the band did 2 takes of DSB; I'm not sure if they used parts of each take for the West Coast airing, or whether Journey wanted a redo; both takes were good. I would have loved to hear more from the new album, but most of the folks in the audience want to hear songs the band calls "the dirty dozen" — the greatest hits.
Visit msnbc.com for breaking news, world news, and news about the economy
While on the air, the group also received an award commemorating "Don't Stop Believing" as the most popular single of the 20th century, no small accomplishment.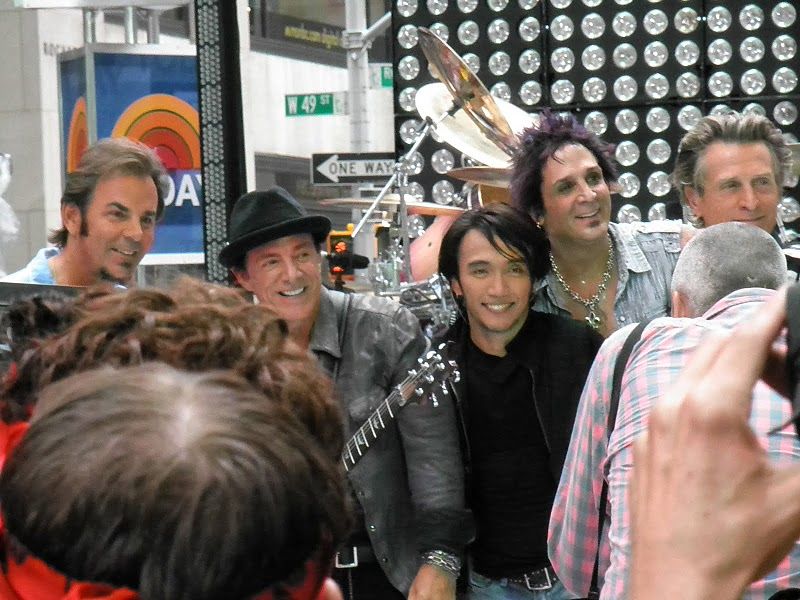 Related:
* Journey's new CD, Eclipse: a group revitalized, energized and rocking hard
* Blogmistress heaven: five new songs from 'Eclipse' debut in throw-down set by Journey in Vegas