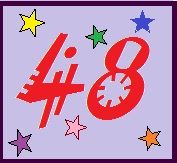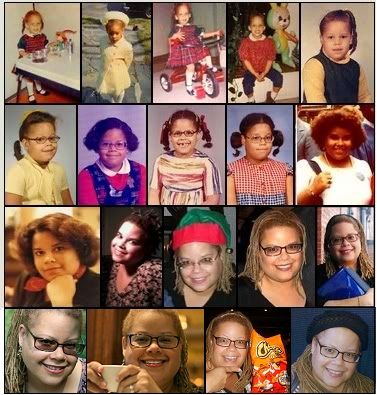 Another year, another birthday…
47 was a rough offline year for the blogmistress (the Wronghaven lawsuit, major surgery (and the health crap before and after it), but the important thing is that there was so much support out there from Blenders who continued to read the stellar work of the baristas and contribute their own diaries when I was pretty down and out (and highly medicated).
But hey, it wasn't just a chock-full-of-pain year. One of the highlights of the year was going to the kickoff concert in Las Vegas to see my favorite band, Journey, in February — in the third row (with my newfound friend from Japan, Sachiko), so I got fantastic pix.
The J-Boys are currently on the Eclipse tour (my review), and I'm going to NYC to see them when they play on the Today Show on 7/29 — crossing fingers that my health holds up.
Another event that I enjoyed while 47 was Netroots Nation, because it's the one conference where I can meet up with people in the movement (Below, left: like Zack Ford of Think Progress LGBT) that I don't get to see very often since I'm not located in the NY/DC nexus of politics. It was the first year that I was also credentialed to attend — thanks to Jimmy LaSalvia of GOProud — the RightOnline conference, the conservative gathering that piggybacks NN each year.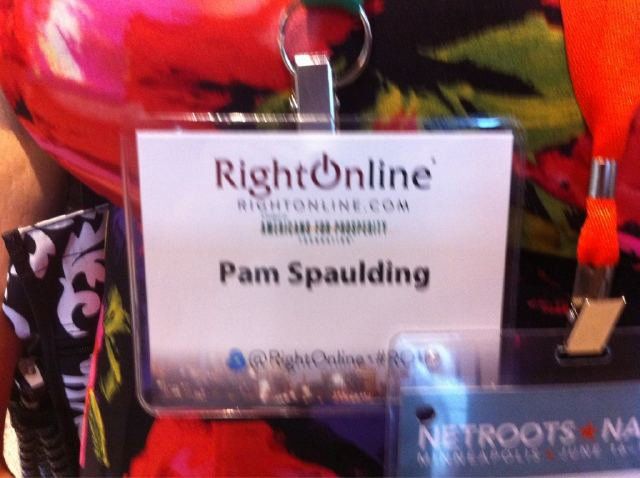 I promised not to "write a hit piece" on the righties. That wasn't a particularly difficult request to fulfill, since RightOnline, sponsored by Americans for Prosperity, is a haven for the libertarian/country club/free enterprise set. This generally isn't a gathering for the professional anti-gays. We may have vast differences in how to solve problems vexing the country, but replacing the Constitution with the Bible isn't one of them.
The other big change during the year was the announcement that PHB is moving to FDL as its own channel (yes, it's still happening; getting the content over from Soapblox has proven challenging).
---
Radical acceptance: love my body at 48?
One of the most thought-provoking sessions I attended this year was during the annual National Organization for Women's conference in Tampa. The plenary was on body image – "Love Your Body: Positive

Images of Women & Girls," moderated by NOW's Erin Matson, with panelists Kate Dillon, Gabi Gregg, and Katie Makkai. It was a natural offshoot of NOW's decade-plus Let's Talk About It awareness initiative.
The campaign encourages women and girls to celebrate their bodies and reject the narrow beauty ideals endorsed in the media.

Every year the Love Your Body poster contest receives hundreds, sometimes thousands of entries. Now, we're ready to be inspired in a whole new way. The Let's Talk About It project, inspired by NOW Foundation's partnership in National Eating Disorder Awareness Week, is a new way for YOU to help lead a spirited discussion about body image issues.

If you're tired of being bombarded by retouched pictures telling you how women should look, if you're done with advertisers portraying women as objects to be consumed, if you're ready to talk back, then join us. Make a video telling the world why you're embracing the real you. Help us spread the word, and you might even be featured on this website.
Kate Dillon is a well-known plus-size fashion model who started her career as a size 6 model. Seeing her in person, she's stunning and healthy looking, not emaciated. That said, she's quite tall (as most models are, so she wears her weight exceptionally well). Gabi Gregg of Gabifresh.com (who is also, btw, MTV's first Twitter VJ), definitely has sassed her way into radical acceptance of her body on her popular blog, and has forced the fashion industry to take note in the process, having been featured in Glamour and Vogue for her work:
Glamour Girl

Most of you who are long-time readers of my blog know that I'm a big fan of the "make it work" philosophy: I shop at straight size stores and find things that I can wear, regardless of whether it fits the way the designer intended it. When you're fat and stylish you have to be creative. Though the options are definitely getting better, I still refuse to limit myself to what's readily available for plus sizes because I'm not satisfied. For a long time, people told me I was only able to shop at straight size stores because I was an "inbetweenie," around a size 16. Forty pounds later, I'm a size 20/22, and I still bring my fat ass into H&M, TopShop, and wherever else I want. They may not make clothes to fit me, but they can't stop me from making their clothes fit me.
On to my own modest acceptance, at 48 – it's never too late, I suppose. After the jump.The fact is our society – and the "Beauty Industrial Complex" – train us to think there is always something wrong with out bodies…and that they have the product, for a handsome price, that will make life better for you.
I think the nadir of this obsession was reached with the advent of Latisse, a prescription medication hawked by Brooke Shields. Who knew that even your eyelashes can be deemed inadequate and in need of products from the beauty industrial complex to "fix them."
If even your eyelashes are up to such scrutiny, forget about your extra junk in your trunk or my swelly belly post-hysterectomy.
During the Q&A after the Love Your Body panel, so many women stepped up to the mic to talk about their battles with self-image, eating disorders and treatment by others around them, like most of us, who buy into the self-loathing — the litany of physical attributes we find lacking (or over abundant).
Despite all of the positivity of the panelists about learning to let go of "what other people think" as you journey toward self-acceptance, there was one question from the audience none of them could answer – how do you deal with people who not only judge you on your size, but directly affect your life? A woman said that she had dealt with weight ups and downs during her career at one company, and she noted that the only time she was given a significant raise or promotion only was when she was at her thinnest.
You can't change what other people think (not quickly, anyway), the culture has to change, and that is what the challenge is of radical acceptance of your own body, build your own self-confidence and dispel any misconceptions about being short, fat, bald, whatever the issue is that vexes you.
Of course in the LGBT world, the whole diseased "no fats, no femmes" has driven gay men into levels of obsession over diet, appearance, and beauty standard conformity that women have had to deal with since the dawn of time. It's not a great measure of equality to have equal levels of oppressive thinking about body image. Love of body types outside of the beauty "standard" shouldn't be a matter of fetishism, but that's what it's become, the band of "acceptable" attraction is that narrow in some circles.
***
Ah, I've strayed a tad, but hey, it's my birthday post. In terms of my own acceptance of who I am in the present, I'm doing ok to just be happy when I'm not in pain, but aside from the chronic sh*t going on inside my body that is invisible to others, the panel made me think about what I do and don't like about my exterior self.
My weight has fluctuated over my lifetime, less affected by what I eat, because since puberty my PCOS and insulin-dependent diabetes have made it difficult to lose weight (my body makes insulin, but doesn't use it well). My long-suffering endocrinologist knows the long list of bizarre messes going on inside my body.
At 5'3″, there's not a lot of height to spread my weight around. I have lost about 35 lbs over the last year or so, not by dieting or exercise, but disease, pain and surgery. I don't recommend that diet plan, lol. I think my set point just dropped after juggling a variety of the meds I've been changing around to deal with the fibromyalgia and neuropathy. Chronic pain reduces appetite as well.
But now I've accepted that I'll never be thin. In fact, I've never been petite (I'm a more solid, stocky version of my mom, actually more like my maternal grandmother), and did play soccer and softball.
I certainly remember back when I was in first grade (and 2nd and 3rd), wanting desperately to have a pair of white, knee-high boots. Now I wasn't particularly overweight at the time, but my calves were always too big/muscular to zip up in regular boots. I thought I was a freak. None of the other girls in the class seemed to have this problem and it upset me. No matter whether I was at my thinnest or heaviest, my calves (and forearms) were always way over-developed whether I worked out or not.
Around 40 I started not to give a crap and said why can't I wear shorter skirts/dresses if it's hot out and I want to? Or what if I just want to wear them? The odd thing is that now, at 47, I have been out with my big old calves exposed from time to time and have had women ask me "how do you get your legs so muscular" or "what exercises are you doing to get them that way?" All I can say in reply is "good genes." (I even had an X-ray tech ask me a variation of the question when prepping me for an X-ray during my last kidney stone episode just a few weeks ago.)
So what has changed? You tell me.



Is it my own body confidence now at 48 – and willingness to say screw it and wear leg-revealing garb? A change in the perception of what constitutes good-looking legs? Given I have Hobbity-short but strong-looking legs as opposed to long, lithe legs like I see in the commercials as the beauty standard, your guess is as good as mine.
But I can at least love my calves for what they are. Loving the rest of me may take a while longer, but I'll get there. Maybe it will happen while I'm 48.