Just in: DADT struck down as 9th Circuit reinstates court order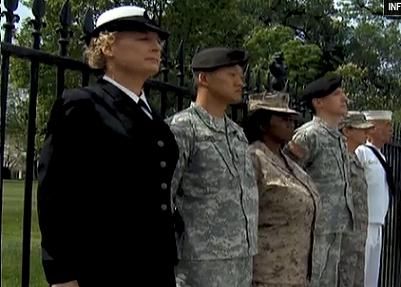 Lisa Leff, AP:
A federal appeals court ordered the U.S. government on Wednesday to immediately cease enforcing the longstanding ban on openly gay members of the military.

In a brief two-page order, a three-judge panel of the 9th U.S. Circuit Court of Appeals in San Francisco said the "don't ask, don't tell" policy must be lifted now that the Obama administration has concluded it's unconstitutional to treat gay Americans differently under the law.
More, from Think Progress:
Perhaps most significantly, today's order shows that the Department of Justice's recent recognition that anti gay laws are highly constitutionally suspect is producing results. The court expressly relied on this determination by DOJ in reinstating the injunction against Don't Ask/Don't Tell.

At the same time, however, it does not necessarily follow that the panel would have also struck down DOMA or otherwise resolved a gay rights question on the merits. Today's order dealt with the narrow question of whether or not a trial court decision striking down DADT must be stayed while the decision is still under appeal. Before issuing a stay, a court must consider factors such as whether a stay will "substantially injure" other parties and whether a stay is "in the public interest." Today's order concludes that these factors no longer weigh in favor of a stay now that DADT repeal is imminent and DOJ concedes its unconstitutionality.
The docket text, for those of you who like decoding, as well as reactions are below the fold.Here's the text of the order:
Filed order (ALEX KOZINSKI, KIM MCLANE WARDLAW and RICHARD A. PAEZ) The Clerk shall amend the docket to reflect that Leon E. Panetta, Secretary of Defense, is substituted for Robert M. Gates, Secretary of Defense, as an appellant/cross-appellee. See Fed. R. App. P. 43(c)(2). Appellee/cross-appellant's motion to lift this court's November 1, 2010, order granting a stay of the district court's judgment pending appeal is granted. See Hilton v. Braunskill, 481 U.S. 770, 776 (1987) (stating standard); Alliance for the Wild Rockies v. Cottrell, 632 F.3d 1127, 1135 (9th Cir. 2011) (same). In their briefs, appellants/cross-appellees do not contend that 10 U.S.C. § 654 is constitutional. In addition, in the context of the Defense of Marriage Act, 1 U.S.C. § 7, the United States has recently taken the position that classifications based on sexual orientation should be subjected to heightened scrutiny. See Golinski v. U.S. Office of Pers. Mgmt., No. C 3:10-00257-JSW (N.D. Cal.) (Doc. 145, July 1, 2011) ("gay and lesbian individuals have suffered a long and significant history of purposeful discrimination"); Letter from Attorney General to Speaker of House of Representatives (Feb. 23, 2011) ("there is, regrettably, a significant history of purposeful discrimination against gay and lesbian people, by governmental as well as private entities"). Appellants/cross-appellees state that the process of repealing Section 654 is well underway, and the preponderance of the armed forces are expected to have been trained by mid-summer. The circumstances and balance of hardships have changed, and appellants/cross-appellees can no longer satisfy the demanding standard for issuance of a stay. Appellee/cross-appellant's alternative request to expedite oral argument is granted. The Clerk shall calendar this case during the week of August 29, 2011, in Pasadena, California. Briefing is completed. [7809248] [10-56634, 10-56813] (KD)
***
Reactions, as they came in…
SLDN:
(Washington, DC) Army Veteran and Servicemembers Legal Defense Network (SLDN) Executive Director Aubrey Sarvis issued the following statement on the decision by the Ninth Circuit Court of Appeals today to reinstate the injunction on enforcement of the "Don't Ask, Don't Tell" (DADT) law in the Log Cabin Republicans vs. United States case.

"Today's decision by the Ninth Circuit Court of Appeals is most welcomed. It's the hope of Servicemembers Legal Defense Network that this favorable ruling will not be challenged by the Defense Department. In fact, this whole matter could have been avoided had we had certification back in the spring. It's time to get on with that important certification, end the DADT confusion for all service members, and put a final end to this misguided policy."
Servicemembers United, the nation's largest organization of gay and lesbian troops and veterans, today enthusiastically applauded the order issued by the Ninth Circuit Court of Appeals lifting its own stay of a lower court's injunction barring enforcement of the "Don't Ask, Don't Tell" law. This move once again renders "Don't Ask, Don't Tell" unenforceable by the Pentagon.

"With the wait for certification dragging out beyond a reasonable time frame, the Court has once again stepped in to require the Pentagon to stop enforcing 'Don't Ask, Don't Tell,' and this time it very well may be for good," said Alexander Nicholson, Executive Director of Servicemembers United and the sole veteran plaintiff on the case. "I am proud to have worked personally worked with Log Cabin on this case for more than five years now and to have represented the gay military community as the sole named veteran on this lawsuit. Despite the criticisms and years of waiting, this case has yet again successfully eviscerated this outdated, harmful, and discriminatory law."

The Log Cabin Republicans vs. U.S.A. lawsuit is the only contemporary successful challenge to the constitutionality of the "Don't Ask, Don't Tell" law, which requires the Department of Defense to abruptly fire any servicemember found to be gay, lesbian, or bisexual. In 2010, U.S. District Court Judge Virginia Phillips found the "Don't Ask, Don't Tell" law to be unconstitutional after a two-week trial, and issued an order barring enforcement of the law worldwide. The Ninth Circuit Court of Appeals subsequently issued a stay of that order pending appeal by the government. Today's order from the Ninth Circuit overturns its own previous stay, rendering "Don't Ask, Don't Tell" once again unenforceable.

Nicholson added, "Servicemembers should still remain extremely cautious with information regarding their sexual orientation for the time being. The issue remains in a state of flux, although guarded optimism is certainly warranted."
HRC:
Today a panel of judges on the U.S. Court of Appeals for the Ninth Circuit re-instituted an injunction barring the military from enforcing the ban on openly lesbian, gay and bisexual service members. The court concluded that, with "Don't Ask, Don't Tell" repeal being implemented and certification of the new policy forthcoming, the government would not be burdened by ceasing enforcement at this time. The order was issued in the appeal of Log Cabin Republicans v. Panetta (formerly Gates), a case challenging the constitutionality of the DADT law. In September 2010, a federal district judge ruled that the law is unconstitutional and the Obama administration appealed that decision. While the Ninth Circuit must still rule on the constitutionality of the law, until it does so, the military will now be enjoined from enforcing DADT. Joe Solmonese, president of the Human Rights Campaign, released the following statement:

"Today's decision is a harbinger that 'Don't Ask, Don't Tell' is on its way out. With troops trained on the new policy and senior military leaders having said the process is working without significant disruption, DADT is on its last legs. The time for certification is now in order to clearly and plainly wipe this damaging law off the books once and for all."