Can married couples re-marry one another in New York? Kate and I would like to know the answer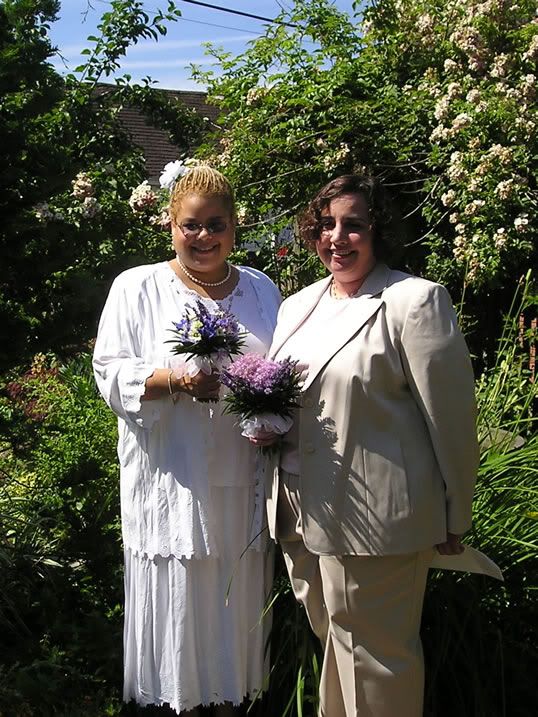 When NY passed marriage equality, I wondered whether it would be legal for Kate and I to marry there when it is enacted next month. Our legal Canadian marriage was recognized in NY long before New Yorkers won the freedom to marry on Friday.
Oddly, when I asked the question on Twitter and Facebook, many people (not claiming to be attorneys), weighed in about half "yes' and half "no." That suggests some additional information needs to get out there.
It appears that the answer is no.
Listed below is the information you will need to fill out the Marriage License Application:


The application is an affidavit where you and your prospective spouse must list your name; current address; city, state, ZIP code and country; country of birth; date of birth; name and country of birth of your father and mother; Social Security number; and marital history.

When you sign the affidavit, you are making a sworn statement that there are no legal impediments to the marriage.

If you were married before, you must list all prior marriages. You must include your previous spouse's full name; the date the divorce decree was granted; and the city, state, and country where the divorce was issued.

All divorces, annulments, and dissolutions must be finalized before you apply for a new Marriage License.

You may be asked to produce the final divorce decree.

If you are a widow or widower, you must provide your deceased spouse's full name and date of death.
In terms of obtaining a Canadian divorce, it is required that at least one spouse needs to live in Canada for one year before it can be granted.
***
Lambda Legal has a "Marriage Equality for Same-Sex Couples in New York" document with FAQs. In it, the answer about remarrying your spouse is a bit different:
Can my partner and I get married now in New York if we were married in some other jurisdiction?

In the past, years many New York same-sex couples have gone to other jurisdictions that allow same-sex couples to validly marry and have gotten married there. These marriages have been entitled to legal respect in New York, just as many out-of-state marriages of dif erent-sex couples that could not be entered into in New York are nonetheless given legal respect here.

If you and your partner validly married in another jurisdiction, you are already a married couple in New York and your marriage should be fully respected here. You do not need to marry again in New York.

If for some reason you are still interested in re-marrying your spouse in New York, the marriage laws in New York permit this, but you would be well advised to consult a private attorney or contact Lambda Legal's Help Desk before you take this step to determine if it could carry legal complications for your family.
So that leaves the status of our getting married in NY a bit fuzzy. Clearly we could have a re-commitment ceremony, but getting hitched in the Empire State is still an open question.
If we are able, it would be awesome to do it again w/friends and family this time (only my brother Tim attended). Sadly, both marriages would still be meaningless in NC…just the way Obama likes it – "states' rights," right, Mr. President?
***
BTW, Kate and I will celebrate our 7th anniversary on July 1. We legally married at a B&B in Vancouver, BC. In 2004, we couldn't marry anywhere in the U.S.; Massachusetts did not allow non-resident/out-of-state marriages at that time, and the small window to do so in California had passed. It's all quite amazing how the political and social landscape has changed since then.
UPDATE: if you now try that Lambda Legal link you receive: "This content is not longer available. Marriage Equality for Same-Sex Couples in New York is no longer on our site. Visit the Publications page for a complete listing of our current publications."
There is not an updated document on the site yet, so my assumption is that the page being pinged a lot made someone at LL pull it until there is a vetted update to share.