UPDATE: And don't forget to take a look at the list of my #homocrush boys at Netroots Nation 2011.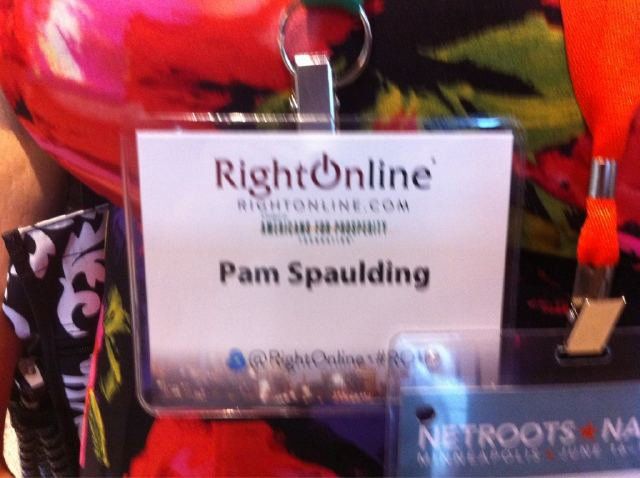 Left: Legs up the wall pose w/Zack Ford of Think Progress LGBT during the LGBT Netroots Connect pre-con. I was giving my swollen ankles a break and he joined in sympathy (photo by Joe Jervis). Right: my RightOnline credentials.
---
I've been to all of the Netroots Nation gatherings save the first one held in Las Vegas. Beginning with the Netroots in Chicago a few years ago, the conservative counterpart conference to NN, RightOnline, has followed us around to each venue.
This year in Minneapolis, it was the first time that I received credentials to attend both conferences. For RightOnline, I was kindly invited by Jimmy LaSalvia of GOProud (Chris Barron was not there, btw).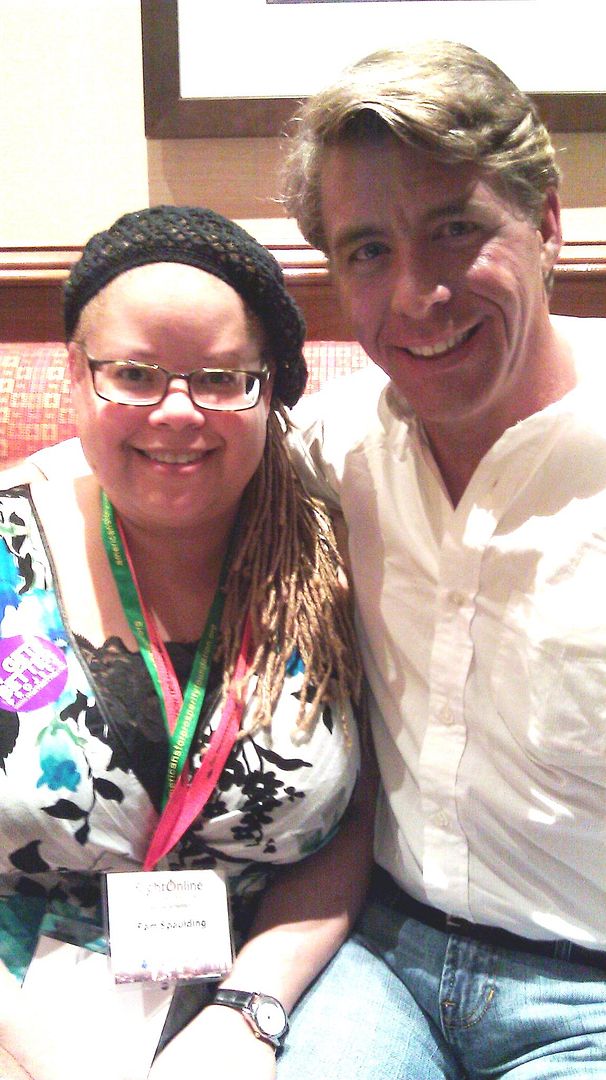 I promised not to "write a hit piece" on the righties. That wasn't a particularly difficult request to fulfill, since RightOnline, sponsored by Americans for Prosperity, is a haven for the libertarian/country club/free enterprise set. This generally isn't a gathering for the professional anti-gays. We may have vast differences in how to solve problems vexing the country, but replacing the Constitution with the Bible isn't one of them.
Anyway, my goal of attending RO11 (I did so along with my good friend Jeremy Hooper of Good As You), was to observe, and seek common ground. Quite often lefty bloggers find ourselves tossing virtual barbs and snark online, but giving time and space in person to have calm, even enjoyable conversations about issues from different perspectives, can be very constructive. Opportunities to engage in one-on-one with those on the right who also seek common ground were numerous, and particularly with young conservatives who are socially libertarian in relation to LGBT rights. I had a long and jovial chat with Matthew Hurtt, and we chose to follow one another on Twitter and had this exchange.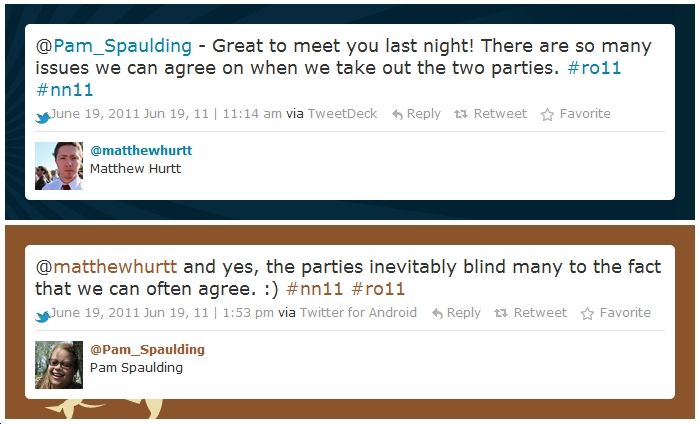 It does get tiring sparring with people over policies where we cannot agree, such as health care reform – bottom line is neither side has an acceptable solution because Big Pharma and Big Insurance think bottom line vs. individual care. The righties just think Obamacare is a big mess and intrusion on "choice", the left generally thinks single-payer is the answer. Neither is perfect, though single-payer, IMHO is more desirable than letting the market decide health care for individuals. What we have doesn't work for many Americans. I just don't know that either side wants to address the long term issues that plague the system. Anyway, once you remove the partisan divide and posturing, I can imagine better answers will come from honest discussion, something lacking in leadership.
***
What I did encounter when registering over at RO11, was the unusual, but not surprising, environment – a lot of white guys in suits and ties (you don't see that at NN11), women dressed both conservatively and casually. At the registration table, I encountered one lonely black gentleman, impeccably dressed like the other men. He made his way over to me quite swiftly to engage in conversation and to help me get my badge, lolololol. The urge to bump fists in black unity was suppressed, my friends.
The color composition of the crowd at RO was not really surprising; I say that not because people of color aren't welcome per se; I was treated well while there, though I did get the once-over glances, since I purposely wore clothes that made me stand out. It's policy and class differences clearly have an impact on the ability of the Republicans to draw people of color. I noted this on Twitter, and one righty got a bit defensive. I didn't make a comment on why there are so few POC, simply that this is the observation I made.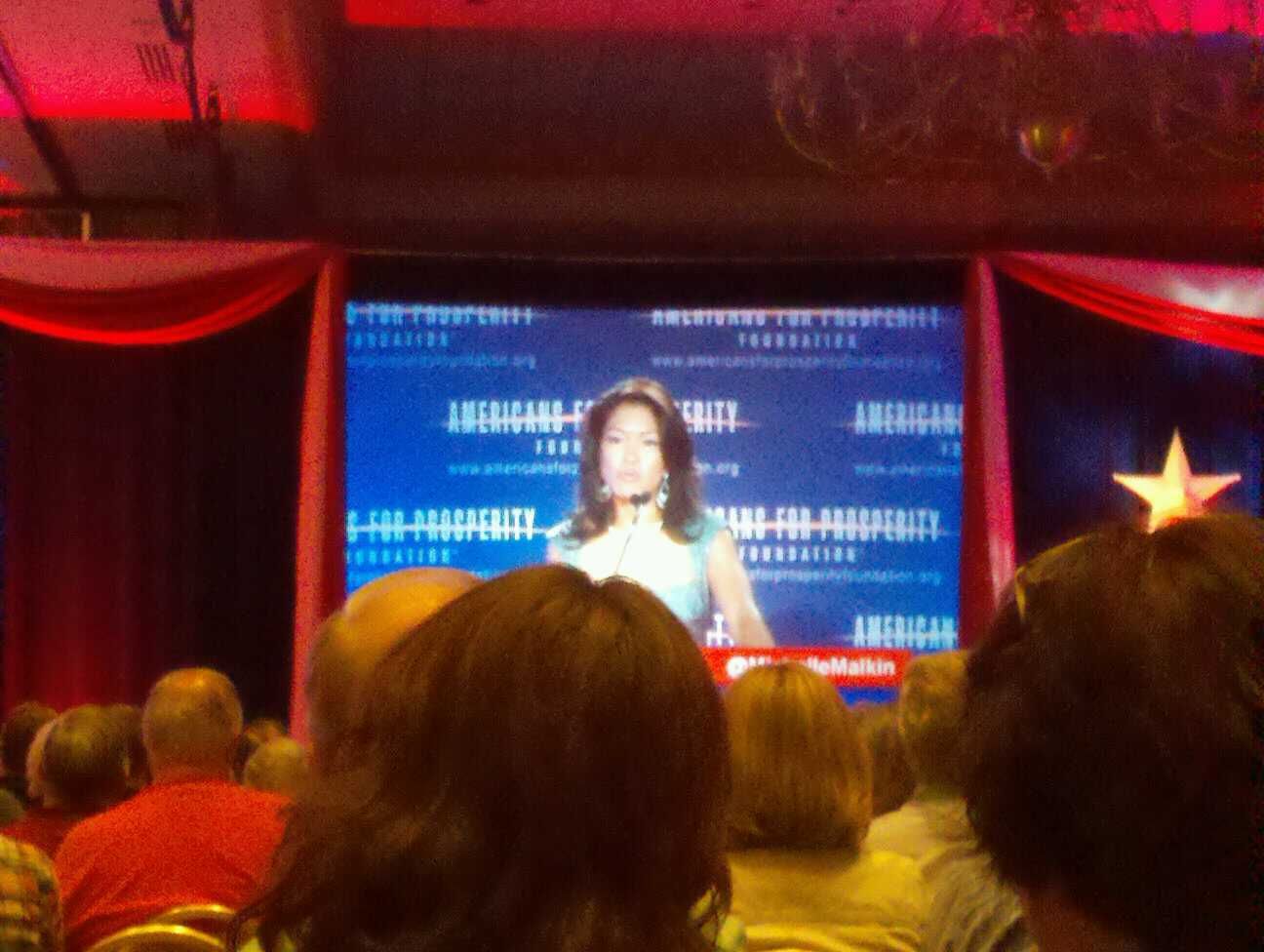 Michelle Malkin was surprisingly boring. Content: 1) High gas prices are Obama's fault; 2) She's not a racist; 3) Aren't the Republicans great. Celine Dion sang God Bless America (via video). I missed Bachmann and the rest of the main program because I had to get back over to appear on a panel.
What's also missing, and I say this as an observer of the left and right, is that at NN you see many more people of color, and it's a big improvement over earlier years. There has been great effort made to diversify not just attendees, but panelist and presenters in 2011.
That said, at many conferences outside of NN, I find myself one of maybe a handful of people of color, and certainly the situation is even more bleak if we're talking about LGBT POC. As I reminded many attendees on the marriage equality panel, I'm usually one of the few who speak at conferences who lives in the South, and I make sure to tell my brothers and sisters in Blue states not to forget those of us in places where marriage is less a priority than public access and the ability to not fear being fired for being LGBT.
And one of the other reminders both sides agree on is that these conferences are attended by politically engaged people who are highly focused on activism and technology. The vast majority of voters simply don't focus so intently on the little gaffes or the political sideshow until the last run up to voting day. These are the people who have to be activated by those of us who are engaged at a deeper level, otherwise you have a voter base that pays more attention to a slickly produced 30 second-ad than a policy paper. It's that simple, but it's something we often forget, particularly on the left and center of left.
And both sides came together during GOProud's reception/happy hour in the Hilton bar. The place was teeming with conservatives, and a healthy chunk of LGBTs from Netroots were there as well. The mixer did indeed mix folks together; some even recognized me and said they read the Blend (and like it). These righties are a highly lubricated group of people, lol. At most I can handle 2 mimosas; some of these guys were tossing back the hard stuff at a good clip, providing more comical material than I suppose they wanted me to see. 🙂 But the bottom line is all of us had a good time in person.
Just when I thought my stint with bloggers from the other side of the fence was over, I had a meetup at the Minneapolis airport with a local blogger here in North Carolina who was also attending RightOnline, Katy Benningfield of Katy's Conservative Corner. We definitely don't agree on policy matters, particularly those involving NC politics, but she is pro-equality for LGBT couples. That's probably not the norm for people in the NCGOP, because the party's official platform is vehemently anti-gay. We discussed health care again, mostly because we have, coincidentally, some of the same maladies that aren't addressed well in terms of handling chronic medical issues by either side. She wanted to meet for lunch some time to discuss things going on here in NC. I think it's a good idea to keep these conversations going.