Before I go into the recap, tomorrow I will make an announcement about PHB on Lizz Winstead's Morning News Dump, which will be livestreamed tomorrow at 8AM CT I will post the livestream on PHB.
I already told the story about Dan Choi and the Obama volunteer fracas later in the afternoon on Thursday, but there was more than that bit of theatre to pass along to Blenders.
But the rest of the day proved to be equally interesting. I was up way too early to make it on Morning News Dump, hosted by Lizz Winstead and Cliff Schecter. Sam Seder was on as well. Someone snapped a shot of my hobbit self barely visible on the riser.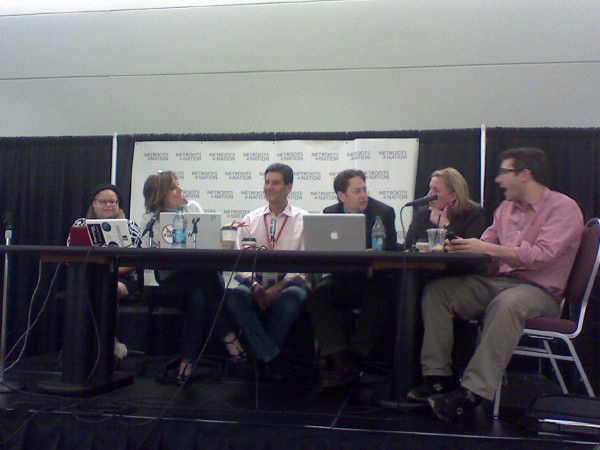 I discussed the LezGetReal/"Paula Brooks" flap in a very short segment since the show got off to a late start — you know, the usual tech difficulties/late setup. But we had a large audience in the room. I couldn't believe how many NN11 attendees managed to get up and out for an 8AM show, but A lot of my homopeeps were there to support. My one pithy quote: "We just lost two lesbian voices in the lgbt movement." Back2Stonewall's Will Kohl was there and shot video:


Well what did we have on the first morning and the first dump? Why of course FAKE LESBIAN BLOGGERS! Lizz talked with Pam Spaulding of Pam's House Blend about "Paula Brooks" from LezGetReal and hilarity ensued!.
More stuff below the fold.The show ended around 9 so folks could head off to the morning keynote. @anaperiodista of @couragecampaign took this great pic of me with Lizz post-Morning Dump.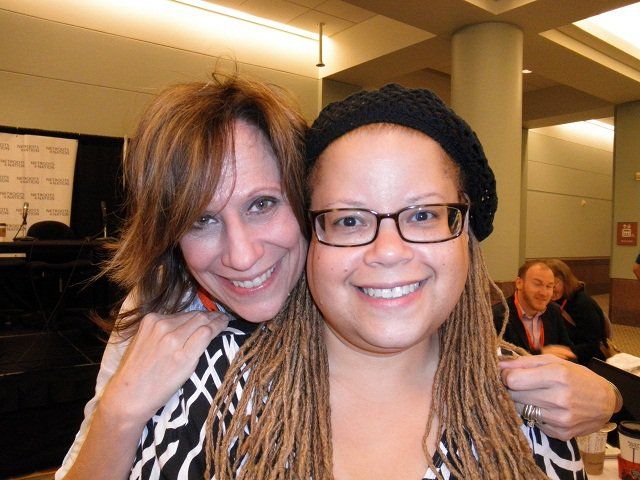 I headed over to the Exhibit Hall to see what NN11 swag there was this time around. Not a lot, but I did pick up my registration bag and visited the Netroots LGBT Connect booth, where, lo and behold, Servicemembers United's Jarrod Chlapowski had Cheetos-themed swag in the exhibit hall. Yes, another pic…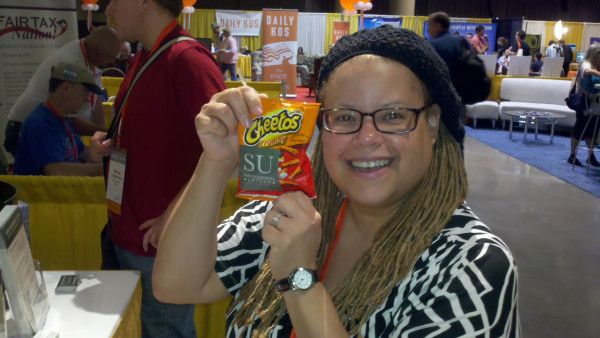 One highlight of the day was the African-American Caucus, which was larger than ever this year. Our moderators were Rashad Robinson of Color of Change, and Cheryl Contee of Jack & Jill Politics.
It was a vigorous discussion, with a healthy amount of time spent on the Tracy Morgan debacle, and the reactions to it – including the misguided defense put up by Roland Martin. One of the more interesting topics was how the economic downturn has had a disproportional adverse impact in the black community and how that may depress turnout for Obama in 2012. There are states where unprecented turnout ruled the day in 2008, where there may be less enthusiasm for getting out to the polls in 2012. Given the importance of turnout for candidates downticket, there was justifiable concern about the voters who will sit this race out.
After that session I attended the panel "What To Do When The President Is Just Not That Into You," where Dan Choi and the Obama volunteer had their meeting of the minds.
The next unplanned event, is that Jane Hamsher of Firedoglake was going to do a segment on MSNBC via satellite from a local station's facilities, so I hopped in the car to go watch. The studio was pretty small – nice fake Minneapolic skyline in the background. It reminded of the studio in Raleigh that I had to go to twice to do the same sort of thing for CNN, save it wasn't as cold as an icebox in this studio. I snapped this pic:
Since the studio was only across the street from the hotel, it was time to crash and burn and do some posting, since for most of the day I was either on my feet or walking to get to one standing room only session after another. I was completely hosed when I got back to my room. So instead of hanging out with the peeps, I soaked in the tub and sat down to write this post. I'm in a fair amount of pain, so I wasn't going to chance it by hitting the streets to all of the parties. I even missed going to see Russ Feingold and Howard Dean speak at the keynote. As I tweeted, I have to remind myself that I'm lucky I could make it here at all, given my health woes grinding my down from the inside out.
Oh, I almost forgot this update – it looks like copyright troll Righthaven is taking it on the legal chin in a decision by the judge handling the Nevada cases (mine is in the set of Colorado lawsuits). Raw Story (also slapped with a troll suit by RH over the same photo) had my fave headline:
Judge: 'Copyright troll' Righthaven may have lied in hundreds of lawsuits

U.S. District Judge Roger Hunt wrote that Righthaven "made multiple inaccurate and likely dishonest statements to the court" and ordered them to explain why they should not be sanctioned for it.

He also allowed DU's counterclaim against Stephens Media, owner of The Las Vegas Review Journal and true holder of the copyright Righthaven claimed ownership of, to move forward in seeking to recover attorney's fees.

The group, which makes its business on suing websites, had asserted in court documents that the copyright had been transferred to them. It was later revealed that they had simply agreed to represent the paper's claim for a cut of the potential profits.

This detail went undisclosed in hundreds of prior Righthaven lawsuits, the judge noted, suggesting that other courts may have been mislead.
I received a lot of emails from readers about this decision and whether it would affect me in terms of a class action lawsuit. Not really, since this good fortune is about a separate set of cases, none of the RH victims involving Colorado have to wait it out until a decision is render similar to the one above.
But even then, Righthaven's a shell company. Very few victims will recover anything, I'm pretty sure RH won't survive to pay out.