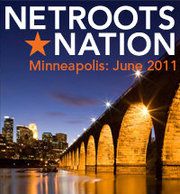 Hello from the rainy city of Minneapolis, where many of our blogger peers are gathered for the pre-con, day-long LGBT Netroots Connect. It is a meetup for activists and organizations. The pre-con has events that include training, support and education. We sometimes butt heads, but we are all here to advance the equality movement and and work on building productive strategic alliances without compromising our respective roles in the debate.
And for those of us not based in NY or DC, it's one of the few times a year where there is an opportunity to work with one another in person. One of the other benefits of the program, the brain child and vision of Mike Rogers, is that the scholarships awarded here go to independent bloggers who might not otherwise be able to travel to this pre-con and Netroots Nation proper.
Today's events begin at 8AM CT, so please "tune in" by watching the PHB "At Netroots Nation 2011" widget in the sidebar for Twitter coverage. Full-blown posts or roundups will go up later in the day, since we'll be participating in sessions.
Photos and video will also be shared. Below is a slideshow of photos taken last night at the Minneapolis Hilton, where a good number of us are staying. I hadn't met Scott (clarknt67) before, and it was great to see many friends again. As I upload photos today at the Pre-Con they will show up in the slideshow. The direct link to the album is here.
***
A couple of things to note: I've also added a widget to the site, my Facebook Fan Page feed. I receive a lot of breaking news and press releases each day, and I've been posting a selection of them, usually without comment, if I think they are newsworthy in order to get timely information out to people without having to compose a blog post. Some don't lend themselves to a write up anyway, but may be of interest to the PHB readership. The widget is in the left sidebar, but I may put it front and center because some breaking events will go there.
***
A Big Announcement is on the way!
Blenders are going to receive some exciting news soon, announced during Netroots and posted here and on social networks. Of course this is a tease without any hints, since I don't want to blow it. It's safe to say the news will provide a lot to talk about.