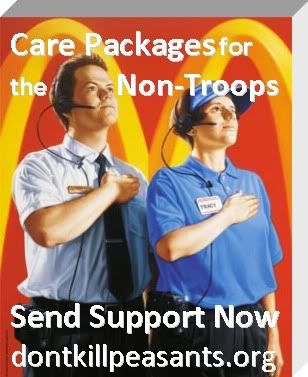 (Source of background photo; website ain't real!)
The above answers the following, which was displayed an hour or so ago in the top right corner of our progressive "my FDL" webpage: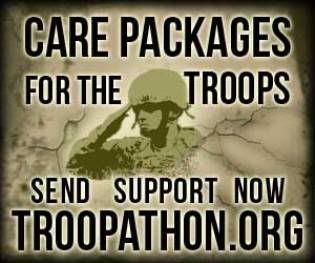 I don't believe most of what our troops are doing overseas deserves support. Instead, I think our society and progressives should support the millions of young Americans who have chosen not to serve in our military, refusing its economic securities and opting to forge their futures out of a harsh, post-union, neo-liberal job market.
More on our heroic young non-troops, and the mcjobs available in this horrible economy, here:
McJobs look good to them
Charlotte News-Observer
April 20, 2011

Even as the state's unemployment rate ticked down another notch Tuesday, thousands of job seekers flooded area McDonald's restaurants looking for work.

They came for McDonald's National Hiring Day – a coordinated event in which McDonald's pledged to hire 50,000 people nationally. In North Carolina, 1,000 new hires were expected, including about 360 in the Triangle.

Job seekers lined up at stores hours before the event officially began, toting résumés, briefcases and hope. …

… data released Tuesday by the N.C. Employment Security Commission showed that the state's unemployment rate for March was 9.7 percent, just 0.1 percent less than in February.
And here:
Job hungry Americans flock to McJobs
Agence-France Press
April 21, 2011

… Managers declined to say how much they were offering candidates.

Nicole Curtin, a spokeswoman for McDonald's, said benefits include medical coverage and education support, although wages could go as low as the national minimum of $7.25 an hour.

"Some of our restaurants do pay minimum wage, but we're not considered a minimum wage employer. Depending on what your position is you may start above minimum wage," Curtin said.